Found October 10, 2013 on State of the Texans:
PLAYERS:
Matt Schaub
,
Gary Kubiak
,
T.J. Yates
,
Case Keenum
,
Owen Daniels
,
DeAndre Hopkins
,
Arian Foster
,
Ryan Griffin
,
Whitney Mercilus
,
J.J. Watt
,
Ben Tate
TEAMS:
Houston Texans
,
St. Louis Rams
The Houston Texans are in a dire need of getting a win against the St. Louis Rams on Sunday at Reliant Stadium. There have been enough distractions surrounding the Texans, Matt Schaub and Head Coach Gary Kubiak since the loss to the San Francisco 49ers last Sunday night. The pressure is on for the Texans to get out of this three game skid after two wins to start the season. There was an evaluation process for the Texans and the coaching staff for two days and, according to players, the intensity at practice picked up for both sides of the football.     The Quote Heard Around Houston  "No, it was a tough decision, real tough. But I feel like it's the best thing for our football team this weekend. A lot of thought went into it, a lot of evaluations and things going on, but I thought it was the best decision going into this game." Texans Head Coach Gary Kubiak on keeping Matt Schaub as the Starter It was the second answer to his press conference on Wednesday and the answer media and fans have been waiting for. The Texans are moving forward, for at least this week, with Matt Schaub as their quarterback. This is the first time Kubiak has ever looked distressed like he did at the podium when discussing the situation and Schaub, describing it as a "tough decision". Take a look.     It is simple in our minds that Matt Schaub is on a short leash on Sunday against the St. Louis Rams and there will be little room for error. The obvious next step for the Texans is T.J. Yates, but not making the move at this critical time is a bit concerning. No one will know the right answer, but Kubiak is rolling the dice one more time with Schaub on Sunday. The only thing left to do is wait and see.   What Does it say About Yates and Keenum Despite the bad play of Schaub, T.J. Yates and Case Keenum's names have not been mentioned one time by the coaching staff. There has been zero discussion about them taking over. Yates got some mop up snaps last Sunday against the 49ers where he really did anything but get the game over for the Texans. Is there not enough confidence in either of the two, Yates and Keenum, to make the switch? There have been fans calling for one of the two since the start of Schaub's struggles, but zero talk from the Texans about them is an interesting dynamic to the equation.   The Loss of Owen Daniels Could Help Schaub It is no secret at times Owen Daniels is Schaub's security blanket and that has led to some bad outcomes in the early part of the season. Forced passes that have led to interceptions and throws short of the sticks to Daniels has been a big culprit of the Texans lack of offense. Schaub will be forced to go through his progressions and not depend on one of the few players that has been with Schaub since day one. DeAndre Hopkins, DeVier Posey and Arian Foster could take advantage of passes thrown their way in the absence of Daniels. Once again, only time will tell if this comes true.   Texans To Watch    Ryan Griffin  The second tight end of the Texans offense is almost as important as the starter, and with Owen Daniels out for at least 2 months, Ryan Griffin steps into a big role for the team. He is one of the most physically gifted players the Texans have had on their roster at 6-6 and 254 lbs. His time on the field has been limited but he will be put into action quick with the Texans two tight end sets. His ability is not the issue, but if he can handle a full workload on offense. The Texans might ease him into the rotation and work more out of three wide receiver sets. Either way, Griffin will get plenty of time as a rookie and show what the future will look like for the coming years.   Whitney Mercilus The emergence of Mercilus as a pass rusher has been one of the quiet stories of the season. There were questions about who would provide any rush off the edge and Mercilus has provided just that. He is still working to make his run support defense better each week, but that can easily be overlooked with him harassing quarterbacks. The defense has been a bright spot this season and adding him to what J.J. Watt is doing on the interior, Mercilus is getting what it takes to be a consistent NFL pass rusher.   Arian Foster He has slowly regained some of his old form and is turning into the workhorse the offense needs for the season. His vision is returning and he is making the first tackler miss at the point of attack. With the struggles of Ben Tate on holding the football, the production of Foster only becomes even more important. Foster is the one factor that keeps this offense true to it's roots and that is running the football. Foster almost feels like the forgotten piece of the offense and the more room he gets to operate with the football will only help out his struggling quarterback.   You can follow Patrick on Twitter.  He is the Editor of State of the Texans.  
Original Story:
http://www.stateofthetexans.com/texan...
THE BACKYARD
BEST OF MAXIM
RELATED ARTICLES
Matt Schaub has taken a few blows lately, especially after recording his fourth straight game with a pick six during the Texans' lopsided loss to the 49ers. Before pick No. 4 was in the record books, one Houston restaurant decided to joke about Schaub's streak by creating a "Matt Schaub Special." It included a burger with the customer's "pick" of...
According to CBS Houston,  Texans fans approached quarterback Matt Schaub's house and told him off because of how poorly he's been playing lately. "A fan went to his house and told him off," said the source, adding that another person "took pictures of his family," which were allegedly posted on Facebook. Fortunately, neither Schaub nor anyone in his family was hurt...
It has been a rough season for Houston Texans quarterback Matt Schaub. After last week's poor showing against the San Francisco 49ers he has the dubious distinction of being the only quarterback in NFL history to have an interception returned for a touchdown in four consecutive games. Apparently some so-called fans decided they needed to tell him how unhappy they were with...
Ian Raopoport of the NFL Network reported at half time of tonight's Giants-Bears game that Texans quarterback Matt Schaub will be on a short leash this week with all of the turnovers he's committed over the past few weeks. Also from @RapSheet: Texans won't hesitate to yank Schaub if the turnovers continue because it's "simply not fair to the rest of the team." — NFL...
As a federal law-enforcement officer one of the worst things in the world is to see your family harassed or insulted. Matt Schaub of the Houston Texans is playing pretty bad football. But over the last couple weeks so He has been harassed, ridiculed, and attacked by the Houston Texans fan base. According to John […]
  getty images The Houston Texans are sticking with Matt Schaub as their starting quarterback for Sunday's game against the St. Louis Rams. "Matt gives us our best chance to win," coach Gary Kubiak said. "It was a tough decision, real tough." The Texans only have T.J. Yates as their backup and simply feel he does not provide the team with a chance to win. Meanwhile the...
NFL vice president of security Jeff Miller confirmed Wednesday to NFL Media Insider Ian Rapoport that the league is aware of an incident at the home of Houston Texans quarterback Matt Schaub involving a fan. "This is a little unusual in that we don't normally have fans acting in this way going to a players residence that sort of thing" Miller said. "In this case...
The Houston Texans are mired in their roughest stretch in almost two seasons, greatly because of some poor play from quarterback Matt Schaub. Though coach Gary Kubiak called it a "tough decision," he plans to stick with Schaub as the Texans try to avoid a fourth straight loss Sunday against the visiting St. Louis Rams. After scoring 61 points to beat San Diego and Tennessee...
Quarterback Matt Schaub will remain in the starting lineup for Sunday's game against St. Louis at Reliant Stadium Texans coach Gary Kubiak said today. Kubiak ended speculation that Schaub might be replaced by T.J. Yates at his postpractice news conference. Yates replaced Schaub early in the fourth quarter of Sunday's 34-3 loss at San Francisco where the Texans fell to 2-3 with...
Texans HC Gary Kubiak told reporters on Wednesday that after a good deal of consideration Matt Schaub will remain the team's starting quarterback for Week 6′s game against the Rams. "Matt gives us our best chance to win," Kubiak said,per Tania Ganguli. "It was a tough decision, real tough." While I'm sure that Kubiak actually gave this some thought, it isn't as...
Houston coach Gary Kubiak says Matt Schaub will start on Sunday against St. Louis, but added that staying with the beleaguered quarterback was a ''tough decision.''
Houston Texans quarterback Matt Schaub made news this week after some fans reportedly harassed him outside his house on Tuesday due to his struggles in the first five games of the season. Wednesday, defensive star J.J. Watt revealed he often has fans 'visiting' his house as well. While Watt's home encounters are not of a negative nature as was Schaub's, they are...
All Sports News

Delivered to your inbox

You'll also receive Yardbarker's daily Top 10, featuring the best sports stories from around the web. Customize your newsletter to get articles on your favorite sports and teams. And the best part? It's free!
THE HOT 10: Who's Trending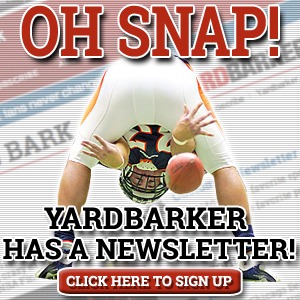 Latest Rumors
Best of Yardbarker

Today's Best Stuff

For Bloggers

Join the Yardbarker Network for more promotion, traffic, and money.

Company Info

Help

What is Yardbarker?

Yardbarker is the largest network of sports blogs and pro athlete blogs on the web. This site is the hub of the Yardbarker Network, where our editors and algorithms curate the best sports content from our network and beyond.