Found June 26, 2013 on Mr. Irrelevant:
The Washington Post polled 1,106 D.C.-area residents about the Washington football team's nickname, and the big takeaways are "61 percent [of Washingtonians] say they like the team's name" and "among those who want to keep the Redskins' name, 56 percent say they feel the word 'redskin' is inappropriate." That first result is predictable, and the second is pure comedy, though Chris Chase explains it away as pure apathy. ("This isn't a big deal to most people." Fair enough.) Another common-sense result was "around 8 in 10 Redskins fans and non-fans alike say changing the name would not affect their support for the team." That sounds about right, but the flip side is: "Among avid sports fans who have strongly favorable impressions of the Redskins, 15 percent say they would be less of a fan of the team if it were to change its name." Really?! These people would "be less of a fan" if the Redskins became the Skins (short for Pigskins) or the Warriors or the Hogs or whatever. Thes
Original Story:
http://misterirrelevant.com/index.php...
THE BACKYARD
BEST OF MAXIM
RELATED ARTICLES
Legendary boxer Bernard Hopkins has some advice for Washington Redskins quarterback Robert Griffin III, "run from (Donovan) McNabb." Hopkins, who has a longtime grudge against the former NFL quarterback, was asked by Fox 29′s Howard Eskin what he thought about McNabb wanting to give Griffin advice. "What I would 
It seems like this entire offseason the Washington Redskins have been defending their name against the media and public in an effort to try and prove it's not racist Back in May, the Redskins had a guest on their show Redskins Nation, named Chief Dodson who claimed to be "a full-blooded American Inuit chief originally from the Aleutian Tribes of Alaska" who "represents more...
With Robert Griffin III looking strong and his return to the starting QB position appearing imminent, what's next for back-up quarterback Kirk Cousins (Credit: AP Photo) After a season-ending injury and a pretty intensive surgery, Robert Griffin III is back and having no issues, as of yet, running drills on his repaired knee. It looks like RG III has a good shot at being ready...
Rich Tandler of CSN Washington believes the Redskins may elect to move forward with just Robert Griffin III and Kirk Cousins as the only quarterbacks on their 2013 roster. As of now, Washington is still carrying Rex Grossman as their third-string quarterback, but as Tandler points out, Mike Shanahan discussed the advantages of carrying four tight ends on their roster. Washington...
  Oh Dan Snyder, you just won't learn will you. The Washington Redskins owner, who has been defiant in his defense of the purportedly offensive team name, tried to pull the wool over everyone's eyes by employing the services of a real life Indian chief, to put a halt to the criticism the organization has been getting. And it would've worked if it wasn't for the meddlesome...
When approaching the upcoming NFL season, the Washington Redskins are faced with a long list of injured players that are working to make a comeback by Week 1. While the majority of the team participated in regular practice on the field, a group of injured, including six starters, worked on rehabilitation and conditioning on the sidelines during organized team activities in May...
Rex Grossman has been a good quarterback during his time in the NFL. He has also been a pretty bad one too. Lucky for him he has been streaky in a good sense enough to warrant teams keeping him around. However, he will be 33 before the '13 season starts, and didn't play a lick last season. Could his time be close to done in the NFL? Keith Allison/Flickr It can...
Everyone love's Robert Griffin III. The man has the coolest Adidas commercials, Subway for life (right?), fans are buying him wedding presents, the whole world is watching his knee--the love is definitely there for the second year quarterback of the Washington Redskins. It is kind of hard to beat sandwiches for life, but a local Richmond, VA (where the Redskins have...
Is Robert Griffin III cheating on his fast food? The Washington Redskins' star quarterback has an endorsement deal with Subway, often pitching the chain's sandwiches (along with other young sports luminaries like Mike Trout and Blake Griffin) in commercials. However, at least one other fast-food establishment may be making some inroads to win over RGIII. A fan stumbled upon a...
RG threesome Juan… Washington Redskins QB Robert Griffin III may not know all his fans, but even the one's he just meets, he feels like they're old friends. That explains why RG3 is so quick to put his arms around folks. This is a signature RG3 move and it definitely helps him make real connections. Robert Griffin III's Fashion is All White RG3 Dancing at Boys & Girls Club Party
  Wale made an appearance at Hot97′s studio in New York this week to promote his new album and ended up revealing that he'll be performing at Robert Griffin III's upcoming wedding. The Washington DC rapper got a surprise call-in from RG3 while on the show, as well. You can check out the appearance below. RG3′s call-in is around the 3:00 mark. [Washington Post] Article found...
Redskins News

Delivered to your inbox

You'll also receive Yardbarker's daily Top 10, featuring the best sports stories from around the web. Customize your newsletter to get articles on your favorite sports and teams. And the best part? It's free!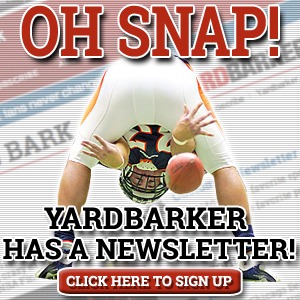 Latest Rumors
The Backyard

Today's Best Stuff

For Bloggers

Join the Yardbarker Network for more promotion, traffic, and money.

Company Info

Help

What is Yardbarker?

Yardbarker is the largest network of sports blogs and pro athlete blogs on the web. This site is the hub of the Yardbarker Network, where our editors and algorithms curate the best sports content from our network and beyond.