Found April 19, 2012 on Fox Sports Wisconsin:
GREEN BAY, Wis. -- Let's face it. When Packers general manager Ted Thompson held a press conference Thursday afternoon, his first in more than eight months, expectations had already been set for how the secretive man in charge of everything football in Green Bay would handle specific questions. Thompson wasn't going to reveal which draft prospects he likes, or even which positions he is targeting. But a media appearance from Thompson for 21 minutes of "draft insight" still offered several highlights of what's been happening inside the Lambeau Field offices since the Packers' 2011 season ended three months ago. Entering his eighth draft as Packers general manager, Thompson has learned a few valuable lessons: "You can't predict it. You can worry yourself sick about what's going to happen, who's going to be there when it's our pick and that sort of thing. The more you're in this, the more you get back to the base that (former Packers GM) Ron (Wolf) taught us, which is to evaluate players individually, don't get too whacked out one way or the other in terms of position, just make sure you have the players ranked correctly in terms of what you think they can do in the NFL. And that's easier said than done. I'm guilty of it just like everyone else. You get anxious, you want to help the team, you want to add some stuff to your team and to your locker room." Sorry, no secrets will be revealed about which positions in the draft have good depth: "Those are kind of the questions I don't answer. I'm not trying to be slick. There's always areas going into the draft that you think are strong and other areas that you think might not be as strong as they were before, but it all works itself out. Most drafts will wind up being about the same in terms of quality and how those players eventually impact the league and individual teams. I think year to year, it's usually about the same." So, essentially, no, Thompson will not answer that question. Who would like to try next? The backup quarterback position behind Aaron Rodgers is in question now that Matt Flynn is in Seattle. Graham Harrell moves up No. 2 on the depth chart, with former Arena League QB Nick Hill also on the roster. But is Thompson OK with where the Packers are at quarterback? "I'm fine with it. It's good." There's no question the defense needs more help than the offense, so will "drafting the best player available" going to turn into "drafting the best defensive player available? "We won't do it intentionally. Maybe subconsciously. We don't draft that way. You draft for the long-term investment for your team. We don't draft for the immediate need or perceived immediate need." The Packers have four compensatory picks -- two fourth-rounders and two seventh-rounders -- so how much value is there in those? "Well, we're certainly glad to have them. It's always good to have extra picks Like Ron (Wolf) said, the more swings you have at the plate, the better off you usually do. We're hopeful that we're prepared come next Thursday, Friday and Saturday that we can help the team with all those picks. We've had some success in the later rounds with the more picks." Thompson, known for his success at drafting good players in later rounds, has more fun as people around the country begin to tune out: "We treat all the rounds very seriously. Quite frankly, our signing of free agents after the drafts is something we're very keen of. By the time we get to Saturday, there are not as many people in the room. The excitement has sort of died down. The pressure of making sure you do good in the first two days has passed. This year will be different. We have a number of picks in the seventh round to gear up for, then we'll fly right into the college free agency. I don't know if I like one or the other better, but it's different." Justin Harrell was a first-round pick just five years ago, now he's out of the NFL. What did you learn from that mistake? "We did our research with that pick, too. The fact that it didn't work out is my responsibility." Reggie McKenzie, the Packers' former director of player personnel, is now the GM of the Oakland Raiders. That doesn't change much, though: "The process is exactly the same. Certainly we miss the fellas that have moved on. There's been three or four that have taken jobs elsewhere. We have other people that step in and pick up the slack. We've all worked together for a number of years, and most of the guys here were in the system that Ron (Wolf) incorporated originally that we do. Everybody's familiar with the different roles of the people in the room. It's an interesting process. It's a grind. We have the kind of grind meetings before the Combine and then all the scouts are on the road going to pro days for a month and a half. Then we all come back. I think they came back a week ago. Then we hit it again. There's some redundancy, but sometimes that helps us. It helps me to get more than less." Any preference to drafting seniors, rather than players who left after their junior season? "I do think there's a difference. That's not to say the juniors can't come in and play because a lot of them do and a lot of them have long careers and do just fine. I think as a rule, most people in my position would prefer that everybody fulfill their entire playing time in college. We feel then we get a more mature, more developed person to add to the organization. But we've taken juniors, and we don't hold it against them. A lot of times, they're coming out because they're really talented, so that tweaks your interest a little bit, too." Follow Paul Imig on Twitter.
Original Story:
http://www.foxsportswisconsin.com/04/...
THE BACKYARD
BEST OF MAXIM
RELATED ARTICLES
GREEN BAY, Wis. -- The future of Packers safety Nick Collins is still unknown. The serious neck injury suffered by Collins in Week 2 of last season -- which later required single-fusion neck surgery -- has created doubt about whether the 28-year-old's football career will ever be able to continue. "We don't have any determination at this point," Packers general...
Young offensive lineman had his ups and downs last season Marshall Newhouse started 11 games at left tackle last season, and all things considered, he did an admirable job. While the second-year player from TCU gave up too many pressures and sacks, he generally held his own. And while generally holding your own may not sound all that impressive, for last year's Packers, it was...
With one week before the draft, Packers general manager Ted Thompson held his annual pre-draft news conference on Thursday. One of the big questions is what the Packers will do at safety with Nick Collins' future in limbo.
Well, Aaron Rodgers will not grace the cover of the Madden 13 video game. But more important, the Green Bay Packers MVP quarterback believes he may have avoided the curse that sometimes comes with it. On his Twitter account Wednesday morning, Rodgers tweeted: "Thanks to all our packer fans that voted for and against me in the madden voting! Happy Wednesday! CurseAvoided&quot...
MADISON, Wis. It's no secret that Green Bay Packers fans hold a special affinity for their team, arguably unlike any in professional sports. The Packers, after all, are the only community-owned team in the NFL and certainly the only game in town for miles around during football season. So when a Packers player is tied to the organization for 16 years and becomes the face of...
We have all seen it happen during the NFL draft coverage as young players sit and wait for their name to be called. Players surrounding them are picking up the phones, hugging their parents and putting on hats. Instead of doing the same they continue to sit as their fate lies in the shape of a small note card read by the NFL commissioner. It even happens to the great ones as Aaron...
I would rather see Rodgers do silly modeling shots like this than to EVER be on the Madden Cover.   As you may or may not know, Aaron Rodgers was once again in the running to be on the next Madden cover. Thankfully, he did not win. The finalists are Calvin Johnson (Detroit) and Cam Newton (Carolina).  Sucks to be these dudes. I mean, Cam……you are already inducted into the NFL...
Green Bay Packers general manager Ted Thompson says the team is waiting for more information on the playing future of safety Nick Collins. The 28-year-old Collins sustained a career-threatening neck injury at Carolina last season and had neck fusion surgery in September. Thompson says Collins is gathering medical advice on his next steps. Without Collins for much of the season...
With Nick Collins' future likely to be determined after the draft, Green Bay has little choice but to invest an early pick in a safety. According to a source, two defensive backs have joined the Packers' first-round conversation.
The Green Bay Packers have the second-easiest schedule in the NFL this season. This article "makes a funny" about Kim. Their 2012 opponents had a combined winning percentage of just .469 last season — the second-lowest only to New England's opponents (.453) — the Packers open with two games in five days against the San Francisco 49ers on Sept. 9 and the Chicago Bears...
Today is the 10th day of two weeks of Green Bay Packers coverage leading up to the April 26 beginning of the NFL draft.April 12: Five best first-rounders in the past 25 years April 13: Five worst first-rounders in the past 25 years April 14: Quarterbacks position preview April 15: Running backsfullbacks position preview April 16: Offensive tackles position preview April 17: Guardscenters...
All Sports News

Delivered to your inbox

You'll also receive Yardbarker's daily Top 10, featuring the best sports stories from around the web. Customize your newsletter to get articles on your favorite sports and teams. And the best part? It's free!
THE HOT 10: Who's Trending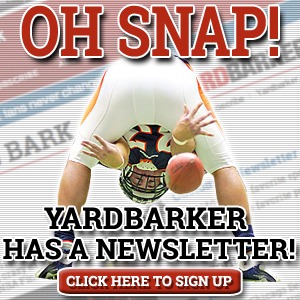 Latest Rumors
The Backyard

Today's Best Stuff

For Bloggers

Join the Yardbarker Network for more promotion, traffic, and money.

Company Info

Help

What is Yardbarker?

Yardbarker is the largest network of sports blogs and pro athlete blogs on the web. This site is the hub of the Yardbarker Network, where our editors and algorithms curate the best sports content from our network and beyond.