Found November 14, 2012 on Fox Sports Florida:
Gary Payton isnt taking for granted he will be first-ballot Hall of Famer. But lets just say hes ready if it happens. Payton already knows who his Hall of Famer presenters will be whenever he might be enshrined. I would name two of them, John Stockton and George Gervin, Payton said in a phone interview with FOX Sports Florida. "John Stockton is someone that I respect and was the toughest basketball player I played (against). George Gervin, because I admired him ever since I was (growing up). Those are guys that I respect a lot. Payton, who played the final two of his 17 NBA seasons with Miami, retired in 2007 and is now eligible for induction after the required five-year waiting period. Finalists will be announced Feb. 15 during the NBAs All-Star Weekend in Houston and the class of 2013 revealed April 8 at the Final Four in Atlanta. The point guard, who had his greatest years in Seattle from 1990-2003, was a nine-time All-Star who averaged 16.3 points and 6.7 assists. Nicknamed The Glove, Payton was the 1995-96 NBA Defensive Player of the Year, made the All-NBA Defensive first team nine times and nine times made the All-NBA first, second or third team. Its a big honor for me just to be mentioned to be going into the Hall of Fame, Payton said. Being a kid coming out of Oakland, California, I was just trying to make the NBA Its up to the voters (whether Payton makes it in his first year of eligibility). My numbers are there. I did everything that I had to do. I wouldnt be disappointed (if not a first-ballot choice). If it doesnt happen (in 2013), then Ill come back (in 2014 for eligibility). They dont give you any extra credit for getting in in your first year. But I got the numbers (for it). Payton would become the first man ever to play for the Heat to make the Hall of Fame. Even though he averaged just 6.6 points and 3.1 assists in his two Miami seasons, it still was a special time considering Payton won his only NBA title there in 2006. That would be great if that were to happen, Payton, who lost in the Finals with Seattle in 1996 and with the Lakers in 2004, said of being the first Miami inductee. The Heat is always special to me because of Pat Riley (the Heat president and Paytons coach during his final 1 Miami seasons). He helped me to get a special moment. But dont be offended, Heat fans, that Payton didnt rule out one day selling a championship ring he won in Miami. The topic came up after Payton was asked about legendary Oscar Robertson having put his 1964 NBA MVP trophy up for auction. I got two rings made, Payton said of 2006. I got one made to wear and one made to sit in a safe deposit box. The only thing that is sentimental to me is that I won a championship (rather than anything material). I dont know (about ever selling a title ring). I might. It doesnt matter. I would never put nothing out because I never say never. If people come to you and want to buy your All-Star jersey for 100,000, some people will sell it. Payton might not have been an All-Star in Miami. But his Heat teammates remember him fondly. Theres no way we consider ourselves champions if he doesnt hit that shot down the stretch against Dallas, said forward Udonis Haslem, who, along with guard Dwyane Wade, is one of two Heat players remaining from the 2006 title team. He had a big part to do with us being champs. After trailing 2-0 to the Mavericks and down by 13 points with six minutes left in Game 3, Miami made a stirring comeback. Payton scored the decisive points on a long jumper with 9.3 seconds remaining in a 98-86 Heat win, and they eventually won the series 4-2. When the 6-foot-4 Payton arrived in Miami, he was 37. He took the 6-4 Wade, then a third-year man and 23, under his wing. I believe so, Wade said Payton being a first-ballot Hall of Famer. What he did in his career was unbelievable. He was 20 (points) and 10 (assists) his whole career. You cant forget that. Hopefully, he gets in the first time. He was a guy who was about my same height, and I looked up at him when I was growing up. Payton, now 44, still calls Wade, 30, his little brother. He was thrilled to see him last season win another championship. The Heat beat the Oklahoma City 4-1 in the Finals, the Thunder being the team that had bolted Paytons beloved Seattle in 2008. Now, Payton is playing a role in trying to bring an NBA team back to Seattle. Payton is working with investor Chris Hansen, a Seattle native, on what will happen when a new arena is expected to be in place for the 2015-16 season. While Payton didnt deny the Sacramento Kings are a candidate to move to Seattle, he said other teams, which he wouldnt name, also are in the mix. It looks like its going be back there, a confident Payton said about the NBA returning to Seattle and figuring to take back the SuperSonics name. We got a plan for the arena... A lot of teams in the NBA are up for sale. A lot of teams that people dont know. But you have to wait for the right situation and the right opportunity. Were open to anything. Were not just (focusing on) Sacramento. Were looking at a lot of other options. If a team does return to Seattle, Payton is hopeful the new franchise would retire his No. 20. By that time, the team also could hang a Payton Hall of Fame banner. Chris Tomasson can be reached at christomasson@hotmail.com or on Twitter @christomasson
Original Story:
http://www.foxsportsflorida.com/11/14...
THE BACKYARD
BEST OF MAXIM
RELATED ARTICLES
Dwyane Wade has taken many bold fashion steps over the past few years ever since hiring a consultant to dress him. He's worn the pointless nerd glasses, color-coordinated his finger wraps with his ties, and he even painted his toe nails. Maybe his most notable look was the hot pink pants he wore during the playoffs. Coming in a close second are the super-skinny pants he wore on...
PUTS THE 'ACK' IN 'SLACKS'
Dwyane Wade will probably be the subject of quite a few of my "Fashion Glances." One, because he clearly loves fashion and two because people usually have a strong reaction to his choices. Case in point, LeBron James posted this photo of DWade to Instagram last night following Heat vs. Rockets- the Rockets had this [...]
Thanks to @cjzero for the GIF. Heat forward Chris Bosh is the human version of a surprised ostrich or a sly velociraptor, depending on your interpretation.  Often times he makes odd, yet hilarious faces like the one you see above, and it's OK to laugh at him and his wacky antics, because if we didn't, Bosh might stop making said funny faces, and then where would we be? Living...
There are so many great things about this play.  First Eric hustles back when most players would just let a two on none happen. Not Eric, he comes running in and gets up higher than Dwyane Wade for the block. Great play for a young player that a lot of writers are high on.  I am a little surprised Dwyane Wade didn't call Bledsoe dirty or cheap after that block like he usually...
Back on Tuesday, LeBron James decided to post this photo of teammate Dwyane Wade rocking some skinny jeans on a recent flight.Clearly, Wade needed assistance to just get into those pants:(Courtesy of USA Today)
For those of you eagerly awaiting the 2012 edition of People Magazine's "Sexiest Men Alive", you might recognize the man they picked as the sexiest Alaskan man.People went with Miami Heat starting Mario Chalmers and well, USA Today's Chris Chase will fill you in with the rest of the details: This year, the magazine chose the sexiest man from each 50 states. ...
A couple of years ago, Miami Heat star Dwyane Wade's dunk attempts weren't going to be swatted by many people.However, D-Wade is getting up their in NBA age (He's 30) and last night, he got victimized by Clippers guard Eric Bledsoe swatting a dunk attempt in the second quarter of play:
Dwyane Wade was attempting to finish a possession with a nice slam, but instead found Eric Bledsoe blocking his shot during Wednesday night's Miami Heat and Los Angeles Clippers game. Dwyane Wade's age is finally showing. H/T Jose3030The post Eric Bledsoe Blocks Dwyane Wade (Video) appeared first on The NBA Mistress.
LeBron James scored a season-high 38 points, Chris Bosh had 24 points and 10 rebounds, and the Miami Heat rallied to beat the Houston Rockets 113-110 on Monday night.
While their offense has been up to the task, the Miami Heat's defense hasn't been close to championship form. The Denver Nuggets have similar concerns defensively with the NBA's highest-scoring team coming to town Thursday night. After finishing fourth in the league in scoring defense at 92.5 points per game during their 2011-12 championship season, Miami (6-3) ranks...
Special guest Brandon Caldwell blesses TSFJ with some first-hand words from the Miami Heat vs. Houston Rockets game on Monday night. Shocking The World ensued.The post Shocking The World: Miami Heat Vs. Houston Rockets (The Hairline Vs. The Beard) appeared first on The Sports Fan Journal.
All Sports News

Delivered to your inbox

You'll also receive Yardbarker's daily Top 10, featuring the best sports stories from around the web. Customize your newsletter to get articles on your favorite sports and teams. And the best part? It's free!
THE HOT 10: Who's Trending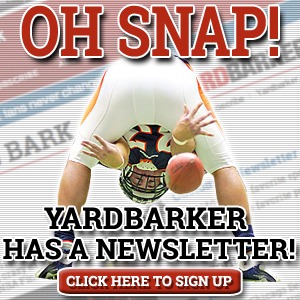 Latest Rumors
The Backyard

Today's Best Stuff

For Bloggers

Join the Yardbarker Network for more promotion, traffic, and money.

Company Info

Help

What is Yardbarker?

Yardbarker is the largest network of sports blogs and pro athlete blogs on the web. This site is the hub of the Yardbarker Network, where our editors and algorithms curate the best sports content from our network and beyond.