Found December 31, 2012 on Fox Sports North:
PLAYERS:
Ricky Rubio
,
Martell Webster
,
Chase Budinger
,
Luke Ridnour
,
Will Conroy
,
Kevin Love
,
Greg Stiemsma
,
Andrei Kirilenko
,
Rick Adelman
,
Alexey Shved
,
Darko Milicic
TEAMS:
Minnesota Timberwolves
,
Denver Nuggets
MINNEAPOLIS In the NBA, the distinction between Dec. 31, 2012 and Jan. 1, 2013 is nil. The season continues, the games keep on coming and teams are largely the same as they were the night before. Regardless, though, there's some finality to the end of a calendar year, especially for a team like the Timberwolves that's so dramatically different today than it was at the end of last season. On that note, let's look back at the five best and five worst moments for the Timberwolves in 2012, everything from botched dunks to the amnesty clause to the point guard who's assumed an almost mythical persona in just 12 months in the league. THE WORST OF TIMES 1. Ricky Rubio's torn ACL, obviously. March 9. Target Center. Fourth quarter. Lakers. Timberwolves up, 102-101. You remember, too vividly, most likely. I'm pretty sure March 9 will always be the day Rubio tore his ACL to me, even 20 years from now, wherever I am, even if my first-born child enters the world on that very date. Now, 10 months later, with the point guard back on the court, there's still no way anything could top this moment as the worst of the year for Minnesota; the Timberwolves went 5-20 without him, falling from potential playoff team to among the NBA's most disappointing. 2. Martell Webster's atrocious, useless, boneheaded dunk. The Timberwolves had just made two free throws to bring their Feb. 20 game in Denver within three points, 102-99, with five seconds left in overtime. (And remember, this is pre-ACL, when games like this one seemed perfectly winnable.) The Nuggets got the ball, but Webster quickly stole it and got a breakaway down the court. Then, instead of having even the remotest of clues as to how much time remained on the clock (I repeat: five seconds) and his team's deficit, Webster elected to go for the dunk rather than set up a long-range shot that might have tied the game. The dunk was, of course, good, but funny thing, you may have learned it in first grade: Dunks are worth two points. So the Timberwolves were still down by a point, and they went on to lose, 103-101. 3. Chase Budinger's meniscus tear. It had been less than 24 hours since his game-winning layup against the Pacers when Budinger was tripped in the fourth quarter of the Timberwolves' 87-80 loss in Chicago, tearing the meniscus in his left knee. It looked bad from the get-go: Budinger couldn't stand up, so Luke Ridnour tried to help him off the court. Budinger was so unsteady, though, so unable to bear weight on his left knee, that the 175-pound Ridnour had to defer to head athletic trainer Gregg Farnam and guard Will Conroy, who eventually ushered the guard-forward to the sideline. Budinger is with the team again and off crutches, but he will be out until after the All-Star break, and the Timberwolves are sorely missing him on the wing. 4. Kevin Love's concussion. By the time he was concussed, the Timberwolves were solidly lodged in the basement of the Western Conference, and the injury didn't matter in terms of the team's playoff hopes. Still, it's never fun to see your star player (or anyone, really) conked out on the court like that. Minnesota won just won game after Love was shut down for the season on April 11. 5. Losing to Denver by 29 points to end 2011-12. The Timberwolves let the Nuggets shoot 62.9 percent on the game, and at one time were down by 32 points in the gruesome ending to a disappointing season. It was the kind of final game that ushers in an offseason like Minnesota's, with massive turnover and a roster rebuild, and as fitting as it might have been after the team won just one game in April, it was also demoralizing. To cap it off, it was Brad Miller's last game in the NBA and just about the worst way in which a player that dedicated could have bid goodbye. THE BEST OF TIMES 1. Love's game-winning 3-pointer in Los Angeles. The Timberwolves out-scored the Clippers, 101-98, in the fourth quarter on Jan. 20, capping their comeback win with a 28-foot Love 3-pointer at the buzzer. It was the shot that spurred the Kevin Love victory pose that the team now uses to market nearly everything, and I don't blame them. It was a big win, a big moment, and a sign that things were changing (at least for the next month and a half) in Minnesota. 2. Rubio's return. So what if he hasn't done too much since his Dec. 15 debut the return of Ricky was pretty amazing. He had nine assists in just 18 minutes, a between-his-own-legs assist to Greg Stiemsma and countless other no-look, flashy plays. That player will be back, sooner than later, you'd have to imagine, and for now, cut him some slack. 3. Signing Andrei Kirilenko. At the time, it seemed like a gamble, more noteworthy for the name than for the production it would add from the 31-year-old. Was that assessment ever wrong. Kirilenko is averaging 13.3 points on 51.6 percent shooting, 6.9 rebounds and 3.2 assists through 23 games, and he has a PER of 18.0. His style of play seems perfect for Rick Adelman's system, and he's also functioned as a mentor for Alexey Shved. Anything else you'd like him to do? 4. Beating the Thunder. They hinted at it last season, with their three games all either decided in the final seconds or going to overtime, and the upgraded Timberwolves made good on their near misses Dec. 20, when they defeated Oklahoma City, 99-93. It was the statement game the team needed, the big win that made it easier to imagine more big wins down the line, and when Adelman and Love said that they hope games like that one can cease to be a big deal in the future, they nailed it. 5. Amnestying Darko Milicic. I'm including this more for its symbolic value; in doing so, the team finished cutting out what Love referred to as the bad blood from last season, and even though they're on the hook for the 7 million in guaranteed money they still owe him, it doesn't count against the team's salary. The Timberwolves look even smarter now; Milicic left Boston in late November after playing exactly 4:30 in one game, returning to Europe to care for his sick mother. You have to imagine that's the last the NBA will see of 2003's No. 2 pick. Follow Joan Niesen on Twitter.
Original Story:
http://www.foxsportsnorth.com/12/31/1...
THE BACKYARD
BEST OF MAXIM
RELATED ARTICLES
MINNEAPOLIS Ricky Rubio did not practice Monday after missing Saturday's game against Phoenix with back spasms. The point guard began feeling back pain and stiffness on Friday at practice, and it got worse from there. He warmed up Saturday and hoped as late as an hour before the game that he'd be able to play, but he still felt too stiff, he said. Rubio said that he feels...
MINNEAPOLIS Happy New Year, and welcome to 2013 in the NBA, where Tuesday's games mean as much as Monday's, where win streaks remain and losing streaks linger and today looks about the same as yesterday. The New Year in basketball is little more than semantics, its only value being that the playoffs are one day closer, the season that much more advanced, identities that...
MINNEAPOLIS J.J. Barea raised his arms in incredulity, the most J.J. Barea of shrugs. It was directed mostly at the refs -- he ended up with a technical foul -- but at least partly at the shot he'd just accidentally assisted. It was the sloppiest kind of pretty. As the clock ticked down at the end of the third quarter, Barea had just heaved a shot while teetering beyond the...
MINNEAPOLIS – Two-time All Star Kevin Love worked overtime the last three days in an effort to carry himself and his team successfully into 2013, and then teammate Nikola Pekovic took the Timberwolves there in Saturday's 111-107 victory over Phoenix at Target Center. Losers of big leads in consecutive games before Saturday, the Wolves watched a nine-point, third-quarter lead...
Oh what could have been...
Derrick Williams had a decent showing in Minnesota's 111-107 win over Phoenix Saturday, but he probably would have like to have this alley-oop attempt back. Williams got a long pass from Alexey Shved and tried dunking it home except the rim got in the way. The result was a pretty solid brick for the blooper reel. Video via @cjzero
We here at That NBA Lottery Pick are fans of missed slam dunks and there was an epic one over the weekend.In Saturday's Phoenix Suns/Minnesota Timberwolves affair, Timberwolves forward Alexey Shved tried to throw an alley-oop to Derrick Williams.Watch as Derrick completes the catch but gets denied by the rim:
MINNEAPOLIS -- Two-time All Star Kevin Love put in three days worth of hard work in an attempt to carry himself and his team successfully into 2013, and then teammate Nikola Pekovic took the Timberwolves there in Saturday's 111-107 victory over Phoenix at Target Center. Sidetracked most of the season by injury, illness and some untimely comments made to Yahoo! Sports, Love stayed...
MINNEAPOLIS -- Ricky Rubio will remain in Minneapolis this week while the Timberwolves play back-to-back games Wednesday and Thursday against the Jazz and Nuggets.Rubio has not played since the team's Dec. 26 game against Houston. He began suffering from back spasms Friday, and though he attempted to play Saturday, he remained too stiff. The point guard did not practice Monday...
All Sports News

Delivered to your inbox

You'll also receive Yardbarker's daily Top 10, featuring the best sports stories from around the web. Customize your newsletter to get articles on your favorite sports and teams. And the best part? It's free!
THE HOT 10: Who's Trending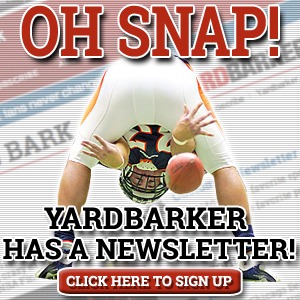 Latest Rumors
The Backyard

Today's Best Stuff

For Bloggers

Join the Yardbarker Network for more promotion, traffic, and money.

Company Info

Help

What is Yardbarker?

Yardbarker is the largest network of sports blogs and pro athlete blogs on the web. This site is the hub of the Yardbarker Network, where our editors and algorithms curate the best sports content from our network and beyond.