Found March 30, 2013 on Ted's Army:
Every morning, we compile the links of the day and dump them here... highlighting the big storyline. Because there's nothing quite as satisfying as a good morning dump. "We definitely see those two players co-existing on the Red Sox," said Boras yesterday. "They are quite a force for the team." There is no question in Boras' mind about which of the two should be in center field. "Both these guys are so athletic but obviously Jacoby is the one with experience in this league and that's very important at that position," said Boras. "I don't think Jackie minds playing in the major leagues if that means flanking Jacoby Ellsbury. I think he would be very happy if that came to pass." On keeping Bradley in the minors so the Sox gain another year of control: "Clubs put themselves in a position to make decisions based on economic concerns instead of performance," said Boras. "Every boundary becomes the focus of strategic decisions. Every team does it. I don't think it's necessarily in the best interests of baseball. When this does happen, fans usually become aware that the team is better with the player on it and economic concerns are not always the most important." Herald - Scott Boras loves his Red Sox If you were wondering what Scott Boras thought about the Red Sox outfield situation (you weren't), well, now you know. Boras is who he is, and he's unapologetic about it.  Everything the man says and does is done with the sole purpose of lining his pockets with more money.  So any time he says or does anything it easy to dismiss it because it's always said or done in self-interest. But he does have a point about the Jackie Bradley situation.  Having control over players is one of those "interesting and unique" parts of baseball that you don't find anywhere else.  It's also "stupid and dumb".  I know a lot of people disagree with me, but I tend to see things in black and white.  In my world, you draft a player and you have them under your control for X number of years.  Then it's decision time.  If you kept him in the minors that whole time, or started him in the majors in year 1, doesn't matter.  But that's not how it works, and it's not something that is probably going to be changing in my lifetime.  Usually teams navigate these rules successfully.  But sometimes you have a Jackie Bradley Jr. on your hands, and you have no choice but to let the kid play.  Even if it's going to cost you millions of dollars in the end. Sometimes it's worth it. Rest of the links: Herald - Stick a sock in it, Curt | Last roster spot in flux | Globe - Franklin Morales will get stretched out by Red Sox | Bradley waits on number | WEEI - Red Sox COO Sam Kennedy on Salk & Holley: Discounts could extend past April | CSNNE - Red Sox will be better . . . but by how much? | Felger & Mazz: 2013 Red Sox predictions
Original Story:
http://www.tedsarmy.com/blog/2013/03/...
THE BACKYARD
BEST OF MAXIM
RELATED ARTICLES
Every morning, we compile the links of the day and dump them here... highlighting the big storyline. Because there's nothing quite as satisfying as a good morning dump. Although no official announcement has been made, it appears Jackie Bradley Jr. has in fact made the Opening Day roster. Jackie Bradley Jr. was only supposed to spend a few weeks in spring training with the...
The Red Sox will have to survive without David Ortiz to start the 2013 season. Ortiz was placed on the 15-day disabled list with right Achilles tendinopathy retroactive to March 22. Craig Breslow and Franklin Morales were also placed on the 15-day DL with left shoulder tendinitis and a lower back strain respectively. The Red Sox starting swinging the bat two weeks ago. The designated...
Jackie Bradley, Jr will start in tomorrow's Opening Day game versus the New York Yankees Congratulations to Jackie Bradley Jr, who was finally told today that he would make the roster as a member of the 2012 Boston Red Sox. As a bonus, the Red Sox will start Bradley in left field tomorrow versus the New York Yankees and left-handed pitcher C.C. Sabathia. Bradley will have...
Jackie Bradley Jr. has made the Red Sox' opening day roster. The team announced their roster on Sunday and Bradley was selected to the active major league roster, while Mauro Gomez was designated for assignment. Bradley tore through spring training with a .419 average, 1.120 OPS, two home runs and 12 RBIs. Bradley will start in left field and wear No. 44 on Opening Day against...
Dynamic rookie outfielder Jackie Bradley Jr. has made Boston's opening-day roster and will start in Monday's opener against the New York Yankees. Manager John Farrell told Bradley, who turns 23 on April 19, the news on the flight to New York on Saturday night. Taken with the 40th overall pick in the 2011 amateur draft, Bradley batted .419 in spring training with a .507...
Before tonight's game, the Red Sox had three players fighting for two spots. After the Red Sox's Mayor's Cup clinching win, the Red Sox beat writers basically live tweeted Ryan Sweeney being called into the office and cut from the team. While Sweeney will be left to find a new home for his patient approach, rock-solid glove, and five o'clock power; that essentially...
Following the team's 6-1 victory over the Twins in Fort Myers, outfielder Ryan Sweeney was told by manager John Farrell that he would not make the Red Sox' Opening Day roster. Because he has an opt-out clause in the minor league contract he signed in January, Sweeney's tenure with the Red Sox is likely over. Once he officially opts out sometime Friday or Saturday, the...
The Boston Red Sox season begins tomorrow, Monday April 1st at 1:05 in Yankee Stadium. The pitching matchup is Jon Lester vs CC Sabathia. The game will be televised on NESN and ESPN. Tuesday the Sox have the day off, before playing again on Wednesday. Wednesday the game starts at 7:05 on NESN and ESPN 2. The pitching matchup is Clay Buchholz vs Kuroda. The final game of the series...
Clay Buchholz pitched one-hit ball for four scoreless innings, and the Boston Red Sox beat the Minnesota Twins 6-1 Thursday night in the first of three straight games between the teams to end spring training. Buchholz walked one and struck out six. Twins right-hander Kevin Correia went five innings, giving up one run on five hits and a walk with one strikeout for the Twins. The...
  After a very busy offseason, the 2013 MLB season is finally here and the Boston Red Sox are ready to embark on a new chapter under first year manager John Farrell and several new players that will make up part of this team in 2013. Life without manager Bobby Valentine is over and the drama in the clubhouse that was evident last summer has been cleaned up and a new slate has been...
Boston is coming off a disastrous season that saw them start the rebuilding process. With a new manager in place, will they be able to compete right away, or need a season or 2 get back to the post-season? Key Losses: Mike Aviles, SS (Blue Jays, Trade) Ivan DeJesus, SS (Pirates, Trade) James Loney, 1B (Rays, Free Agent) Daisuke Matsuzaka, RHP (Indians, Free Agent) Mark Melancon...
Red Sox News

Delivered to your inbox

You'll also receive Yardbarker's daily Top 10, featuring the best sports stories from around the web. Customize your newsletter to get articles on your favorite sports and teams. And the best part? It's free!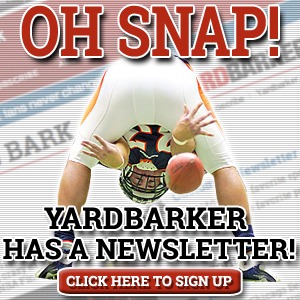 Latest Rumors
Best of Yardbarker

Today's Best Stuff

For Bloggers

Join the Yardbarker Network for more promotion, traffic, and money.

Company Info

Help

What is Yardbarker?

Yardbarker is the largest network of sports blogs and pro athlete blogs on the web. This site is the hub of the Yardbarker Network, where our editors and algorithms curate the best sports content from our network and beyond.