Go ahead Al Michaels, lay down that Sochi curling bet for Team USA vs. Great Britain on air. This is America, land of the free.
Here is Al Michaels' mug shot after being arrested in Santa Monica, California for DUI.   Some more details have emerged from his arrested, thanks to Deadspin. Via the Smoking Gun comes the mug shot, and another detail about Friday's arrest, in which Michaels blewjuuust over the legal limit on a breathalyzer. It seems Michaels caught the attention of a Santa Monica DUI checkpoint...
If you asked me to list every prominent sports figure in order of most to least likely to get a DUI, Al Michaels would be at the very bottom. Check that — Michaels wouldn't even make the list. Sure, Al keeps a keen eye on the point spread and enjoys playing the stock market, but this guy is as wholesome and American as it gets. Michaels has that great, fatherly figure persona...
Police in Southern California say that NBC Sports announcer Al Michaels has been arrested on suspicion of drunken driving. Santa Monica police Sgt. Thomas McLaughlin says Michaels was taken into custody Friday night. McLaughlin could provide no additional details. Greg Hughes, a spokesman for NBC Sports, says the company ''is aware of the situation'' and has been...
Al Michaels, the play-by-play announcer for NBC's "Sunday Night Football," was arrested and charged with misdemeanor DUI in Southern California on Friday night, Santa Monica police said. Sgt. Ryan Gradle of the Santa Monica police department said that the Al was extremely cooperative and was released on his own recognizance Saturday morning after spending more than five hours...
TISK TISK
Al Michaels was reportedly arrested on suspicion of driving while under the influence on Friday night. His BAC was just over the legal limit.
Al Michaels — the legendary sports announcer most famous for his call of the "Miracle on Ice" hockey game at the 1980 Olympics — was arrested Friday for suspicion of DUI, reports TMZ. Law enforcement officers told TMZ the 68-year-old Michaels went through a a DUI checkpoint in Santa Monica at approximately 10 p.m. on Friday.  The officers detected the odor of alcohol...
Imagine, for a moment, that Al Michaels was not in the broadcast booth in Lake Placid in 1980. That Howard Cosell was not ringside when the champ unexpectedly tumbled to the mat. That Johnny Most was not courtside for the most famous steal in Celtics history. What would we think of those moments -- iconic moments all -- without the soundtracks that accompany them? A lot can go into...
Al Michaels and Howard Stern discussed the extremely delicate Penn State situation on Monday's show. In true Stern fashion, he does not tiptoe around the outrage and disgust he feels about those who were allegedly responsible and covered up the unfathomable scandal that has rocked sports in the last week. The majority of Stern's venom is directed at Mike McQueary...
Today marks the 67th birthday of legendary sportscaster Al Michaels, and to help celebrate this momentous occasion I present to you The Top 3 Al Michaels Calls of All-Time. Enjoy.3) "Super Bowl XXXIV" (2000)-In perhaps the greatest finish in Super Bowl history, the Titans' bid for a title "came up one yard short" against the Rams. 2) "World Series Quake...
MORE STORIES >>
All Sports News

Delivered to your inbox

You'll also receive Yardbarker's daily Top 10, featuring the best sports stories from around the web. Customize your newsletter to get articles on your favorite sports and teams. And the best part? It's free!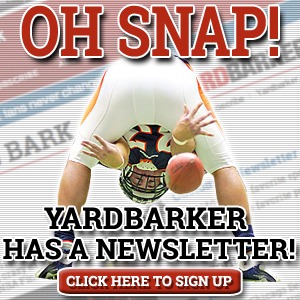 THE HOT 10: Who's Trending