With the dawn of another month upon us, it's time for one of our favorite pastimes here at Awful Announcing – looking at MLB Network's schedule of live games and complaining endlessly about it. Just like last month, I can't nitpick too much about the schedule. The network will feature five of their Showcase games this month, and the only team to show up more than once is...
A source has informed Page Six that the alleged cause of the disturbing pinkeye that (Bubonic) plagued Bob Costas in Sochi during the Winter Olympics and prompted him to be pulled off the air was caused by botched Botox procedure. Costas, whose unfortunately timed condition became comedic fodder, missed six days as the prime-time host […]The post Was Bob Costas' Sochi pink eye...
.@MLauer hosts both primetime and late night tonight. Bob returns to host both shows tomorrow night (Monday). pic.twitter.com/iSGK5t2nSR — NBCSportsPR (@NBCSportsPR) February 16, 2014 You know NBC has been waiting to make this announcement since Bob Costas had to step away ffrom the Olympic Primetime anchor desk to recover from his bout with pink eye. It's been the subject...
Injuries are taking toll on the stars of the Olympics, and even forcing one out of action. It was announced by NBC that Bob Costas would miss Tuesday night's primetime Winter Olympic coverage due to his diseased eyes. We know this is sad news, but we give you these 20 hilarious memes of Costas and his pink eyes to honor the fallen broadcaster. via @MentalityMag Article found on...
Bob Costas can not take his eye infection any longer.On Tuesday, Today host Matt Lauer will replace Costas during the evening telecast of the Olympics, marking the first time since 1988 that someone other than Costas will host a primetime Olympic telecast on NBC."Let's hope it's only tonight because right now I'm walking around and might as well be playing Marco Polo....
Between Bob Costas' stanky eye and him dropping a "***** Riot" on air, we can just go ahead and wrap these Games up and call it an Olympics.
Bob Costas is tasked with weaving the societal issues of the Sochi Olympics together with the athletic events from his lofty perch.  Ultimately that was going to lead to the incredible television moment of him saying the words "***** Riot" on national television.  That happened on night one when he also happened to have a weird infection in his left eye that just added...
Costas tried to say it smoothly, but we know what he was thinking…….
If you saw Bob Costas doing Olympics work on NBC at all Thursday, your first question probably was "what the heck is up with Bob Costas' eye?" and why is he wearing glasses? Turns out that the veteran broadcaster developed an eye infection that prevented him from putting in contact lenses, which is why he's […]
MORE STORIES >>
All Sports News

Delivered to your inbox

You'll also receive Yardbarker's daily Top 10, featuring the best sports stories from around the web. Customize your newsletter to get articles on your favorite sports and teams. And the best part? It's free!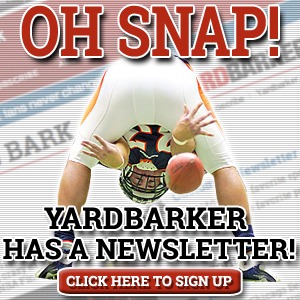 THE HOT 10: Who's Trending