Before tonight's Pittsburgh-Carolina game on Sunday Night Football, NBC's Football Night in America will not only review the day's action through video highlights, but also preview the upcoming game through interviews. Bob Costas and Josh Elliott split the interview duty. Costas speaks with Steelers wide receiver Antonio Brown. Elliott queries Panthers linebacker Luke Kuechly...
50 Cent's horrible pitch has pretty much made it's way into any conversation about baseball. Maybe 50 should hit up little leaguer Mo'Ne Davis for some pointers. TMZ caught up with Bob Costas and asked him why he was allowed a do-over on his horrible pitch and 50 couldn't. Costas was very frank in his answer. Unfortunately your browser does not support IFrames. Costas is...
Bob Costas had the honor of throwing out the first pitch before the Reds- Cardinals game on Tuesday. Costas gave an awful first pitch, like 50 Cent bad. The ball went far left and out of the reach of the catcher. Then Costas did something out of the ordinary, he demanded a do over. He then threw out another pitch that was in the strike zone. Seriously? You are a grown man Bob. Just...
A source has informed Page Six that the alleged cause of the disturbing pinkeye that (Bubonic) plagued Bob Costas in Sochi during the Winter Olympics and prompted him to be pulled off the air was caused by botched Botox procedure. Costas, whose unfortunately timed condition became comedic fodder, missed six days as the prime-time host […]The post Was Bob Costas' Sochi pink eye...
Injuries are taking toll on the stars of the Olympics, and even forcing one out of action. It was announced by NBC that Bob Costas would miss Tuesday night's primetime Winter Olympic coverage due to his diseased eyes. We know this is sad news, but we give you these 20 hilarious memes of Costas and his pink eyes to honor the fallen broadcaster. via @MentalityMag Article found on...
Bob Costas can not take his eye infection any longer.On Tuesday, Today host Matt Lauer will replace Costas during the evening telecast of the Olympics, marking the first time since 1988 that someone other than Costas will host a primetime Olympic telecast on NBC."Let's hope it's only tonight because right now I'm walking around and might as well be playing Marco Polo....
Between Bob Costas' stanky eye and him dropping a "***** Riot" on air, we can just go ahead and wrap these Games up and call it an Olympics.
Bob Costas is tasked with weaving the societal issues of the Sochi Olympics together with the athletic events from his lofty perch.  Ultimately that was going to lead to the incredible television moment of him saying the words "***** Riot" on national television.  That happened on night one when he also happened to have a weird infection in his left eye that just added...
Costas tried to say it smoothly, but we know what he was thinking…….
If you saw Bob Costas doing Olympics work on NBC at all Thursday, your first question probably was "what the heck is up with Bob Costas' eye?" and why is he wearing glasses? Turns out that the veteran broadcaster developed an eye infection that prevented him from putting in contact lenses, which is why he's […]
MORE STORIES >>
All Sports News

Delivered to your inbox

You'll also receive Yardbarker's daily Top 10, featuring the best sports stories from around the web. Customize your newsletter to get articles on your favorite sports and teams. And the best part? It's free!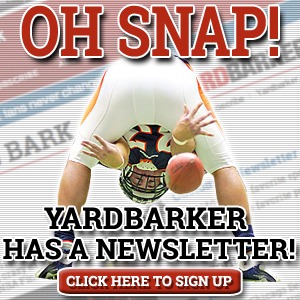 THE HOT 10: Who's Trending