Bob Costas went on 97.5 with Jon Marks and Sean Brace today. Jon & Sean both had ripped him because of his 'do over' 1st pitch. Crossing Broad reports things "got weirdly serious: when Brace joked that Costas was blaming it all on the catcher, A.J. Pierzynski:Costas: "No, no, no no– now this is how all this stuff works, a guy does a good natured thing… which...
NBC and MLB Network anchor Bob Costas didn't like his ceremonial first pitch at Tuesday night's game between the St. Louis Cardinals and Cincinnati Reds at Busch Stadium, so he asked for a mulligan. His initial toss wasn't awful — certainly not as bad as 50 Cent's at Citi Field earlier in the summer — so it really didn't make sense to ask for another try. But the Cardinals...
Bob Costas had the honor of throwing out the first pitch before the Reds- Cardinals game on Tuesday. Costas gave an awful first pitch, like 50 Cent bad. The ball went far left and out of the reach of the catcher. Then Costas did something out of the ordinary, he demanded a do over. He then threw out another pitch that was in the strike zone. Seriously? You are a grown man Bob. Just...
Bob Costas threw out the ceremonial 1st pitch prior to Cincinnati v St. Louis. Costas destroyed 100 years of MLB etiquette...by demanding a do over.Your browser does not support iframes.Follow us on Twitter for exclusive stories, Subscribe by Email, or Return Home
Your browser does not support iframes. Bob Costas threw out the first pitch prior to Tuesday's Cardinals-Reds game … and he also threw out the second. The noted broadcaster and St. Louis native went all the way to the rubber and did a half windup for his first pitch, but he flung it wildly to […]
Bob Costas took a mulligan on a wild first pitch at the St. Louis Cardinals vs. Cincinnati Reds game Tuesday night.
Earlier tonight in St. Louis, NBC Sport's Bob Costa was able to throw the ceremonial first pitch(es). As you can see by the video below the first pitch was almost as bad as 50 Cent's from earlier in the summer. Maybe the exploding fist bump with the Cardinals mascot took his mind off the pitch or the adrenaline could have just gotten to him whatever the case maybe they gave him...
Bob Costas wasn't happy with his ceremonial first pitch Tuesday night in St. Louis -- so he simply threw it again. 
If you saw Bob Costas doing Olympics work on NBC at all Thursday, your first question probably was "what the heck is up with Bob Costas' eye?" and why is he wearing glasses? Turns out that the veteran broadcaster developed an eye infection that prevented him from putting in contact lenses, which is why he's […]
MORE STORIES >>
All Sports News

Delivered to your inbox

You'll also receive Yardbarker's daily Top 10, featuring the best sports stories from around the web. Customize your newsletter to get articles on your favorite sports and teams. And the best part? It's free!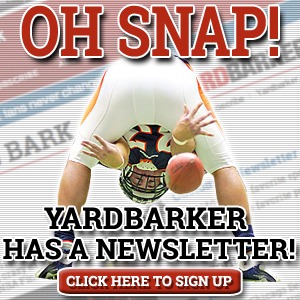 THE HOT 10: Who's Trending