Nothing tickles our fancies quite like a little ESPN Family Feud action.  Although with the characters involved here, this has an equal chance of being something real or some kind of bizarro-world Halloween prank. (Do Halloween pranks even exist?) Dan Le Batard was doing his usual "Gleeful Troll" thing on his Twitter page Thursday night and into Friday with the Cavs losing...
Florida State hasn't lost a college football game since the 2012 season. But ESPN analyst Kirk Herbstreit, one of the most respected men in the business, believes that the Seminoles' 23-game winning streak will come to an end Thursday night at Louisville. Saturday, he told viewers on ESPN's College GameDay that he believed the Cardinals would win the contest. Tuesday, he doubled...
Chip Kelly would listen if the Florida Gators called according to ESPN's Colin Cowherd.
Last week, ESPN radio personality Colin Cowherd took a few shots at Alabama after its loss to Ole Miss, going as far to say that the Crimson Tide's "dynasty" was over. He then had to endure the wrath of Paul Finebaum's loyal Alabama caller, Phyllis from Mulga, who went on a nearly two-minute rant about her favorite program. After Arkansas dropped a close contest to the Tide...
Arkansas State's fake punt attempt last weekend, which involved a player playing dead on the field, was one of the funniest and most confusing plays of week three. The ridiculous fake made waves all week, and now, thanks to ESPN's Colin Cowherd, it got the fake 30 for 30 documentary treatment. We're not sure if there's enough here to make a full hour long feature, but who...
Colin Cowherd: Expert Sociologist is at it again. The man that brought you previous lectures on how people in Ohio and Indiana are bringing unemployment on themselves and why Pacers fans weren't attending games because of race is back once more to teach us all a lesson about how the world really works. Cowherd spent some time on the Tony Stewart-Kevin Ward tragedy on his radio...
With just weeks until the kickoff of the college football season, fans are up to their necks in team season previews, Heisman watch lists, bowl projections, and thousands of other articles that attempt to hash out what the season will hold. Unfortunately, a few personalities will use this time to rile up passionate fan bases by making ridiculous claims. That's the only real explanation...
Paul Finebaum welcomed fellow ESPN Radio personality Colin Cowherd onto his radio show on Wednesday to discuss some SEC football. During their chat, Cowherd spoke about how he believes Auburn is better positioned for the immediate future than Alabama and will beat the Tide in Tuscaloosa next season en route to a BCS National Championship. […]
We first must give congratulations to SportsByBrooks for somehow figuring out where Colin Cowherd was sitting at the USC-Stanford game via this AT&T Crowd Photo technology. But major points deducted for not knowing that Cowherd is sitting with Layla Kiffin. That's right, Layla Kiffin is hanging with Cowherd and what looks to be Cowherd's Uncle Luke. Yesterday on his show...
MORE STORIES >>
All Sports News

Delivered to your inbox

You'll also receive Yardbarker's daily Top 10, featuring the best sports stories from around the web. Customize your newsletter to get articles on your favorite sports and teams. And the best part? It's free!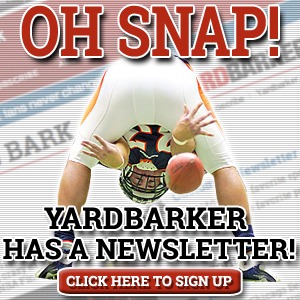 THE HOT 10: Who's Trending