Colin Cowherd: Expert Sociologist is at it again. The man that brought you previous lectures on how people in Ohio and Indiana are bringing unemployment on themselves and why Pacers fans weren't attending games because of race is back once more to teach us all a lesson about how the world really works. Cowherd spent some time on the Tony Stewart-Kevin Ward tragedy on his radio...
Colin Cowherd said another dumb thing about John Wall this week.  Judging by the lunar cycle, the timing is just about right.  Ever since Wall came into the league as a rookie, and dared to do a harmless pregame dance, Cowherd has said a lot of dumb things about John Wall. The occasion this time was Wall reportedly being cut by Team USA.  Great and talented players getting cut...
With just weeks until the kickoff of the college football season, fans are up to their necks in team season previews, Heisman watch lists, bowl projections, and thousands of other articles that attempt to hash out what the season will hold. Unfortunately, a few personalities will use this time to rile up passionate fan bases by making ridiculous claims. That's the only real explanation...
The picture of Nick Saban wearing a Luigi hat finally has a corresponding video, and like the picture, the video is pretty great. Saban joined ESPN's Colin Cowherd for "Cage Confessionals," Cowherd's series where he interviews people inside of a cage as part of the show Colin's New Football Show. His interview with Saban was particularly great, as it showed a side of Saban...
Alabama Crimson Tide head football coach Nick Saban wore a Luigi hat (based on the legendary Mario Bros. video game series) during a segment of ESPN personality Colin Cowherd's new football TV show, appropriately called "Colin's New Football Show".During the Cage Confessional segment, Cowherd made reference to the houndtooth hat that legendary Alabama football coach...
ESPN Radio's Colin Cowherd was a guest on Paul Finebaum's show yesterday and apparently said some things that made Alabama football fans angry.  Get in line.  Anyways, one of those angry Alabama football fans, Phyllis, called in to the program and unleashed this barrage at Cowherd during one of many counseling sessions Finebaum has with his callers... When...
Paul Finebaum welcomed fellow ESPN Radio personality Colin Cowherd onto his radio show on Wednesday to discuss some SEC football. During their chat, Cowherd spoke about how he believes Auburn is better positioned for the immediate future than Alabama and will beat the Tide in Tuscaloosa next season en route to a BCS National Championship. […]
TAKE THAT
Kentucky head football coach Mark Stoops's tactics of sending hundreds of letters to potential players has worked out pretty well for the new coach, as his 2014 recruiting class is ranked among the nation's best. Apparently the end didn't justify the means to ESPN's Colin Cowherd, who openly mocked Stoops on his The Herd with Colin Cowherd radio show. Stoops' response...
On Friday's episode of ESPN's The Herd with Colin Cowherd, the aforementioned host was having a little fun playing "God" by telling the world what franchises he would eliminate if he were in charge of the four major sports leagues. Given that I wrote a similar article for another publication earlier in the week, I was [...]
We first must give congratulations to SportsByBrooks for somehow figuring out where Colin Cowherd was sitting at the USC-Stanford game via this AT&T Crowd Photo technology. But major points deducted for not knowing that Cowherd is sitting with Layla Kiffin. That's right, Layla Kiffin is hanging with Cowherd and what looks to be Cowherd's Uncle Luke. Yesterday on his show...
MORE STORIES >>
All Sports News

Delivered to your inbox

You'll also receive Yardbarker's daily Top 10, featuring the best sports stories from around the web. Customize your newsletter to get articles on your favorite sports and teams. And the best part? It's free!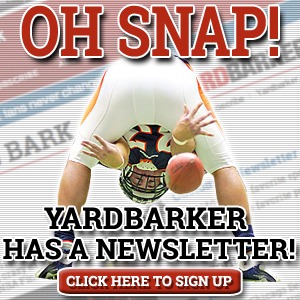 THE HOT 10: Who's Trending