Last year, long-time NFL analyst Dan Dierdorf announced that he would retire from the broadcast booth and ride off into the sunset. Dierdorf cited the week-to-week travel to NFL cities and artificial joints that he said made broadcasting games a difficult grind over the past few years. Dierdorf told the St. Louis Post-Dispatch in January: "I just have to get away from going to...
No one will question the credentials of Michigan's new radio team. Up until now, there were many questions about who would replace Frank Beckman, who was let go after 34 years as the play-by-play man on the Wolverines football network. As it turned out, Dave Brandon and IMG Radio looked only a couple feet. Jim Brandstatter, who was Beckman's color analyst for the entire 34...
It's official...former Michigan OL, college and pro football hall of famer Dan Dierdorf will join former Michigan teammate Jim Brandstatter in the booth for Michigan football radio broadcasts starting this fall. Jim will slide over to Frank Beckmann's former spot for play-by-play duties, and Dierdorf will handle color commentary.Obviously Dierdorf is a very recognizable...
Teammates at Michigan in 1969 and 1970 will again be teaming up in the Michigan football press box: NFL Hall of Fame player and broadcaster Dan Dierdorf will be joining Jim Brandstatter in the radio booth for Wolverines football broadcasts on the Michigan IMG Radio Network beginning this fall. Brandstatter, who has served as the team's color commentator on the flagship radio broadcast...
Thank goodness. It was really the only nice thing to come out of the end of this game, even if it was such a blowout it included the opportunity for Dan Dierdorf to make a solemn send-off for his career making everyone watching football on TV that much dumber. Naturally, Dierdorf went out pissing everyone off, as was his wont.Thanks, Dan. Now kindly **** off and never appear on my TV again.
If Dan Dierdorf could beam himself into the press boxes of NFL stadiums around the country, he might keep calling games a few more decades. But with two artificial knees, two artificial hips and a bad back, the travel required by his analyst job for CBS just became too much. The 64-year-old Hall of Famer announced Wednesday he would retire after this season -- his 43rd straight...
Via AP on Fox
CBS Sports announced today that NFL game analyst Dan Dierdorf will be retiring from broadcasting at the end of the current NFL season. Dierdorf spent 13 years as a Hall-of-Fame offensive lineman in the NFL.  After his retirement Dierdorf spent 30 years as a game analyst for both CBS and ABC. "I have been blessed
Hall of Famer Dan Dierdorf is retiring from broadcasting after 43 straight years involved with the NFL. CBS announced Wednesday that he will leave the booth after this season. The 64-year-old Dierdorf has called NFL games for three decades, the longest current tenure by a TV analyst. He played offensive line for the St. Louis Cardinals from 1971-83, earning All-Pro honors six times...
Via AP on Fox
A second-round draft pick out of the University of Michigan, Dan Dierdorf vividly recalls being hazed by his veteran St. Louis Cardinals teammates during his first NFL training camp in 1971. They taped him to a goal post, they made him sing the Michigan fight song in front of the entire team and they asked him to do several other embarrassing acts that he remembers with smiles today...
Longtime St. Louisan Dan Dierdorf has been one of the NFL's top broadcasters for more than a quarter century, and it's almost always a road show for him when he heads to work. But he has the rare oppo
MORE STORIES >>
All Sports News

Delivered to your inbox

You'll also receive Yardbarker's daily Top 10, featuring the best sports stories from around the web. Customize your newsletter to get articles on your favorite sports and teams. And the best part? It's free!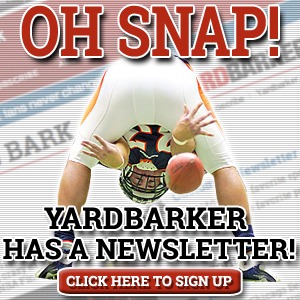 THE HOT 10: Who's Trending