The NFL's new disciplinary policy regarding Domestic Violence will not be retroactively applied, ESPN's Ed Werder Reports. Earlier this week NFL Commissioner Roger Goddell, admitted that he might have dropped the ball on the Ray Rice suspension of only 2 games and to reconcile that, he levied a stiff mandate of 6 games suspension for first time offenders and a life-time ban for...
According to ESPN's Ed Werder,  the Seahawks have signed former Vikings defensive tackle Kevin Williams. Former Vikings DT Kevin Williams has agreed to one-year contact with SB champion Seahawks for in excess of $2M, according to sources — Ed Werder (@Edwerderespn) June 12, 2014 The 33 year-old Williams had 29 tackles, 3.5 sacks and 1 interception last season. var ACE_AR =...
The LA Times reported on Monday that former Dolphins Hall of Fame quarterback Dan Marino is now suing the NFL over concussions. What's really interesting is that Marino admitted last year that he knew about the risks of concussions when he played. "When I went out there to play, I knew there was a chance I could get a concussion," said Marino, via ESPN's Ed Werder. Sounds...
ESPN's Ed Werder reports that the Cowboys are evaluating "all options" at the middle linebacker position as they try to find a replacement for Sean Lee. Werder adds that Dallas has even considered the idea of signing veterans such as Brian Urlacher and Jonanthan Vilma. However, team sources have characterized their interest in the two players as "not much." Werder...
According to ESPN's Ed Werder,  the Buccaneers would consider drafting Johnny Manziel with the seventh overall pick. Ed Werder on #Bucs: "I'm told they would strongly consider taking Manziel" if available at 7. OC Tedford wants to add read-option elements. — Evan Silva (@evansilva) April 24, 2014 When are teams going to learn the read-option is pointless?  I...
According to Ed Werder of ESPN, there are two unidentified teams in deep negotiations with former Philadelphia Eagles wide receiver Desean Jackson. The Bills, Redskins, and Raiders are three teams that have publicly said they were interested.  Who could the other teams be?  Who knows, but could you imagine Desean Jackson in San Francisco? Edwerderespn […] The post Two unidentified...
THIRD TIMES A CHARM
After weeks of rumors about TV and the CFL, Tim Tebow has found an interested NFL team in the New England Patriots.
UPDATE: The Patriots may try to move Tebow to a different position.
According to Rotoworld.com, ESPN's Ed Werder has reported that the hold up with sending Brandon Albert from the Chiefs to the Dolphins has to do with the amount of money he's looking for in a long-term extension. ESPN's Ed Werder reported Wednesday that money is indeed the holdup in Branden Albert-to-Miami trade discussions. The report runs in direct contrast to Ian Rapoport...
Ed Werder of ESPN expects to see the Colts and Browns aggressively pursue impending free agent OLB Paul Kruger in the coming days. Werder adds that the Browns are "definitely prepared to try to sign Kruger," but expects "intense competition" from the Colts. Kruger, 27, has an obvious link to Indianapolis as he played under current head coach Chuck Pagano. Kruger represents...
Cam Newton needs to get it together fast or his story has the potential to mirror that of Vince Young's or Ryan Leaf's. Newton played a great game yesterday against the Atlanta Falcons yet he also let his ego and his antics set him up to fail. Please Click Here To Read This Feature
MORE STORIES >>
All Sports News

Delivered to your inbox

You'll also receive Yardbarker's daily Top 10, featuring the best sports stories from around the web. Customize your newsletter to get articles on your favorite sports and teams. And the best part? It's free!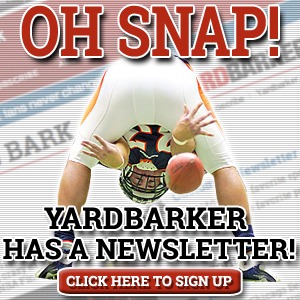 THE HOT 10: Who's Trending