Ed Note: The following appears courtesy the fine folks at the National Sports Journalism Center. Howard Cosell and Tom Verducci don't have much in common, but they will share a bit of history next week. When Verducci works Fox's coverage of the World Series, he will join Cosell as the only non-player or manager to sit in the TV analyst's seat for the game's biggest games...
For some strange reason I have the ability to channel Howard Cosell... maybe it's my unique ability to mimic his signature chuckle: "enheh...enhenh...enheh...enhennn..." But Howard appeared to me once again last night in a dream. He told me all is well and better with the Eagles than we might think... Howard's spiritual communication to me spoke mostly...
Ridley Believe it or not Nachosby stevesacookingGrowing up my son Mike's specialty was nacho's he always threw together the best nacho's ever. When it hit the table we just dove in like a fumble recovery. So I present my version of his Nachos for NEpatriotslife.com game day recipe. I do him no justice.Did you know Howard Cosell made a huge impact on nachos acceptance to the...
So, it looks as though this Thursday Night Football thing is here to stay (now that Cee Lo is involved - he's the pop equivalent of Howard Cosell) and to think I actually thought it might be a passing fad; like the pet rock... or exercise. I even wondered if Thursday night just had too much else to offer. What about all those Thursday night sitcoms? What about that taxidermy...
Imagine, for a moment, that Al Michaels was not in the broadcast booth in Lake Placid in 1980. That Howard Cosell was not ringside when the champ unexpectedly tumbled to the mat. That Johnny Most was not courtside for the most famous steal in Celtics history. What would we think of those moments -- iconic moments all -- without the soundtracks that accompany them? A lot can go into...
The tragic news of former NFL star Junior Seau's suicide and the link to injuries he sustained to his brain bring to remembrance Howard Cosell's declaration nearly 30 years ago when he decided to quit announcing boxing matches because he was "appalled by professional boxing's viciousness". Cosell later called for an end to the sport. While Cosell's statements may have...
On this edition of No Holds Barred, host Eddie Goldman speaks with Mark Ribowsky, author of the new biography Howard Cosell: The Man, the Myth, and the Transformation of American Sports. Howard Cosell was not only a "cultural icon", a highly insecure and (thus) highly pompous man, and an always controversial sportscaster, but also a pioneer in developing independent...
Sports, Howard Cosell once said, is the toy department of human life. On a day devoted to the exchanging of toys and keepsakes, it's appropriate to take a moment and consider what a blessing the Ducks have been in 2011. Duck fans have a special gleam in their eye this year. Winning is exhilarating. Those of us who have seen 30 or more Christmases can remember the gloomy winters...
Howard Cosell, who died in 1995, ruled sports broadcasting from the 1960s until the 1980s. He commentated on Monday Night Football from its inception, called boxing's biggest fights, and popped up on Olympics and baseball telecasts, too. In his new book, Howard Cosell: The Man, the Myth, and the Transformation of American Sports, author Mark Ribowsky expertly traces Cosell'...
A fan dresses as the late sports announcer Howard Cosell watches the Tennessee Titans play the Indianapolis Colts in the second quarter of an NFL football game on Sunday, Oct. 30, 2011, in Nashville, Tenn. (AP Photo/Wade Payne NFL.com)
MORE STORIES >>
All Sports News

Delivered to your inbox

You'll also receive Yardbarker's daily Top 10, featuring the best sports stories from around the web. Customize your newsletter to get articles on your favorite sports and teams. And the best part? It's free!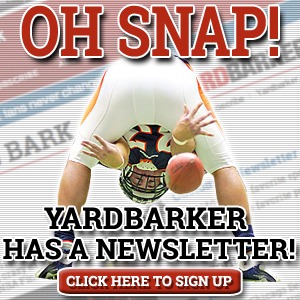 THE HOT 10: Who's Trending