Jay Mariotti, who is famous for his time on ESPN's "Around the Horn", as well as being hated by 98% of Chicagoans, and a lesser number nationally just simply due to lack of exposure, was named one of the "Top 25 Sleazeballs in Sports" by GQ magazine. Mariotti shares the list with fellow numbskulls such as Donald Sterling, War Machine, and Aaron Hernandez. If you've completely...
Roger Ebert died Thursday at the age of 70. Ebert was not only one of the greatest film critics of our time, but also a fantastic writer. The man won a Pulitzer Prize and entertained us with his great movie reviews both in writing and on TV. As I have gotten more and more into movies over time, I started comparing my reviews of a movie to those of the critics. More often than not...
Ever since Jay Mariotti was axed from all sports media, we haven't found much reason to tune into Around The Horn. In fact, we spend afternoons in the post-Mariotti world twiddling our thumbs, waiting for 2:30 to roll around (or 5:30, depending on which coast you're on), when Tony and Mike take over ESPN, reminding us of ATH's red-headed stepchild status.* Apparently we've...
One of the most curious stories of this week comes from Jay Mariotti's comment to Ed Sherman that he's working on a "freelance storytelling" project for ESPN. From most standpoints, Mariotti would seem to be one of the most toxic names in the sports media at the moment; he's been essentially "taking a break"from the sports media world for two-plus years...
ESPN had no choice but to can Jay Mariotti back in 2010 when Mariotti ran into a multitude of legal issues. Which eventually lead to Mariotti being sentenced to probation and community service. Since then, Mariotti has laid low and continued his "analysis" of the sports landscape for his 1,600 or so Twitter followers. But the days of Jay Mariotti laying low may be coming to an...
Yesterday, Jay Mariotti told the Sherman Report that Jay Mariotti would once again be teaming up with ESPN, this time for a "freelance storytelling" assignment. Whatever that means. The assignment, as described my Mariotti himself: "ESPN has graciously given me a chance to try freelance storytelling, potentially a longer-form piece the network does so well...
ESPN has hired former contributor Jay Mariotti for some freelance work, a company spokesperson confirmed to Larry Brown Sports. Sherman Report reported on Monday that Mariotti had been brought back by the network. "ESPN has graciously given me a chance to try freelance storytelling, potentially a longer-form piece the network does so well. I've started working on a particular...
Nearly three years after ESPN cut ties with Jay Mariotti, the former columnist is again working with the network. In a piece published Monday, Mariotti told Sherman Report that he has started working on a [...]
You remember Jay Mariotti former ESPN analyst and Chicago Sun Times journalist who was fired from all of his jobs because he was stalking and assaulting his girlfriend?' Allegedly pulled out her hair extensions, slapped her and told her she wasn't pretty enough to be with a high profile journalist like himself. In the end Mariotti accepted a plea deal where he admitted to stalking...
The guys at JerseyChaser.com just happened to be at the Moby concert in L.A. on Saturday and so we A-list asshole Jay Mariotti looking lonely. Of course the last time this guy was officially seen in public it was the night in 2010 when he was arrested for roughing up his girlfriend. Jay told Jersey Chaser he was waiting on a chick. We're calling ******** on that story. Go read...
MORE STORIES >>
All Sports News

Delivered to your inbox

You'll also receive Yardbarker's daily Top 10, featuring the best sports stories from around the web. Customize your newsletter to get articles on your favorite sports and teams. And the best part? It's free!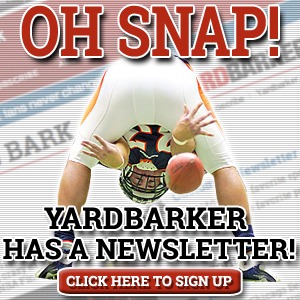 THE HOT 10: Who's Trending