ABC's "The View" is a program that barely gets mentioned here. Over the years, the total mentions of the show on Awful Announcing can probably be counted on one hand. Well, we can mention it now. With the show looking for two new panelists, two ESPN personalities have surfaced as potential candidates. It appears that NBA Countdown host Sage Steele and ESPN.com writer Jemele...
ESPN W and ESPN 1000 Chicago's Sarah Spain was filling in for Jemele Hill today on 'Numbers Never Lie' when the subject of the Knicks came up. They were discussion whether or not the Knicks should be kicking themselves for not making the playoffs (obviously yes because the point is to make the playoffs) and Sarah went in on the topic: To their credit, Jorge Sedano and Michael...
Over at Sports Illustrated this week Richard Deitsch's weekly media column features a panel discussion of sports media personalities of color.  Six sportscasters and journalists are present who represent areas both the television and newspaper realms.  The entire roundtable is worth your time as the panel touches on issues that are still real today, whether people actually...
The final days of 2013 is always filled with lists and proclamations about the year that was in the sports world.  One of those proclamations that is noteworthy but flew under the radar came from ESPN's The Sports Reporters and Jemele Hill.  For her parting shot of the year, Hill named her sports person of the year.  Except it wasn't a person at all. It was the N-word...
Michael Smith and Jemele Hill have great chemistry together. You see that when they are on TV together or when they are going back and forth on Twitter. I am big proponent of multiple perspectives when in comes to sports. When you can compare and contrast that is when you will get the clearest picture. I think Smith and Hill will be great at that and the podcast will be excellent...
On Friday, ESPN reporter Jemele Hill tweeted a racist letter from a listener who complained about a recent appearance on a radio program. Hill was guest-hosting ESPN Radio's "The Herd" normally hosted by Colin Cowherd and Hill tweeted that the racist listener had "executed the hat trick of racial slurs". The website Gawker has said that this is "one...
On Friday, sports broadcaster Jemele Hill shared a letter she received regarding her appearance on ESPN radio's Colin Cowherd on The Herd. The hand written letter is filled with racial slurs.   For 2 days now, I've sat here (at work) with your "Herd" show on–and I wanna puke! Hell, I don't like women sportscaster [...]
Just in case you need yet another example that there are still some disturbingly racist people in the world, Jemele Hill of ESPN provided one today on her Twitter feed. What you see below is a rather racist and sexist letter she asking ESPN management to take her off the air because "Jungle Bunny" and a "Thick Lipped Gorilla". Just disturbing. [@jemelehill] The post ESPN's...
Click to Enlarge  ESPN's Jemele Hill, a sideline reporter, and a fill in host for many of their television shows, got a really racist letter from a viewer recently. She was a substitute for Colin Cowherd on "The Herd," and one fan didn't like it.  We see racist stuff on Twitter all the time, but hand written letters are a little more though out.  Pretty pathetic...
In a move sure to inspire acrimony on Twitter and myriad comments sections, ESPN columnist Jemele Hill will work the sidelines for college football coverage on the network this season. Hill, who joined ESPN in 2006, will serve as a sideline reporter for Friday night college football games on the network this season alongside Carter Blackburn and Rod Gilmore. For a variety of reasons...
MORE STORIES >>
All Sports News

Delivered to your inbox

You'll also receive Yardbarker's daily Top 10, featuring the best sports stories from around the web. Customize your newsletter to get articles on your favorite sports and teams. And the best part? It's free!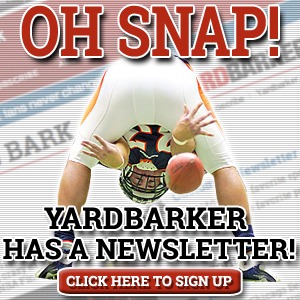 THE HOT 10: Who's Trending