Captain Obvious here, regular season football is coming back soon. If you weren't aware of this fact Fox released a new football promo starring their #1 broadcast team Joe Buck and Troy Aikman. WTF was that. It's almost eery oh much the former Super Bowl winner quarterback looks like a background extra from a club scene in Scarface. I appreciated the effort Joe Buck but...
It's the first of a series of videos featuring NFL on FOX talent. What would they, Joe Buck & Troy Aikman, be if they weren't FOX Sports broadcasters?Follow us on Twitter for exclusive stories, Subscribe by Email, or Return Home
FOX is launching an odd campaign this football season centering on a world in which NFL on FOX does not exist. Fourth quarter viewers of Sunday's Chargers-Niners preseason game were treated, or unfortunately subjected, to a Spanish soap opera commercial featuring Joe Buck and Troy Aikman. The unusual piece continues a horrific trend by the network to dumb down their material...
Maybe, the idea was to make something so stupid, it would go viral. If that was the plan they have succeeded. H/T UPROXX
Oscar Taveras is a spoiled, entitled baseball player getting preferential treatment by the organization's front office, and the players aren't happy. Or so we've been told to believe. Fox Sports broadcaster Joe Buck, who has a ton of obvious connections to the St. Louis Cardinals, made a few peculiar remarks during Saturday's Red Sox-Yankees broadcast. [...]
Today, ESPN hired Michelle Beisner, more commonly known as "Joe Buck's new trophy wife." I've been saying for the past few years that most of the new sideline reporter hires in sports media are drawn from two pools a.) wannabe actresses/models, note the slash, very important to have that slash in there or b.) cheerleaders. With Michelle Beisner, formerly of NFL Network,...
FOX broadcaster Joe Buck was meandering around the AL clubhouse for an All-Star pregame piece, awkwardly pointing out Miguel Cabrera, Mike Trout and Yankees captain Derek Jeter. First, whoever thought this was a good idea at FOX should be fired. Second, now that Buck continues the weird segment, strolling toward Jeter, the future HOFer tells him to get lost. Buck's uncomfortable...
  That's right, that is Joe Buck's daughter, Natalie, in a bikini. Actually, she's in multiple bikinis. Seriously, Joe Buck's daughter. Not kidding,…
ST. LOUIS -- He gets a lot less love elsewhere -- especially New York -- than he does here in his hometown, so Joe Buck went with that in an original video for FunnyorDie.com. The premise: Buck takes to the streets of the Big Apple to film a Super Bowl XLVIII promo, interviewing New Yorkers to praise the city and disprove reports of his perceived anti-New York bias. Suffice to say...
And you thought Joe Buck being Fox's top play by play NFL man was a mystery. Somehow Joe Buck is dating former NFL cheerleader and current NFL Network employee Michelle Beisner. The Big Lead had the scoop after Beisner confirmed to them via phone that the two hit it off at the Super Bowl and have been dating since then. This is just another example of if you think someone is out...
MORE STORIES >>
All Sports News

Delivered to your inbox

You'll also receive Yardbarker's daily Top 10, featuring the best sports stories from around the web. Customize your newsletter to get articles on your favorite sports and teams. And the best part? It's free!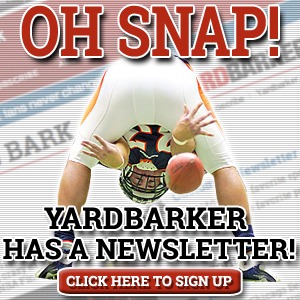 THE HOT 10: Who's Trending