According to ESPN's John Clayton, free agent fullback Vonta Leach will pick a team to sign with early next week. Two teams other than the Texans and Dolphins are talking to Vonta Leach. He'll pick a team early next week. — John Clayton (@ClaytonESPN) June 21, 2013 Need NFL Tickets? The post Vonta Leach will reportedly pick a team early next week appeared first...
ESPN's John Clayton mentioned on Thursday's NFL Live that the Pittsburgh Steelers are expected to sign free agent wide receiver Steve Breaston within the next couple of weeks. The Steelers will likely sign Breaston to a veteran minimum deal.  My guess is that it will be a one-year contract. While Breaston isn't Mike Wallace, he's a solid weapon that can help out Pittsburgh's...
REIGN IN BLOOD
John Clayton's newest ESPN commercial has quickly reached legendary status. In the spot, Clayton is seen wearing a Slayer t-shirt and lives at home with his mom. Kerry King, the lead singer and guitarist of the classic metal band Slayer, reacts humorously to the ad in the video below. I love Kerry King's laugh. Check out the must-watch video right here. Sadly, he's...
ROCK OUT
After releasing what is arguably their most successful Sportscenter commercial to date, getting 2,062,650 views in 6 days, they have released the blooper reel for the commercial, and it is a must-see. The commercial: I love that John Clayton, a hall of fame writer, took the time to make an epic commercial that is as funny as this.
Over the years, the working minds who create the "This is Sportscenter" commercials have put together some of the funniest sports-related spots of all time. However, this one starring NFL insider John Clayton might be among one of the best of all-time. The idea is based around the ponytail/mullet saga circa 2011. Check out what John Clayton is really like...
As a staunch anti-ESPN person I have to admit that the Worldwide Leader does some things better than any other network around.  In fact, the problem is that they know that very well.  Aside from 30 For 30, which is excellent television through and through, ESPN's 'This is Sportscenter' ads have been consistently funny and clever for decades. The latest 'This is Sportscenter'...
ESPN's John Clayton is a man of some mystery. Sure, we know that he's a fine NFL analyst for ESPN, but other than that, we're a little unsure. He doesn't look like the coolest kid on the street, and what's the deal with his hair anyway? Is there a ponytail? Is there a mullet? Is there some sort of magical combination of the two that we don't even know about...
ESPN does a lot of things wrong. If you read this site regularly, you know that we point them out from time to time. But there are still many things the WWL does well. The 30 for 30 series certainly comes to mind. And the "This Is SportsCenter" commercial series certainly has been a consistent feather in the cap of the network for a long time. And so it continues. Here is the...
SLAYER!
Over the years John Clayton has developed a reputation as one of the most reliable sources of inside NFL information. ESPN released this ad featuring a hilarious behind the scenes look at how Clayton spends his time when he's not appearing on Sportscenter: The rumors of Clayton having a ponytail have become urban legend, so [...]
MORE STORIES >>
All Sports News

Delivered to your inbox

You'll also receive Yardbarker's daily Top 10, featuring the best sports stories from around the web. Customize your newsletter to get articles on your favorite sports and teams. And the best part? It's free!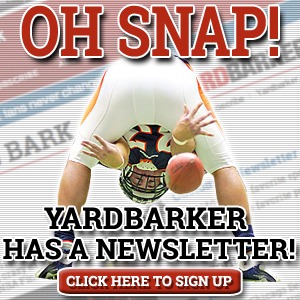 THE HOT 10: Who's Trending