Memphis Grizzlies Vice President of Basketball Operations John Hollinger predicted that the San Antonio Spurs would make it to the NBA Finals. However, this was done back in October when he was still working for ESPN. He did not realize that it would be his current employer, the Grizzlies, who would end up getting swept by the Spurs in the Western Conference Finals. Luckily, Hollinger...
Yahoo! Sports' Adrian Wojnarowski is one of the best NBA writers working today, yet even he isn't above taking shots at his media brethren — er, ex-media brethren, in this case. Woj wrote a lengthy piece today about how Rudy Gay's departure from Memphis is a sign that the Super Team era is fading (at least in its current incarnation), and sandwiched in the middle was a reference...
The Memphis Grizzlies have hired ESPN columnist and basketball sabermetrician John Hollinger to be their vice president of basketball operations. Hollinger, who had been with ESPN since 2005, continues the march of teams across all sports to become more data-driven and analytic by hiring prominent Internet columnists and analysts, including Mike Fast and Kevin Goldstein of Baseball...
The start of the NBA season is fast approaching which means the San Antonio Spurs' training camp will kick off and hopes of another title for the franchise will rise. And with that, comes the deluge of Spurs season previews from each and every outlet. Yes we here at Project Spurs will have one but ESPN's John Hollinger got things started with his look at the Spurs...
ESPN's John Hollinger has published his 2012 scouting reports and player profiles for the Celtics. For those of you without ESPN Insider Access, I've pulled out some of the more interesting (good and bad) analysis. Rajon Rondo: One of the league's most unique players, Rondo is either great or horrible at nearly everything, producing wildly divergent viewpoints as to his overall...
Last season, I cancelled my subscription to Insider because I was mad at the NBA for all the lockout nonsense that was going on. This season, after Danny re-signed KG and signed Jason Terry, I subscribed again. I'm excited about this season for the Celtics and I want to savor every big of it. John Hollinger has posted his Good, Bad and Ugly of the offseason. In the Good...
MORE STORIES >>
All Sports News

Delivered to your inbox

You'll also receive Yardbarker's daily Top 10, featuring the best sports stories from around the web. Customize your newsletter to get articles on your favorite sports and teams. And the best part? It's free!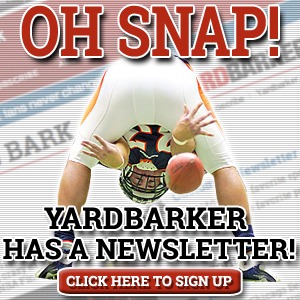 THE HOT 10: Who's Trending