Ken Rosenthal talks to Skip Schumaker about Strike Out Cancer, an organization meant to help families facing cancer.
The Detroit Tigers are in the market for a new center fielder after sending Austin Jackson to the Seattle Mariners in the blockbuster deal that brought the Tigers, pitcher David Price. The Tigers currently have Rajai Davis picking up most of the playing time in center field with Ezequiel Carrera coming in to give Davis a breather in the late innings.#130262700 / gettyimages.comJason...
MLB Network announced that a second huge trade was close to being agreed upon earlier today; this time between the Tigers and the Rays. The only problem, they were using a parody Twitter account as their source. As a blogger I know how important it is to responsibly source all content that I put out, double checking before publishing. Apparently MLB Network never got that memo....
Fake Twitter accounts these days, man. They can get the best of us. Today, a fake Ken Rosenthal Twitter account got the best of MLB Network. LOL MLB Network believed a fake Ken Rosenthal account pic.twitter.com/jvAZG6ljUH — Arnold (@PFJakeMurdock) July 31, 2014 No, the Tigers have not traded for David Price and Ben Zobrist. And no, Ken Rosenthal's Twitter handle does not have...
  TRADE DEADLINE MANIA! Just so you know, MLB Network had Ken Rosenthal on camera about five minutes after this fake tweet ran....
With today being the baseball trade deadline, there are a lot of fake MLB twitter accounts to watch out for. Today, the fake account of Ken Rosenthal struck big when MLB Network aired one of its tweets saying that David Price and Ben Zobrist were traded to the Detroit Tigers. Rosenthal let his follower know […] The post MLB Network Duped By Fake Ken Rosenthal Twitter Account appeared...
We are just minutes away from the trade deadline day. While the deadline looms at 4:00 p.m. tomorrow, the Phillies have yet to make a single trade. The pressure of the deadline is usually enough to make something happen. But it appears the Phillies are not close to much of...
Ken Rosenthal breaks down the East divisions, Jon Paul Morosi hits the Centrals and Rob Neyer shuts the door out West.
Milwaukee Brewers outfielder Ryan Braun has been suspended by MLB for 65 games for "violations of the Basic Agreement and its Joint Drug Prevention and Treatment Program, " according [...]
Chicago Cubs pitcher Matt Garza has been scratched from his start tonight as a deal with the Texas Rangers is close  It is safe to say that Garza has made [...]
MORE STORIES >>
All Sports News

Delivered to your inbox

You'll also receive Yardbarker's daily Top 10, featuring the best sports stories from around the web. Customize your newsletter to get articles on your favorite sports and teams. And the best part? It's free!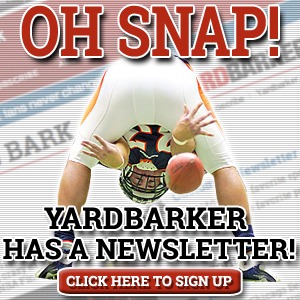 THE HOT 10: Who's Trending