UPDATE: Deal may go to $72.5 millionA third major source is reporting that Cuban defector Rusney Castillo "will sign" with the Red Sox. FOXSports.com's Ken Rosenthal tweeted this out a short time ago. Rosenthal referenced the terms of the deal via a separate report by MLB.com's Jesse Sanchez: 6 years, $72 million. Awaiting official confirmation by the Red Sox.
Rusney Castillo will join the Boston Red Sox – Mandatory Credit: USATSI via CBS Sports After a few days of the Rusney Castillo sweepstakes heating up, the derby has now concluded. And Boston wins. According to FOX reporter Ken Rosenthal via MLB.com's Jesse Sanchez, the Boston Red Sox have reportedly signed the Cuban sensation, Castillo, to a six-year, $72 million deal. Source...
The Red Sox won the race to sign Cuban free-agent outfielder Rusney Castillo. FOX Sports 1 MLB Insider Ken Rosenthal and MLB.com report that Boston will sign Castillo, with MLB.com reporting that Castillo is closing in on a six-year, $72 million deal. Since his workout showcase in Miami on July 26, the 27-year-old Castillo has held private workouts for eight clubs, sources told Rosenthal...
Ken Rosenthal of FOX Sports.is reporting that the Rusney Castillo has agreed to sign with the Red Sox for a record six-year, $72 million dollar contract. Congratulations to the Red Sox who by all accounts have gotten themselves a very high-impact player who seems to have chosen a park perfectly suited for his skill set. The Mets were just bystanders on this one so nobody expected...
The Boston Red Sox have won the battle for Cuban outfielder Rusney Castillo, signing him to a 6-year, $72 million dollar contract, according to reports. Source: Castillo will sign with #RedSox. Report by @JesseSanchezMLB says 6 yrs/$72M. — Ken Rosenthal (@Ken_Rosenthal) August 22, 2014 The contract is a record-breaker for a Cuban born player, breaking the mark set by Jose Abreu...
The list of teams in the mix for 27-year old Cuban outfielder Rusney Castillo seems to be getting smaller as the 27-year old defector continues to work towards a decision on his MLB future. A few days ago, FOX Sports' Ken Rosenthal reported via Twitter the that Tigers, Red Sox and Giants are the three top teams still in the mix for Castillo while the Cubs, Yankees and Phillies...
Unless you're a dedicated baseball fan or follow Ken Rosenthal on Twitter, you may not know the name Rusney Castillo. That is probably going to change soon, as he is expected to sign a free-agent contract in the not-too-distant future, becoming the latest international import to incite a bidding war among MLB teams. If rumors […]
MLB Network announced that a second huge trade was close to being agreed upon earlier today; this time between the Tigers and the Rays. The only problem, they were using a parody Twitter account as their source. As a blogger I know how important it is to responsibly source all content that I put out, double checking before publishing. Apparently MLB Network never got that memo....
Fake Twitter accounts these days, man. They can get the best of us. Today, a fake Ken Rosenthal Twitter account got the best of MLB Network. LOL MLB Network believed a fake Ken Rosenthal account pic.twitter.com/jvAZG6ljUH — Arnold (@PFJakeMurdock) July 31, 2014 No, the Tigers have not traded for David Price and Ben Zobrist. And no, Ken Rosenthal's Twitter handle does not have...
We are just minutes away from the trade deadline day. While the deadline looms at 4:00 p.m. tomorrow, the Phillies have yet to make a single trade. The pressure of the deadline is usually enough to make something happen. But it appears the Phillies are not close to much of...
MORE STORIES >>
All Sports News

Delivered to your inbox

You'll also receive Yardbarker's daily Top 10, featuring the best sports stories from around the web. Customize your newsletter to get articles on your favorite sports and teams. And the best part? It's free!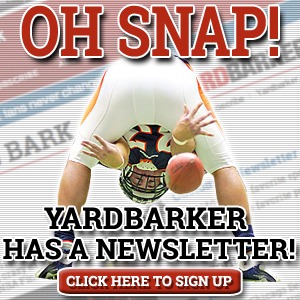 THE HOT 10: Who's Trending