According to Len Pasquarelli of the National Football Post,  one NFL head coach that could end up being fired at the end of the season is Greg Schiano of the Tampa Bay Buccaneers, who may be losing his locker room each week his team fails to win their first game of the season. It's always a little dicey to begin identifying coaches "on the hot seat" before a season even reaches...
Len Pasquarelli of The Sports Xchange reports Friday that there has been no progress made in contract talk between the Pittsburgh Steelers and restricted free agent wide receiver Mike Wallace. Pasquarelli goes on to declare that there has been very little negotiation going on as well with the fourth-year wide receiver out of Mississippi. This news is of course not surprising as...
Indianapolis Colts owner Jim Irsay took to his favorite medium, Twitter, to refute a report by Len Pasquarelli that the Colts and their number one draft pick Andrew Luck were having some troubles regarding his contract negotiations. The report claimed Luck's representatives and the Colts were beefing over details of Luck's off-field endorsements. Irsay, via twitter
Getty Images According to Len Pasquarelli of The Sports Xchange, the Indianapolis Colts and rookie quarterback Andrew Luck have hit a snag in their contract negotiations because of the proposed inclusion of marketing language that Luck and his reps look at as being "strident." One of Pasquarelli's sources told him that Luck would "have to clear" all marketing proposals...
By Len PasquarelliThe Sports Xchange Seven-year veteran safety O.J. Atogwe, added this week by Philadelphia, balked at suggestions his best football is behind him. Still, Atogwe, 31, hasn't been as productive in recent seasons, and there is a reason (or at least a perception) why the Eagles will represent his third team in three seasons. That said, Philly coaches still feel...
By Len PasquarelliThe Sports Xchange Dante Scarnecchia, the venerable New England assistant head coach/offensive line, could have his work cut out for him in 2012. Left tackle Matt Light has retired after 11 seasons and will be replaced by second-year veteran and former first-rounder Nate Solder. The incumbent right tackle, Sebastian Vollmer, continued to be bothered in the offseason...
Len Pasquarelli, senior NFL writer for The Sports Xchange, brings you all of the latest NFL news, including big names still unsigned, the devaluing of the left tackle position and much more.
Len Pasquarelli writes that a few teams have stayed in contact with veteran free agent tackle Max Starks and that he could be a July signing, or a safety net for a club that either suffers an injury or lacks depth at tackle. Pasquarelli says he isn't likely to return to the Steelers again, but both Bob Labriola and Mike Prisuta disagree with that in the latest episode of Agree...
Len Pasquarelli discusses how teams still need to be able to run the ball to win in the playoffs, Reggie McKenzie in Oakland, playoff seedings, the Giants' challenged rushing attack and more.
Veteran NFL writer Len Pasquarelli is a member of the 44-person Hall of Fame selection committee, and Pasquarelli says there has been a groundswell of support this year for former 49ers owner Eddie DeBartolo, with former San Francisco defensive linemen Charles Haley and Chris Doleman also getting serious consideration in a year where there are few slam-dunk choices for inclusion.
MORE STORIES >>
All Sports News

Delivered to your inbox

You'll also receive Yardbarker's daily Top 10, featuring the best sports stories from around the web. Customize your newsletter to get articles on your favorite sports and teams. And the best part? It's free!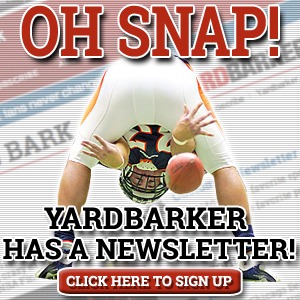 THE HOT 10: Who's Trending