ESPN legend and Chicago native Michael Wilbon was elected to Northwestern University's Board of Trustees. Wilbon, who has been on ESPN television (primarily on "Pardon the Interruption" with Tony Kornheiser) since 2001, graduated from Northwestern in 1980. Wilbon has always supported the Wildcats despite his move to national prominence. The South Side native delivered Northwestern's...
(Credit: ESPN) ESPN personality Michael Wilbon, who co-hosts the popular show Pardon The Interruption, sounded off recently about the NFL possibly adding a new rule that would penalize players for using the N-word in the field of play. Wilbon is an outspoken critic of the proposed rule, and let everyone know about it. Via USA Today: "You're gonna have a league with no black...
I appreciate Wilbon's honesty and I hope there isn't a fake apology in his future. While on PTI, he defended Matt Barnes' tweet saying he wouldn't protect these niggas (his teammates) anymore. @RealMikeWilbon "I, like many others, use the n-word all day and every day so I have no problem with it…" Really @espn ? #uhavetobekidding — JLM (@jlm71) November 14,...
The age-old argument about whether men should wear the jerseys of the teams they support reared its ugly head again at the Northwestern-Cal game, and in the ugliest way possible. Not only is the guy in the picture below wearing a Northwestern jersey, he went the extra mile and had it customized with his name on it. The gentleman in question: ESPN's most unapologetic Northwestern...
ESPN's Michael Wilbon showed up to the Northwestern-Cal game on Saturday night to watch his alma mater play.  Wilbon was tough to miss because he was wearing a custom Northwestern "Wilbon" jersey.  I'm sure most would consider this to be a faux pas but when you're Michael Wilbon, I'm guessing you don't care what people think about you wearing a jersey with your own...
On Tuesday's "Pardon the Interruption," the discussion between hosts Michael Wilbon and Tony Kornheiser featured a "Word" segment about 77-year-old golfing great Gary Player posing nude in the 2013 edition of ESPN's "The Body Issue." The PTI team talked about Player's 1,000 sit-ups-per day workout regime and but then delved into the wrinkly...
As is tradition on Pardon The Interruption during the NBA Playoffs, co-host Michael Wilbon and Stat Boy Tony Realli often sign off with the proclamation "BALLLLL NIGHT!" in anticipation of multiple NBA games later in the evening. With no games scheduled Thursday night, Wilbon, who spends most of his spring in Los Angeles with the NBA Countdown crew, declared it "Dinner In L...
Michael Wilbon, whom you know from his work as a co-host on PTI and ESPN/ABC's NBA coverage, got into a sparring match with The Washington Post's Dan Steinberg over Washington D.C.'s status as a sports town.The Internet fight began over Wilbon's criticism of D.C. as a sports town in the DC sports issue of ESPN the Magazine. Steinberg, who runs the outstanding DC Sports Bog...
MORE STORIES >>
All Sports News

Delivered to your inbox

You'll also receive Yardbarker's daily Top 10, featuring the best sports stories from around the web. Customize your newsletter to get articles on your favorite sports and teams. And the best part? It's free!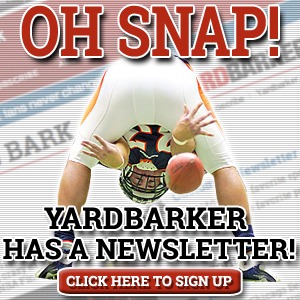 THE HOT 10: Who's Trending