Michelle Beadle is the newest addition to HBO Boxing's The Fight Game with Jim Lampley. In her debut, she hangs with Jim Lampley and Max Kellerman and takes on a variety of topics. Most notably on her end, she discusses how she won't spend her money on Floyd Mayweather. Max and Lampley begin by discussing the Mayweather vs. Maidana II fight itself. Then Beadle chimes in with...
Charissa Thompson of Fox Sports Live had a wide-ranging interview at Sports Illustrated this week that touched on a number of topics including Fox Sports Live's ratings, colleague Katie Nolan's thoughts on women in sports media (she didn't necessarily agree with Nolan's take), and Thompson's long road to an on-air position.  Her journey to Fox Sports Live and being one...
While Ray Rice and the NFL and Roger Goodell have dominated headlines, it just so happens that another athlete with a past littered with domestic violence will be in the headlines this weekend.  Floyd Mayweather returns to the ring against Marcos Maidana on Saturday night and while the calls aren't quite as numerous or vociferous as they are towards the NFL, there are voices stepping...
TV personality Michelle Beadle makes no bones about it – she is a huge San Antonio Spurs fans. Considering her media roots stem from San Antonio, one can see why she is a fan. Beadle was a guest on Bill Simmons' "B.S. Report" where the two talked about the Spurs. From why the team doesn't […]
ESPN personality Michelle Beadle came out guns blazin' on Twitter today with a refreshingly blunt opinion of one of ESPN's below average programs. The SportsNation host apparently tuned into ESPN's First Take on Friday morning and, like the average viewer, left very unimpressed: So I was just forced to watch this morning's First Take. A) I'll never feel clean again B) I'm...
#promselfie @Jabs_13 pic.twitter.com/UbX2xgj8L0 — Michelle Beadle (@MichelleDBeadle) April 26, 2014 Why we love sports today: If you don't know who Jack Jablonski is, he's a former high school hockey player who was paralyzed from the waist down a couple of years ago. He's been touring the United States and meeting countless sports stars ever since […] The post Michelle...
Jack Jablonski is definitely going to have the coolest date at his high school prom. Jablonski, a teenager who was paralyzed from the chest down after being checked into the boards head-first during a high school hockey game in 2011, asked ESPN personality Michelle Beadle to his prom Wednesday, and she said yes. Jablonski was […]
Michelle Beadle had a backstage incident with CM Punk's girlfriend A.J. Lee at the taping for WWE Tribute to the Troops last week, and she addressed it on Twitter Sunday. Beadle is the host for the Tribute to the Troops show, which was filmed at Joint Base Lewis-McChord in Washington last week and will air […]
Bigger oddity here: Michelle Beadle wearing the NBC logo coat or 1996 Olympic legend Dan O'Brien on television? Has to be Beadle, right? She's back on TV and doing her thing at the Olympic trials in Eugene. O'Brien was just supposed to be hanging out. Instead, today, he was falling off his director's chair. Relax, Dan was not hurt in this crash.  Filed under: Video
MORE STORIES >>
All Sports News

Delivered to your inbox

You'll also receive Yardbarker's daily Top 10, featuring the best sports stories from around the web. Customize your newsletter to get articles on your favorite sports and teams. And the best part? It's free!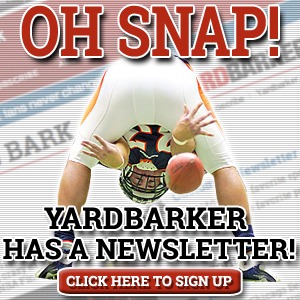 THE HOT 10: Who's Trending