Portland Trail Blazers owner Paul Allen donated another $9 million to the Centers for Disease Control and Prevention to help fight the spread of the Ebola virus in Africa. From the AP: Microsoft co-founder and Trail Blazers owner Paul Allen has announced he is expanding his efforts to help fight the Ebola outbreak in Africa with a $9 million donation to the Centers for Disease...
Typically speaking, sports fans tend to worry about two things – the past and the future. They'll debate who was the greatest player of all-time, while also spending hours discussing whether or not a rookie is going to be develop into an All-Pro. Both are fun exercises, things that keep fans engaged and the beer flowing at the local tavern. But they miss out on what is most important...
Seattle Seahawks Super Bowl rings are beautiful. Team owner Paul Allen tweeted out a photo of them on Thursday night.
In any business, success or failure tends to trickle down from the top. Very rarely does having someone incompetent in the ultimate position of power not lead to disastrous results throughout the organization. And conversely, having the right person in charge tends to ultimately lead to success. This is certainly the case in the National Football League. Teams with solid ownership...
As the only owner of an NFL team with a brain research laboratory, Microsoft co-founder Paul Allen is in a unique position to study whether repeated blows to the head can lead to dementia. The owner of the Seahawks announced Thursday he will pay for a two-year, $2.4 million study by scientists at the Allen Institute for Brain Science and the University of Washington in Seattle....
This is what wealthy people do when they have too much time on their hands. At first, I didn't even believe this was a real story, but alas it is true. I met Paul Allen once in New Orleans and from that experience I can totally see this happening. Microsoft founder and American billionaire Paul Allen will appear in a Botswana court in October for allegedly attempting to smuggle...
According to King5.com, Seattle Seahawks owner Paul Allen had his identity stolen by a former solider named Brandon Price. The FBI said former soldier Brandon Price changed the address on Allen's bank account then told the bank he'd lost his debit card. The bank sent Price a replacement who then tried to pay off his personal loans and make a $15,000 wire transfer. Price is set...
NOW THAT'S A TARGET
A man faces up to 30 years in prison after allegedly attempting to steal the identity of Paul Allen, the billionaire owner of the Seattle Seahawks and Portland Trail Blazers.
Paul Allen insists he's not going to sell the Portland Trail Blazers, but says this season is the most disappointing he's had in 24 years as the team's owner. The billionaire co-founder of Microsoft has posted an open letter to fans on the Blazers' team website. He reiterates what he's said all season long, that the team is not for sale. He says he has not received...
Paul Allen has been one of the highest spending owners in the league.
MORE STORIES >>
All Sports News

Delivered to your inbox

You'll also receive Yardbarker's daily Top 10, featuring the best sports stories from around the web. Customize your newsletter to get articles on your favorite sports and teams. And the best part? It's free!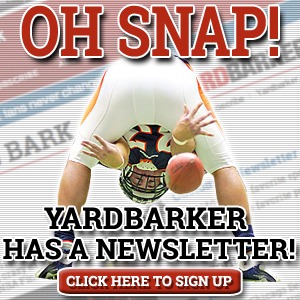 THE HOT 10: Who's Trending