Russell Wilson is left speechless with this mistake.  RG3 and Russell Wilson don't even look alike, not one bit. This sort of error is a bad one to make. ESPN'S Sal Paolantonio was the lucky one behind this mistake. Repeating it again just makes it look worse. [BSO] The post Sal Paolantonio Confused Russell Wilson With RG3 (Video) appeared first on Geeks & Cleats.
ESPN's Sal Paolantonio is a true professional, one that is really pumped about NFL football today. Check out his brief segment alongside the less-than-thrilling Merril Hoge in Pittsburgh. Article found on: Next Impulse Sports
Well, that's awkward. ESPN's Sal Paolantonio asked Baltimore Ravens' Ray Rice, who will serve a two-game suspension for knocking out his wife, Janay Palmer, about "what his wife said to him in final words of encouragement before you took the field?" Rice responded, "She always wishes me luck. And she always just says, 'Go out there […] The post Sal Paolantonio Asks...
Please stop trying to turn the Ray Rice alleged beating of his then-fiancee incident into some sort of feel-good story. First it was the Baltimore Ravens, now it's ESPN. After the Ravens' preseason game on Thursday night, Sal Paolantonio interviewed Ray Rice on the field. If you skip to the 54-second mark of the video, you'll hear Paolantonio ask Rice ,"What did your wife...
ESPN's Sal Paolantonio told Mike Missanelli of 97.5 The Fanatic in Philly that the Broncos shouldn't have let Eric Decker walk in free agency and instead should have released Wes Welker go because he's no longer  an NFL starter. I have to agree with Sal, I'm not sure the Broncos would have had enough money to re-sign Decker and bring in a player like Emmanual Sanders to...
ESPN's Sal Paolantonio was a guest on SiriusXM NFL Radio on Thursday and said Eagles wide receiverDeSean Jackson is wearing out his welcome in Philly. "DeSean Jackson's act is wearing thin with Chip Kelly." ESPN's Sal Paolantonio on @SiriusXMNFL — Ross Tucker (@RossTuckerNFL) March 20, 2014 The good news is that there are a few teams that are interested in...
Things got a little pushy and a lot weird as Kansas City Chiefs new coach Andy Reid made his way through the postgame scrum of reporters and photographers after his team had just defeated his former team the Eagles, 26-16, on his old stomping grounds at Lincoln Financial Field in Philadelphia. When ESPN's Sal Paolantonio approached the coach —after what had to be a gratifying...
According to ESPN's Sal Paolantonio via NFL.com, New York Jets general manager John idzik is keeping his options open and may be open to trading down in the first round. "I think the real substantive talks will come tomorrow," Idzik said Wednesday, according to ESPN.com's Sal Paolantonio. "I think we're in a position at No. 9 and No. 13 in the first round to get two really...
According to PhillyMag.com, ESPN's Sal Paolantonio told 97.5 The Fanatic in Philly that the Eagles will likely use the fourth overall pick on an offensive tackle or West Virginia wide receiver Tavon Austin. "Here is what a general manager told me [on Monday]: 'I know the Eagles want a tackle.' And if those are all gone, he said, 'Don't be shocked if Chip Kelly takes Tavon...
ESPN NFL reporter Sal Paolantonio made his weekly radio appearance on Wednesday during The Matt Segal Show on 96.7 The Champ. He discussed his wins and loss record predicting formula and broke down the NFC South schedules, calculating at least six to seven losses for the Bucs. How does his formula work? Simple… He takes the amount of times a team faces a Pro Bowl quarterback in...
MORE STORIES >>
All Sports News

Delivered to your inbox

You'll also receive Yardbarker's daily Top 10, featuring the best sports stories from around the web. Customize your newsletter to get articles on your favorite sports and teams. And the best part? It's free!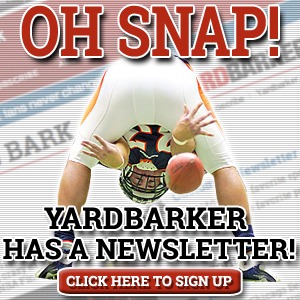 THE HOT 10: Who's Trending