Typically speaking, sports fans tend to worry about two things – the past and the future. They'll debate who was the greatest player of all-time, while also spending hours discussing whether or not a rookie is going to be develop into an All-Pro. Both are fun exercises, things that keep fans engaged and the beer flowing at the local tavern. But they miss out on what is most important...
According to the St. Louis Business Journal, Rams owner Stan Kroenke is planning to use his recently purchased 60-acre plot of land in Los Angeles for a new MLS team. The report, citing English news sources, adds that Kroenke is expected to purchase a license for a new MLS team which is expected to be called the  "LA Gunners." Sam Farmer of the Los Angeles Times first...
ST. LOUIS -- Your move, St. Louis. The latest episode in the will-the-Rams-stay-or-leave-St. Louis saga came Thursday when both The St. Louis Post-Dispatch and The Los Angeles Times reported that Rams owner Stan Kroenke had purchased 60 acres of land -- large enough to build a football stadium -- in the Los Angeles suburbs. Now Rams fans who were already nervous about the team'...
Sam Farmer of the Los Angeles Times reports sources have informed him that St. Louis Rams owner Stan Kroenke has purchased a 60-acre parking lot located in Inglewood, California that could be used for an NFL stadium. According to Farmer, Madison Square Garden Co., who already owns the Forum, had their eyes set on the plot of land and were reportedly prepared to pay an estimated...
ST. LOUIS -- St. Louis Rams owner Stan Kroenke made a surprise visit to training camp Tuesday night. Kroenke walked onto the sidelines in the final 30 minutes of the 1 hour, 45 minute workout. He spoke with several players afterward, including quarterback Sam Bradford and first-round draft choice Tavon Austin. Kroenke also owns the Denver Nuggets and Colorado Avalanche, and is...
Many St. Louis Rams have worried over the past several months about the future of the NFL in St. Louis due to ongoing dealings with the Rams' lease situation with the city of St. Louis and the Edward Jones Dome. Some think that owner Stan Kroenke may bolt town. If the latest news about another project Kroenke looks to be working on is any indication, Kroenke will not be looking...
TO LIVE AND DIE IN LA
A report by Yahoo! Sports' Jason Cole has stated that a previously approved deal to build a football stadium to lure an NFL team to Los Angeles is 'essentially dead'.
Arsenal says owner Stan Kroenke has no plans to sell his majority stake after reports in a British newspaper claimed a Middle East consortium was ready to make a bid of 1.5 billion pounds ($2.25 million) for the Premier League club. The Sunday Telegraph said an unidentified group backed by funds from Qatar and the United Arab Emirates wanted to make a cash offer to buy 100 percent...
ArsenalArsenal owner Stan Kroenke has taken out a 'restraining order' against a former employee.read more
Arsenal owner Stan Kroenke is looking to the Glazer family's business blueprint at Manchester United for inspiration as he tries to boost the London club's commercial success. The American says he isn't going to load Arsenal with lots of new debt the way the Glazers did with United, but that he is impressed with how they have turned the club into the Premier League&...
MORE STORIES >>
All Sports News

Delivered to your inbox

You'll also receive Yardbarker's daily Top 10, featuring the best sports stories from around the web. Customize your newsletter to get articles on your favorite sports and teams. And the best part? It's free!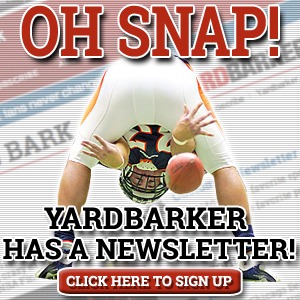 THE HOT 10: Who's Trending