Local politicians in St. Louis are in serious talks to build a new open-air stadium. That's according to a report by St. Louis Post Dispatch columnist Bryan Burwell. Burwell's column, which was posted a few hours after the Rams' disappointing Monday Night Football loss that dropped them to 0-3 at home, posits that owner Stan Kroenke has been in contact with local officials...
The Monday night primetime game against the San Francisco 49ers was a poor showing for both the St. Louis Rams and their fans. The 49ers scored 31 unanswered points and the only time the Rams faithful were louder than the 49ers' fans was when they were booing team owner Stan Kroenke at halftime.Just another Rams game.At this point, the Rams season is over. The division is too far...
Here's a recap of what you may have missed this past week. cover32 Rams Local Content - Top-5 ways to prepare for Monday's GSOT reunion (READ) - Stan Kroenke does not care about you, St. Louis (READ) - St. Louis Rams cut Ray Ray Armstrong in effort to send discipline message (READ) - Quotable Thursdays: "The Sacks are on the Individual Players" (READ) - Is it finally...
ST. LOUIS -- Your move, St. Louis. The latest episode in the will-the-Rams-stay-or-leave-St. Louis saga came Thursday when both The St. Louis Post-Dispatch and The Los Angeles Times reported that Rams owner Stan Kroenke had purchased 60 acres of land -- large enough to build a football stadium -- in the Los Angeles suburbs. Now Rams fans who were already nervous about the team'...
Sam Farmer of the Los Angeles Times reports sources have informed him that St. Louis Rams owner Stan Kroenke has purchased a 60-acre parking lot located in Inglewood, California that could be used for an NFL stadium. According to Farmer, Madison Square Garden Co., who already owns the Forum, had their eyes set on the plot of land and were reportedly prepared to pay an estimated...
Arsenal says owner Stan Kroenke has no plans to sell his majority stake after reports in a British newspaper claimed a Middle East consortium was ready to make a bid of 1.5 billion pounds ($2.25 million) for the Premier League club. The Sunday Telegraph said an unidentified group backed by funds from Qatar and the United Arab Emirates wanted to make a cash offer to buy 100 percent...
ArsenalArsenal owner Stan Kroenke has taken out a 'restraining order' against a former employee.read more
Arsenal owner Stan Kroenke is looking to the Glazer family's business blueprint at Manchester United for inspiration as he tries to boost the London club's commercial success. The American says he isn't going to load Arsenal with lots of new debt the way the Glazers did with United, but that he is impressed with how they have turned the club into the Premier League&...
MORE STORIES >>
All Sports News

Delivered to your inbox

You'll also receive Yardbarker's daily Top 10, featuring the best sports stories from around the web. Customize your newsletter to get articles on your favorite sports and teams. And the best part? It's free!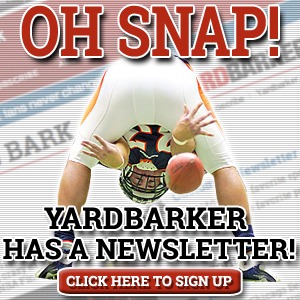 THE HOT 10: Who's Trending