Stephen A. Smith received a week long suspension, and then returned to his own radio show.  ESPN & SiriusXM are teaming up to produce a radio program based around Smith's talents. Per press release: ESPN and SiriusXM have reached an agreement for ESPN to produce The Stephen A. Smith Show exclusively for SiriusXM's Mad Dog Sports Radio, channel 85. The two-hour daily program...
The entire Ray Rice controversy, from his alleged conduct to the NFL's questionable two-game suspension stemming from the purportedly ugly incident involving his now-wife, and the ensuing questionable reactions and commentary from pundits and talking heads — specifically Stephen A. Smith — has provided for an opportunity to openly and reasonably discuss the tragic and […...
When Stephen A. Smith went off the rails on First Take last Friday, saying that women have a responsibility to not provoke men into attacking them, he was deservingly and roundly criticized (even by ESPN colleagues), and it seemed likely punishment from the network would follow. After all, the Worldwide Leader has a long history of suspending, firing, or otherwise parting ways...
Ignore the majority of Stephen A. Smith's rant and multiple apologies and the crux of his point was if a woman is physically abusing a man, is she partly responsible in him striking back? There are no set rules with this, because the individual has to decide what type of threat he is dealing with. I am under the belief unless your life is in danger you walk away. Others believe...
Stephen A. Smith of ESPN apologized today for his comments last Friday in which he said that women can sometimes provoke men into beating them up. I appreciate Smith's apology, but it seems all too rehearsed and more of a PR move. It also doesn't just come down to Smith saying the word "provoke" His entire rant was talking about a woman's responsibility in domestic violence...
Stephen A. Smith is polarizing. Whether he's on First Take or ESPN Radio in New York, he always garners a reaction. So imagine him on another national platform like SiriusXM radio. It's about to happen. The New York Daily News reports that Smith will be joining the "Mad Dog Radio" channel and host his own show in the 1-3 p.m. ET timeslot leading into Chris Russo's show...
Stephen A. Smith needed something to help get his domestic violence comments out of the news cycle, and the report about his career move is helping to change the conversation. According to the New York Daily News, Smith is leaving ESPN Radio New York for Sirius Mad Dog Radio. Smith currently co-hosts a daily show […]
In what could eventually lead to a complete breakup with ESPN, controversial media personality Stephen A. Smith is reportedly leaving ESPN Radio for a gig on SiriusXM radio.  This report by the NY Daily News goes on to indicate that Smith will be joining Mad Dog Radio, which is run by another controversial media personality in Chris Russo. Apparently, this is a match made in...
It was only a matter of time.  Only a matter of time before someone on First Take said something stupid enough to drag the show's carcass back into the headlines.  This time, it wasn't Skip Bayless, nor even the ghost of Rob Parker.  It was Stephen A. Smith and his comments on women "provoking" assault. In case you were away from social media Friday, Smith clumsily talked...
Ray Rice's two-game suspension stemming from the Baltimore Ravens running back's violation of the NFL's personal conduct policy has been the talk of the sports world since it was handed down Thursday. Stephen A. Smith and Skip Bayless discussed the topic Friday morning on ESPN's "First Take," and, per usual, controversy ensued. In a rambling, two-minute rant,...
MORE STORIES >>
All Sports News

Delivered to your inbox

You'll also receive Yardbarker's daily Top 10, featuring the best sports stories from around the web. Customize your newsletter to get articles on your favorite sports and teams. And the best part? It's free!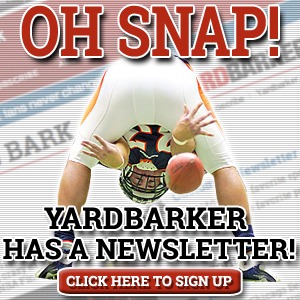 THE HOT 10: Who's Trending