Ted Leonsis's Summer Loving Tour has been nearly utopian in the opinion of most. One thing that factored in to it was when he delivered a hit with the first alternate uniform for his Washington Wizards since 2006. Make no mistake about it, the announcement of a new uniform is a big deal, there are […] The post The long history of Wizards logos/jerseys that precede their new ...
Ted Leonsis has been a part of the Washington Capitals' ownership group since 1999, and if you ask him, this is the deepest defense he's ever seen since taking over the franchise. He pumped up that group and also the sense of unity in the newly revamped front office in a press conference on Saturday, as the Washington Post reports. "Right now, I think this is the deepest...
Photo: monumentalnetwork.com USA Today's Laken Litman reported a heartwarming story this weekend. The Washington Wizards signed a 10-year-old girl to a one-day contract. But, she's no ordinary 10-year-old. Amaris Jackson plays point guard for her middle-school basketball team. She's also a cancer survivor. Jackson is battling renal cell carcinoma (a form of kidney cancer)....
from Ted Leonsis of Ted's Take, Before the Capitals season started, I was quoted as saying I didn't see any weakness in our lineup. While I knew some aspects of our team were stronger than others, I didn't see anything that I believed was a specific weakness. Obviously I was wrong. I still believe it is good business practice to avoid snap decisions, and I want to...
Ted Leonsis knows Wizards fans want to see the team get back to the playoffs. ''I think the fan base's expectation is we're going to have a better team,'' Leonsis said on Friday at the Verizon Center. ''I think everyone looks at our team and other teams in the East and says we should be able to, if we play to our capabilities, be one of the teams...
The Washington Wizards are setting up to become a force next year. To achieve that goal they are going to make point guard John Wall a very happy man. Please click here to read this story. The post John Wall expects a max deal from the Washington Wizards appeared first on Players View.
Next year will be make-or-break for the Wizards After last night's 95-90 loss at the hands of the Cleveland Cavaliers that saw the Wizards score 33 first quarter points and jump out to a 13 point lead, then only 32 points over the next 24 minutes, I immediately starting thinking about the off-season. While it was only a five point loss, it came at the hands of the Cavs who were...
from John Ourand of SportsBusiness Journal at The Sporting News, Monumental Sports and Entertainment chairman Ted Leonsis will launch a full-fledged digital network this week in what is the first step toward setting up his own local TV channel. The broadband sports and entertainment channel will be called Monumental Network and will feature programming related to the teams...
Ted Leonsis continues to blog about sticking together and not making changes. Sometimes I see his blog posts as a slap to the fan, like we don't know what the real problem with the organization is — the General Manager Ernie Grunfeld. The media knows it, the bloggers know it, and most importantly the fans know it. The only person at this time who doesn't seem to know what needs...
Ted Leonsis shared his vision for the Wizards.
MORE STORIES >>
All Sports News

Delivered to your inbox

You'll also receive Yardbarker's daily Top 10, featuring the best sports stories from around the web. Customize your newsletter to get articles on your favorite sports and teams. And the best part? It's free!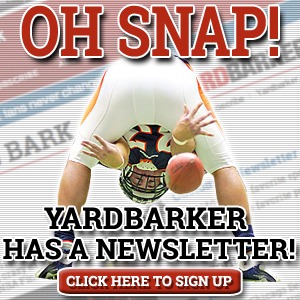 THE HOT 10: Who's Trending