Cowboys Hall of Fame quarterback Troy Aikman told Tim Cowlishaw of the Dallas Morning News that he understands why former NFL players are suing the league. "I know fans think, 'Hey, players know what the risks are,' and that's true. But the lawsuit isn't that no one knew there were health risks, but that the league knew there were long-term consequences from head injury...
The wrath of Big Blue Nation is about to engulf Dallas Morning News writer Tim Cowlishaw over the cheap shot he took at the Kentucky Wildcats on Wednesday.It came during an episode of ESPN's Around the Horn when Cowlishaw basically slammed the university for being sub-par in the education department."What's the difference between having a degree from Kentucky and almost having...
One of the most interesting stories of the week has to be the deal that fell through between Steve Masiello and the University of Southern Florida. USF announced that Masiello would be the school's next basketball coach on Tuesday before pulling the offer because of some information that was uncovered during a background check. It […]
Around the Horn's Tim Cowlishaw has been drunk on sports for as long as he can remember. From figuratively to literally and back, his memoir Drunk on Sports gives us a glimpse into his battle with alcoholism – a battle he hid well for almost 35 years.  "…it was mostly a good run because I was mostly a good drunk. Funny most of the time. Even charming to some. Dare I...
Covering Dixie Like Mildew - The SEC. All your crystal football are belong to us. Obligatory Johnny Manziel item of the day. Tim Cowlishaw rings in on Texas A&M starting QB's online classes. Which brings up the question of what the Ghost of Al Davis would think of Johnny Football. (The Dallas Morning News) The Cristobal Run. Alabama officially announces the hiring...
The dominant story in the first round of the 2012 Stanley Cup Playoffs has been the level of violence. During the first week of the playoffs, as Tim Cowlishaw noted Friday in the Dallas Morning News, "truly inspired play was marred by an over-the-top outbreak of violence that seemed like simply too much. Even by the NHL's questionable standards" (4/20/12). The Associated Press...
This amusing yet disturbing clip featuring non-broadcast footage of Around the Horn host Tony Reali casually fraternizing with panelists Bill Plaschke, Woody Paige, Tim Cowlishaw and Michael Smith during a break on Tuesday's show, all the while frenetically pushing the mute button in between, um, aggressively awkward sets of Shake Weight reps is truly a [...]
MORE STORIES >>
All Sports News

Delivered to your inbox

You'll also receive Yardbarker's daily Top 10, featuring the best sports stories from around the web. Customize your newsletter to get articles on your favorite sports and teams. And the best part? It's free!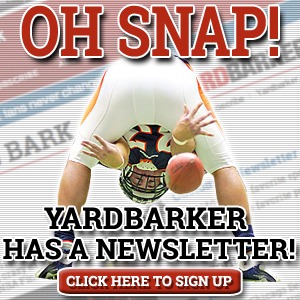 THE HOT 10: Who's Trending