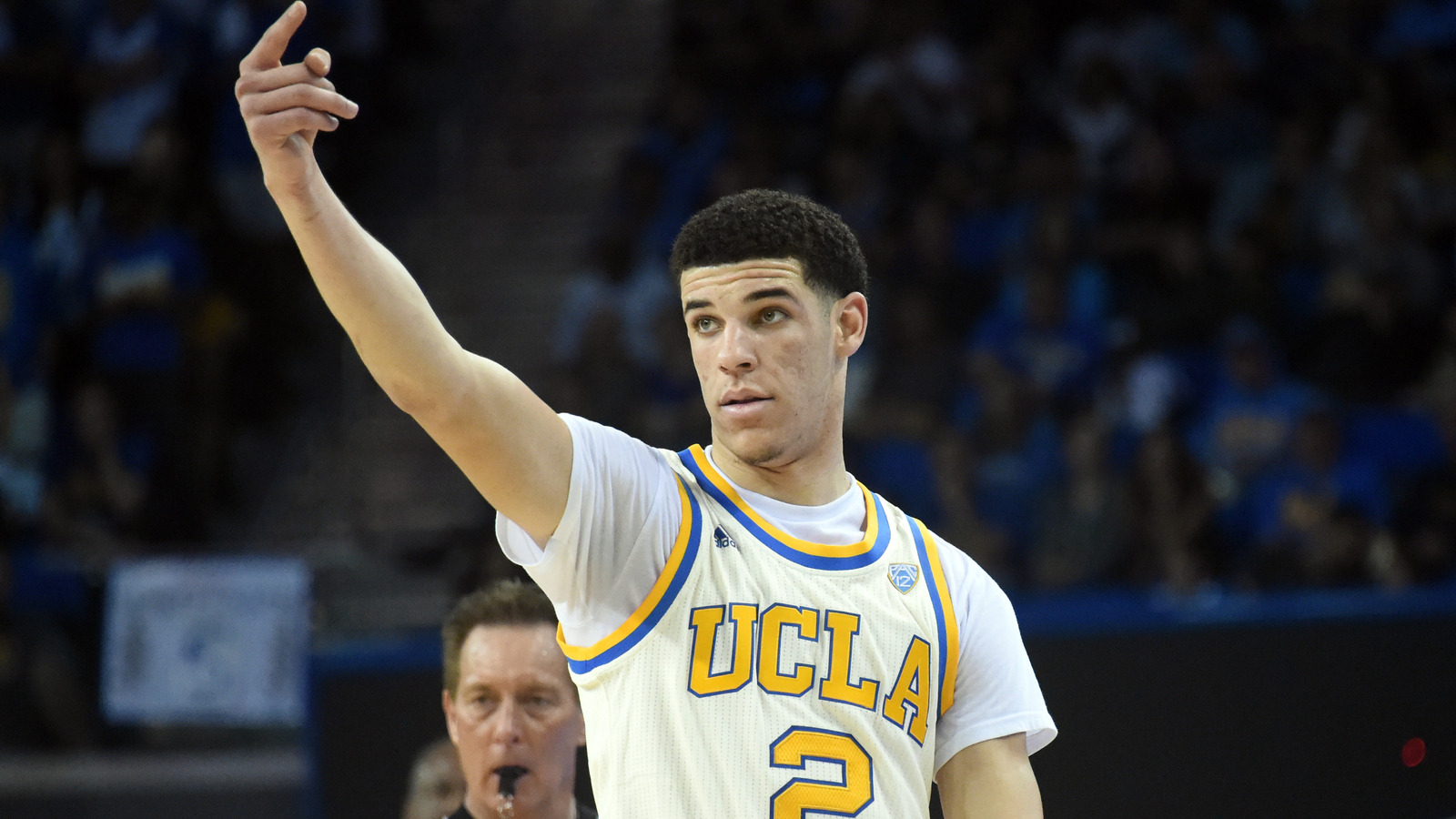 Mar 4, 2017; Los Angeles, CA, USA; UCLA Bruins guard Lonzo Ball (2) signals in the second half against the Washington State Cougars at Pauley Pavilion. 
Richard Mackson-USA TODAY Sports
College basketball fans are salivating. March Madness has arrived, and two of the best days on the sports calendar are coming up. There are 16 games taking place on Thursday and 16 more on Friday for the first round of the NCAA Tournament.
The first two days of March Madness never disappoint, bringing buzzer-beaters, upsets, and shocking drama.
The narratives that will unfold over the two wildest days in sports may not be evident right now, but there is still a treasure of trove of things to watch for as the tournament heats up.
Here's a look at the 10 biggest storylines entering the first round of the NCAA Tournament, which will be played at various venues across the country on Thursday and Friday.
1. Can Oregon adjust without Chris Boucher?
The Ducks accomplished enough in the meat of the season to earn a 3 seed, despite Chris Boucher's torn ACL suffered in the Pac-12 Tournament. The versatile big man brought length, rim protection, and outside shooting to the Oregon lineup, and his production will be sorely missed. He was averaging 11.8 points, 6.1 rebounds, and a conference best 2.5 blocks per game.
Because they earned that seed, the Ducks are likely safe in round one, though in this tournament that can be a dangerous thing to say. Even without Boucher, Iona is travelling 3,000 miles to Sacramento to face the Ducks, and Oregon is still far more talented than the Gaels. Yet if and when Oregon wins this game, it will be interesting to see how they replaced Boucher in the lineup and if his absence was detrimental.
The winner of Creighton and Rhode Island provides no cakewalk to the Sweet 16, so Oregon needs to figure out life without Chris Boucher sooner than later.
2. Under-seeded Wichita State faces big challenge
The seeding of Wichita State has taken over as the prevailing narrative of the week.
Advanced metrics love the Shockers because they not only won a ton of games in the Missouri Valley Conference, but also because they did so by wide margins. The RPI, still the preferred metric of the committee despite its flaws, does not account for margin of victory or defeat. In a perfect world, Wichita State would have been seeded higher, but in today's system, they earned a 10 seed.
None of this, by the way, changes the fact that the Dayton Flyers are really good.
Dayton is a legitimate 7 seed and capable of winning games in this tournament. Just because Wichita State deserved a less difficult opponent doesn't mean the Flyers are doomed.
This may be the best game of the round, and penciling the Shockers forward would be a mistake. Archie Miller and his Flyers deserve your attention. Dayton has six wins over teams in this tournament, while Wichita State managed only one such win this season (against 16 seed South Dakota State).
3. Michigan-Oklahoma State a clash of styles
Speaking of great first-round games, this one should be a battle.
According to Ken Pomeroy's rankings, this game features two top-25 teams squaring off as a 7 and 10 seed. More importantly for the viewing audience, it features two wildly different styles.
Michigan plays the patient, drawn out offense of coach John Beilein. The Wolverines play the 12th-slowest pace in Division I, and it pays off. They've posted the 5th-lowest turnover rate and the 8th-best effective field goal percentage. Michigan will work your defense until they get the shot they want, every time down the floor.
Oklahoma State head coach Brad Underwood wants to press and run the ball all night long. You may remember his teams at Stephen F. Austin the past three years causing all kinds of trouble in the NCAA Tournament. Now he has power conference athletes in his system, and it's led to Oklahoma State being the top ranked offense in the nation.
Slow meets fast. Frantic meets deliberate. Sounds like a fun way to start Friday's slate (at 12:15 pm ET in Indianapolis).
4. Northwestern is finally in and has good chance to win!
After decades of torture and teasing, the Northwestern Wildcats are finally dancing in March. Coach Chris Collins has built a program capable of competing in the Big Ten and this year's team can win in this tournament.
The Wildcats will face a Vanderbilt team with 15 losses this season, including home losses to Bucknell, Ole Miss, and Tennessee. The Commodores earned their way into the tournament, but Northwestern will have a golden opportunity to take home their first NCAA Tournament win in their first year of play.
Junior guard Bryant McIntosh will run the show for the Wildcats. In the Big Ten Tournament, he and Northwestern showed the ability to dominate games for stretches. Even though it happened against lowly Rutgers, Northwestern ripped of a 31-0 run. That doesn't happen easily or without skill.
5. Winthrop's Keon Johnson is your new favorite player
Looking for a guy to fall in love with this weekend, even if it is just for one game? Winthrop's Keon Johnson is your man.
The 5-foot-7 guard does everything for the Eagles, scoring 22.5 points per game. Johnson shot more free throws than any other player in the Big South Conference and took the 2nd most 3-point attempts. The little guy finds ways to score. He topped 30 points seven times this season, which doesn't even include a spectacular 27 point, 7 assist, 5 rebound game against Charleston Southern.
Butler will be a tough test, though the Bulldogs don't feature any guards with the right tools to lock in on Johnson. Tyler Lewis will likely spend most of the day chasing Johnson around, likely with limited success.
6. 12 seeds looking to pull upsets
Every year the bracket prognosticators have their eyes on 12 seeds in the first round, with upsets in mind. Historically, that is a good call. 46 teams seeded 12th have pulled the upset, amazingly matching the same number and percentage of 11 seeds to pull the same feat. Statistically, that works out to about 35 percent, meaning at least one of four should win this weekend, if not more.
This season's crop is ripe for the picking. 
Middle Tennessee will be the most popular pick, after a great season in Conference USA and a reputation for giant killing, with last year's upset of Michigan State under its belt. The Blue Raiders are no joke, with multiple wins over power conference foes and multiple wins over tournament teams. JaCorey Williams, an Arkansas transfer, is the real deal, and Giddy Potts is as hot a shooter as you'll find.
Elsewhere, UNC-Wilmington will be able to challenge Virginia. Big man Devontae Cacok leads the entire nation in offensive rating, true shooting, effective field goal, and 2-point shooting percentages. He is wildly efficient inside, opening up tons of driving lanes for his teammates. The Seahawks offense is a relentless attack, ready for the vaunted Virginia defense.
Princeton rolled through the Ivy League without a loss, and will now be meeting Notre Dame on Thursday. Throw away every stereotype about a Princeton team you've got. Sure, they play smart on offense, but the Tigers have the athletes to compete with anyone.
Finally, Nevada will travel east with a real shot to beat Big XII Tournament champ Iowa State. A one-two punch of Marcus Marshall and Cameron Oliver is as scary a duo as you could expect from a 12th seeded mid-major. Those two Nevada stars average a combined 36 points, 11 rebounds, and 5 assists. Keeping them fenced in will be a tall task for the Cyclones.
7. The Lonzo Ball Show
The stand-out freshman guard may have played his worst game of the season for UCLA in the Pac-12 tournament. The broadcast crew harped on a jammed thumb he suffered in the first half as a reason or excuse for his poor play.
Since then, Lonzo's dad has continued to talk about shoe contracts and building a family dynasty (Lonzo's two younger brothers are also headed to UCLA). It has all added up to distractions and more pressure than needed for a freshman in his first tournament.
Presumably, UCLA will beat Kent State easily, though it will be worthwhile to keep an eye on Lonzo Ball throughout the game. If his hand features even the slightest splint, tape, or band-aid, we're certain to hear about it for the rest of the weekend. If he looks sluggish or disengaged, people will jump on his mental mindset.
For UCLA to make a Final Four run, Lonzo Ball needs to play like an All-American, without the mess potentially surrounding him.
8. What will we see from Wisconsin and Michigan State?
The two Big Ten standbys both went through incredibly rocky and unpredictable regular seasons. Any guess as to their performance in this tournament is a total shot in the dark.
Wisconsin looked like a Final Four team in early February. The Badgers were 21-3, with big wins and a stable of stars to rely on in the clutch. Over their next six games, however, the Badgers lost five times. Three came on the road, and the fourth was a home loss to tourney team Northwestern. The fifth loss was a last second heartbreaker against Iowa.
No matter the explanation, Wisconsin was in a bona-fide funk. The Badgers bounced back to an extent, topping Minnesota to close the regular season and then reaching the Big Ten Tournament final. Now Wisconsin is faced with a solid Virginia Tech team, and the roller coaster of a season could end or take another turn.
Michigan State, meanwhile, has been even sloppier. After starting the season highly ranked, the Spartans fell to 12-9 in late January. Some bounce-back wins earn Sparty a tournament bid, but Tom Izzo's team has felt like an odd mix of freshman youth and veteran stalwarts all season. Even though the pieces have yet to fall into place, the Spartans are talented enough to beat anyone, and Tom Izzo is a March miracle man.
9. Gonzaga vs. Mike Daum
The best player in this tournament whom you've never heard of is South Dakota State sophomore Mike Daum.
The big man has been dominant in his second year on campus, averaging 25.3 points and 8.2 rebounds per contest. If you don't believe me, ask Fort Wayne. In two meetings with the Mastodons, Daum averaged 46.5 points and 12.5 rebounds. He's got the body to pound inside and a shooting stroke that's good for 41 percent from outside the arc.
Now he'll face his toughest test this season, by far: Gonzaga's frontline.
Mark Few has three big men who will all likely tangle with Daum at some point on Thursday. Przemek Karnoswki is a 7-foot-1 giant polar bear who can physically challenge Daum in the paint. Johnathan Williams is an athletic freak, with a wingspan and vertical leap that will bother any opponent. Zach Collins is a 7-foot future first-round pick, with a perfect combo of athleticism and fundamentals.
If you need a good reason to watch a one seed battle a 16, this is your answer. Those three bigs will attack and battle Mike Daum for 40 minutes. His efforts to still put points on the board will be a sight to see.
10. An intriguing Florida showdown
When the brackets are revealed, casual fans and the media love to jump out and claim conspiracy theories when two rivals or nearby foes are paired. In reality, the committee is driven by geographic decisions; every team is placed at the nearest possible site location from their campus.
The perfect example this year comes with Florida State meeting Florida Gulf Coast in Orlando, Florida.
Though the two schools haven't developed a rivalry of any kind in the years since the "Dunk City" days, the two schools are located 315 miles apart. They will meet in the middle for a game that will feature flashes of athleticism, speed, and high flying finishes.
The Eagles likely don't have the talent to top the Seminoles, though they will put forth quite the effort.
PLAYERS:
Chris Boucher
,
John Beilein
,
Bryant McIntosh
,
Keon Johnson
,
Tyler Lewis
,
Jacorey Williams
,
Corey Williams
,
Giddy Potts
,
Devontae Cacok
,
Lonzo Ball
,
Tom Izzo
,
Mike Daum
,
Johnathan Williams
TEAMS:
Seattle Seahawks
,
Oregon Ducks
,
Michigan Wolverines
,
Northwestern Wildcats
,
Winthrop Eagles
,
Butler Bulldogs
,
Middle Tennessee State Blue Raiders
,
Grambling State Tigers
,
North Carolina Wilmington Seahawks
,
UCLA Bruins
,
Michigan State Spartans
,
South Dakota State Jackrabbits
MORE FROM YARDBARKER
College Basketball News

Delivered to your inbox

You'll also receive Yardbarker's daily Top 10, featuring the best sports stories from around the web. Customize your newsletter to get articles on your favorite sports and teams. And the best part? It's free!