13 March Madness flops with a history of busting brackets
Can Jaylen Barford and the rest of the Arkansas Razorbacks end their March curse? Don't bet your bracket on it. 
Christopher Hanewinckel-USA TODAY Sports
March Madness is in full swing this week with the release 2017 NCAA Tournament brackets. Now that the field 68 is set, millions of fans across the country are faced with selecting their picks in hopes that they know just enough to win their office pool or online tournaments. Problem is, with each year bringing its share of Cinderellas and goats, schools who are always considered sure things due to their performance during the regular season never fail to reduce brackets to rubble by losing to lower seeded teams.

To commemorate the yearly carnage left by busted brackets everywhere, we offer a list of high profile teams who, despite past successes, disappoint far more these days than they delight with early tournament exits. You may just want to consult this list of upset specials before you let it all ride on a school that will only break your heart in the end.

(*Teams appearing in the 2017 Tournament)

Arkansas*

Since former head coach Nolan Richardson dominated the early '90s his radical run-and-gun style of play that led to three Final Four appearances in five seasons, the fortunes of the Razorbacks have been less than kind.

After losing to UCLA in the 1995 National Championship game, the Razorbacks made the tournament 11 times (including this season), but failed to make it out of the first weekend in every year except for one, despite averaging a tournament seeding of six in those years.

Their biggest recent nemesis? North Carolina, responsible for kicking the Razorbacks out of the tournament in their last two appearances in 2008 and 2015. This year, they are an eight seed in the South Region where, if they win their opening match, they stand to face, you guessed it, one seed North Carolina. Will the third time be the charm? Don't bet your bracket on it.

California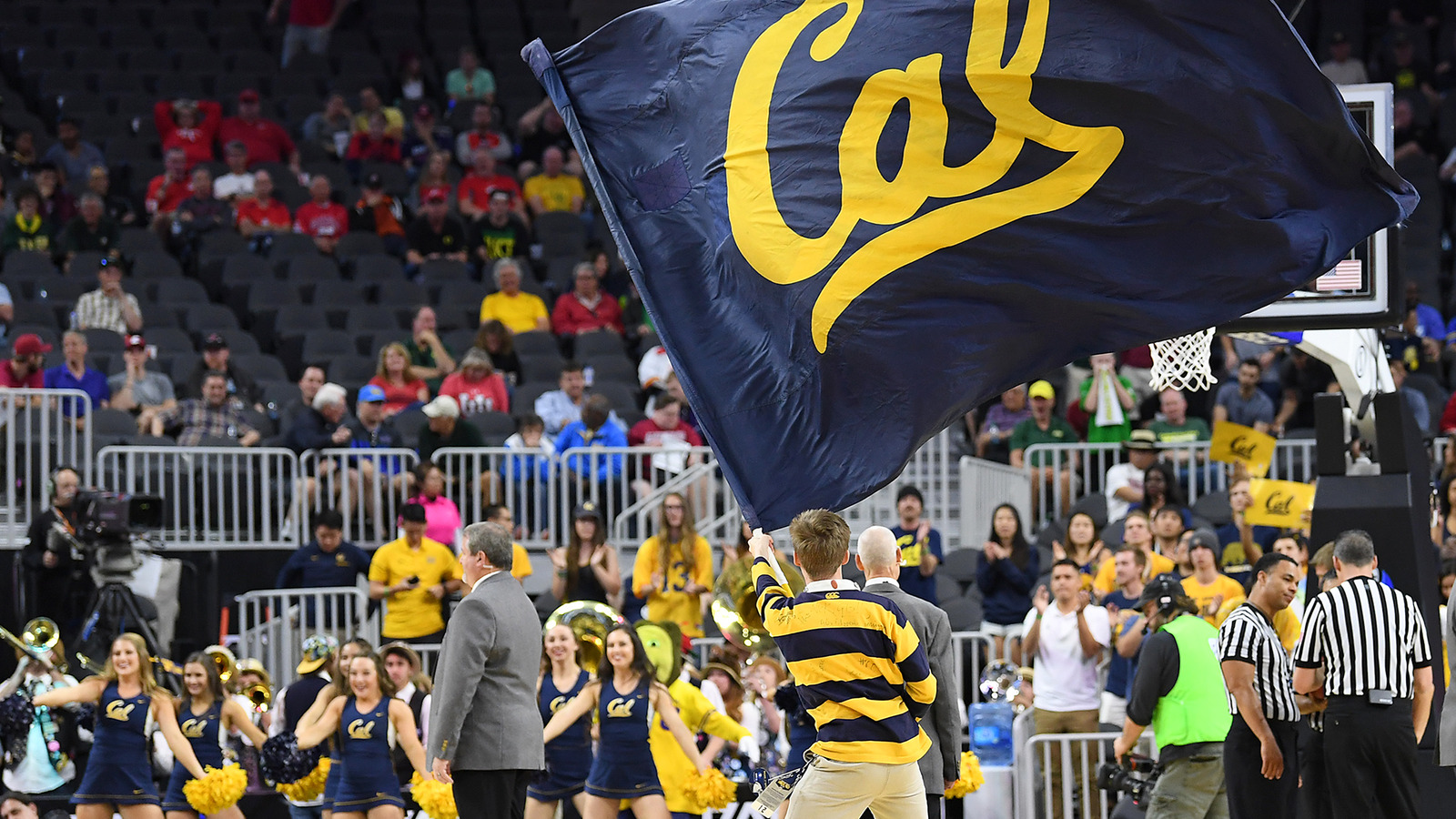 Stephen R. Sylvanie-USA TODAY Sports
There are few high-seeded teams who practice bracket futility quite like California. The flagship university, in 14 appearances since 1990, escaped the first weekend only twice, promptly losing their Sweet Sixteen matches to Kansas and North Carolina, respectively.
The Golden Bears signify NCAA Tournament futility as a team who squanders practically every opportunity they have to advance in the tournament, most recently being upset in 2016 despite being a four seed by upstart Hawaii.
Even though Cal is a school that consistently finishes towards the top of the Pac-12 on a yearly basis, none of that program success translates to the Tournament, leaving a legacy of underachievement that makes them an absolute do-not-pick whenever they appear on any bracket.
Cincinnati*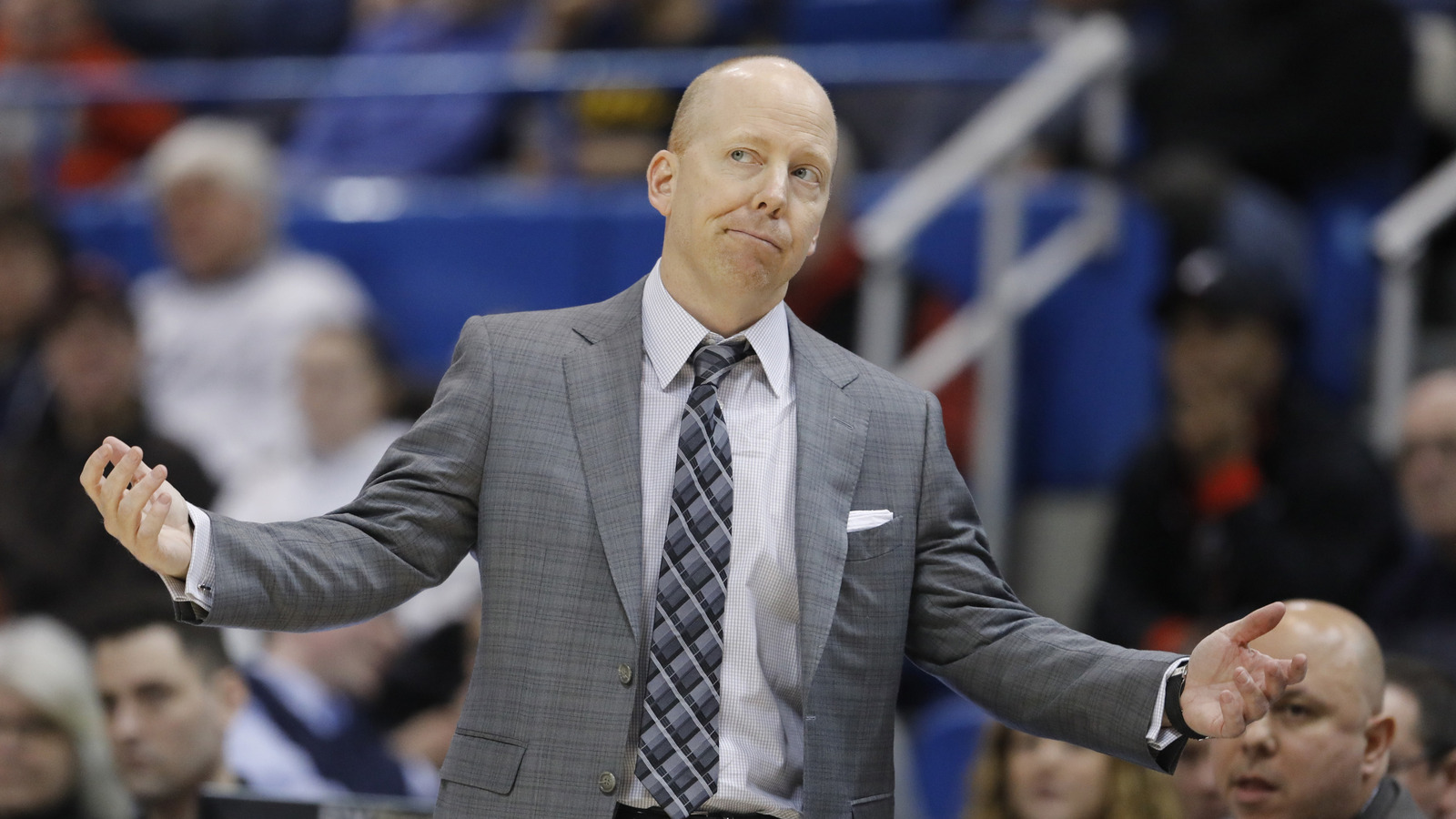 Cincinnati Bearcats head coach Mick Cronin watches from the sideline as they take on the Southern Methodist Mustangs in the first half of the championship game during the AAC Conference Tournament on March 12, 2017.
David Butler II-USA TODAY Sports
Former head coach Bob Huggins received a great deal of credit in turning a routinely mediocre Bearcats squad into a winner, helping to make Conference USA into a mid-major with bite. During his 16-year tenure with the Bearcats, Huggins won either the regular season or conference tournament championship every season except four, unfortunately, that same level of success not follow into the NCAA Tournament.
Since reaching the Final Four in 1992, Cincinnati only saw second weekend action four times in 19 appearances. Life for current head coach Mick Cronin hasn't fared any better as he's taken the Bearcats out of the first weekend only once in his 11-year tenure.
Cronin gets one more chance as Cincinnati made the 2017 Tournament as a six seed in the South Region. Given their position, it's hard to say if they'll advance, but if their history is any indication, picking them for your bracket should earn a hard pass.

Florida State*
Florida State Seminoles guard Braian Angola-Rodas (11) talks with guard Dwayne Bacon (4) as they come out of a time out in the second half against the Duke Blue Devils on Feb. 28, 2017.
Mark Dolejs-USA TODAY Sports
Since appearing in the 1972 National Championship, Florida State's fortunes have been tepid at best, never getting higher than an Elite Eight appearance in 1993. Incidentally, Heisman-winning quarterback Charlie Ward led the charge for the Seminoles that year, making him the only Heisman winner to also start in an Elite Eight game.
Since the glory days of Ward, the Seminoles are four-of-five in escaping the first weekend, despite a couple years where they were expected to go much farther.
In the 2017 NCAA Tournament, FSU is a high third seed, but they're facing an upset-minded Florida Gulf Coast University, a team that made news in 2013 as a 15 seed who upset two seed Georgetown. Looking at the averages, a smart bracket picker would avoid the Seminoles like the plague.
Georgetown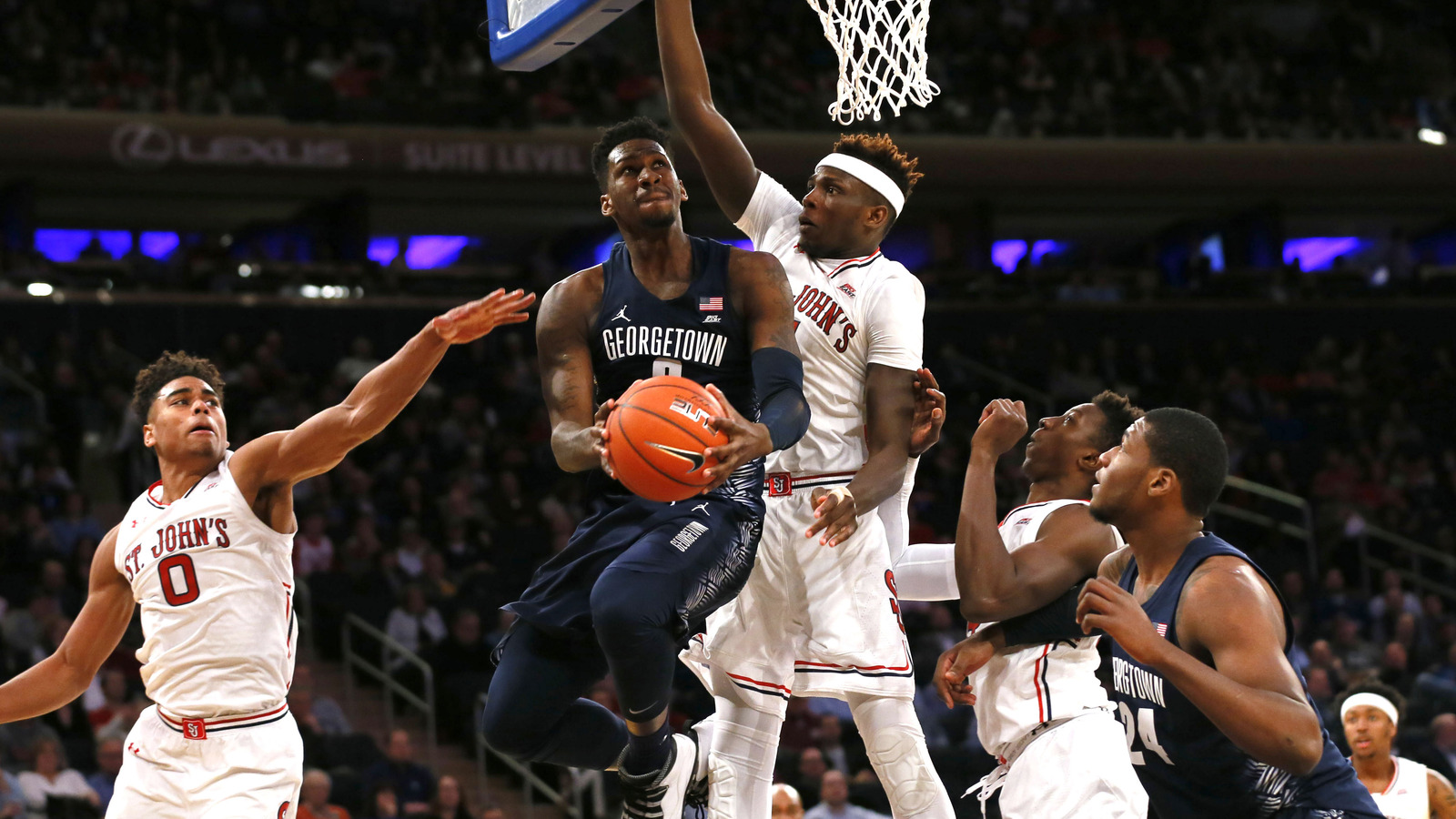 Georgetown Hoyas guard L.J. Peak (0) goes to the basket against St. John's Red Storm guard Bashir Ahmed (1) and guard Malik Ellison (0) during second half of Big East Conference Tournament game on March 8, 2017. St. John's Red Storm defeated Georgetown Hoyas 74-73. 
Noah K. Murray-USA TODAY Sports
Speaking of Georgetown, there are few storied programs who suffered a bigger fall from Tournament grace than the Hoyas. Under the watchful eye of John Thompson, Jr., the Hoyas became known for much more than turning out future public policy leaders and built a culture of winning basketball in the nation's capital, culminating in three Final Four appearances in four years, winning it all in 1984.
Since then, it took the Hoyas 12 years to see another Final Four, when John Thompson III followed through on his father's legacy, but losing to Ohio State. In the six appearances since that Final Four run, the Hoyas failed to advance past the second round.
Georgetown missed the last two NCAA tournaments, including this year. If they make it back anytime soon, given their recent track record, it might be best to steer clear of the Hoyas altogether.
Indiana
Indiana Hoosiers head coach Tom Crean gestures from the bench against the Iowa Hawkeyes in the second half during the Big Ten Conference Tournament on March 9, 2017.
Geoff Burke-USA TODAY Sports
In his 29 years at Indiana, Bob Knight built a legacy of success many programs would kill to have. With five Final Four appearances and three championships, Indiana spent most of the '70s through early '90s as a true elite.
Following IU's 1992 Final Four run, things were never quite the same for the Hoosiers. Since that run, Indiana only saw second weekend action five times in 18 tries, with only one Final Four and one Elite Eight appearance.
After Knight's 2000 firing, times are pretty tough for the Hoosiers, who, outside of Mike Davis' surprise run to the National Championship game in 2002, have only seen the second weekend three times, including a Sweet Sixteen loss after being named an overall one seed in 2013. Few teams have gone Elite to Tournament Flop quite like the Hoosiers, who in the last 10 seasons, missed the NCAA Tournament five times, including 2017.
Iowa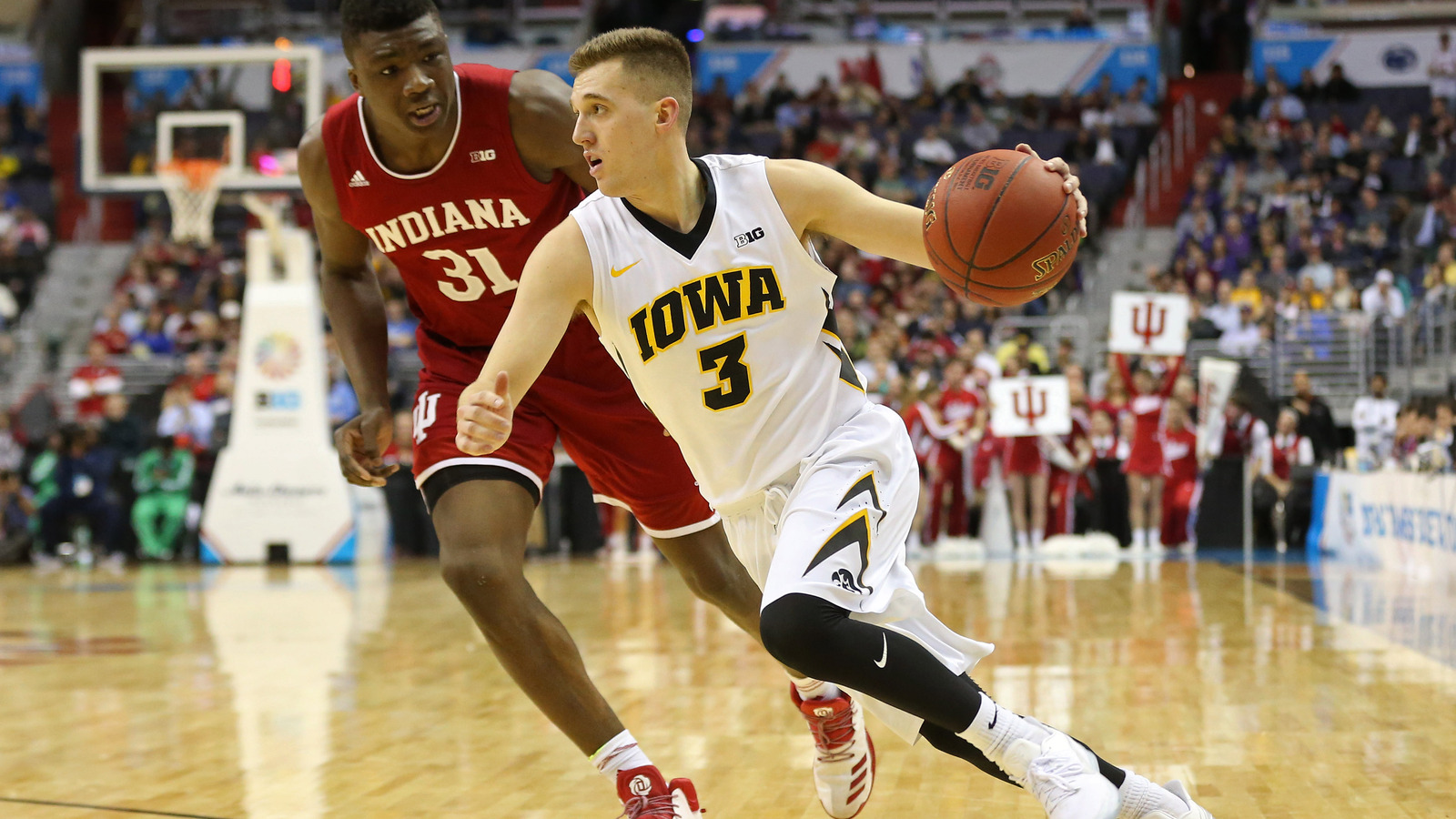 Iowa Hawkeyes guard Jordan Bohannon (3) dribbles the ball as Indiana Hoosiers center Thomas Bryant (31) defends in the second half during the Big Ten Conference Tournament on March 9, 2017.
Geoff Burke-USA TODAY Sports
Let's be honest, the Hawkeyes have not been an NCAA Tournament darling in the modern era, despite a few years with unreasonably high seedings over the years. Save for their 1980 Final Four run, Iowa only made four appearances outside the first weekend in 26 years.
During those 26 years of futility, the Hawkeyes suffered embarrassing upsets in three straight appearances, destroying brackets and hearts everywhere. After a seven-year absence from the Tournament from 2007-13, Iowa returned to three straight appearances, losing by the second round each season.
Iowa is on the bench for the 2017 Tournament, but if and when they return, do yourself a favor and just place them in the L column for the sake of your bracket.
Kansas State*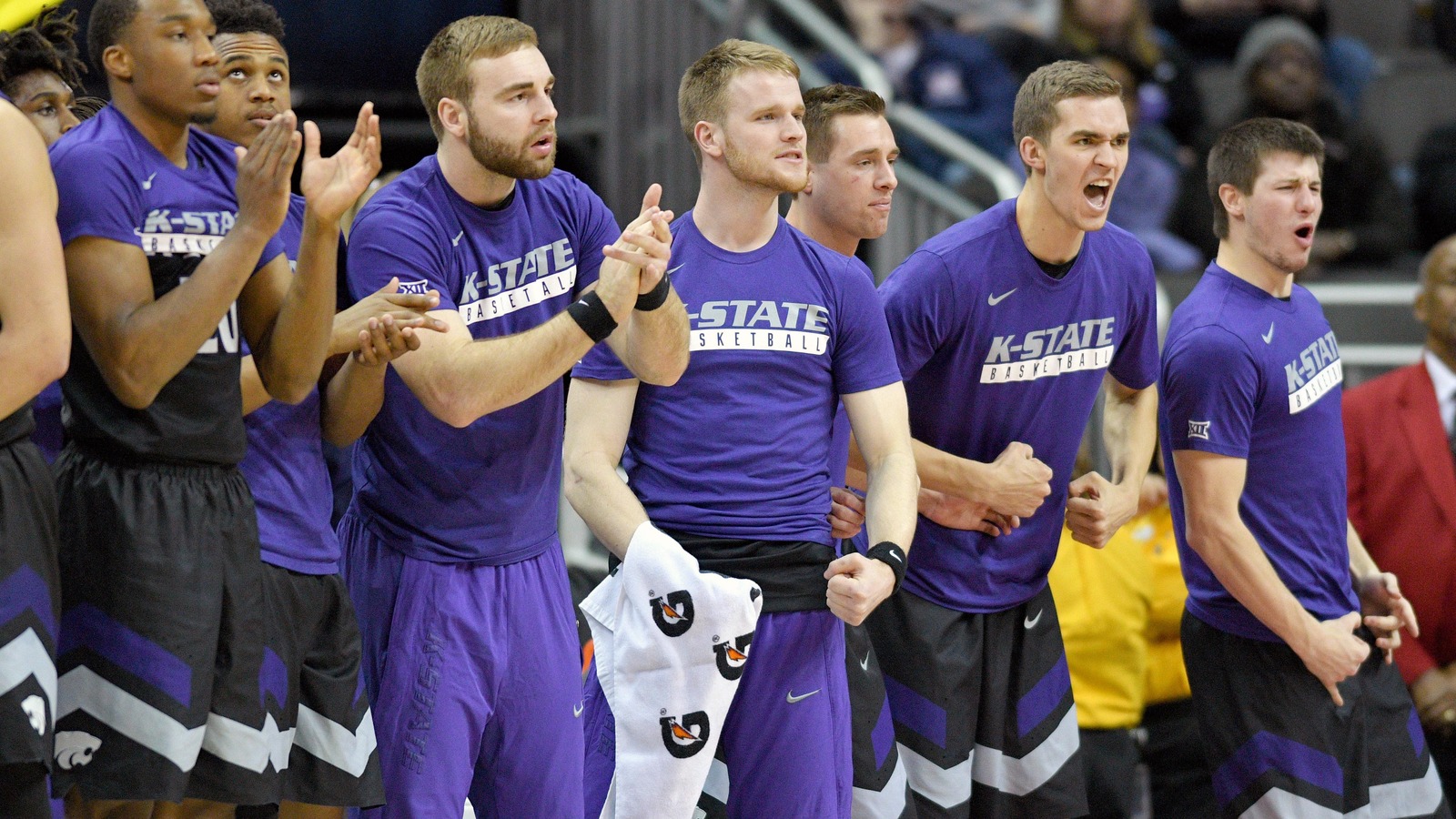 Kansas State Wildcats players celebrate after a score in the second half against the West Virginia Mountaineers during the Big 12 Championship Tournament on March 10, 2017.
Denny Medley-USA TODAY Sports
Nothing says one-and-done in the NCAA Tournament quite like Kansas State. In the last 20 years, despite being a double-digit seed only twice, the Wildcats failed to make it out of the first weekend except in 1988 and 2010.
The Wildcats suffered huge bracket busting upsets in more years than practically any other team on this list, being upended by lower seeds in 1989, 1993, 2010 and 2013.
This season, Kansas State opens up as a play-in game in the First Four, starting Tuesday. Chances are high that you can safely leave them off your bracket as a run from them is a stretch at best.
Marquette*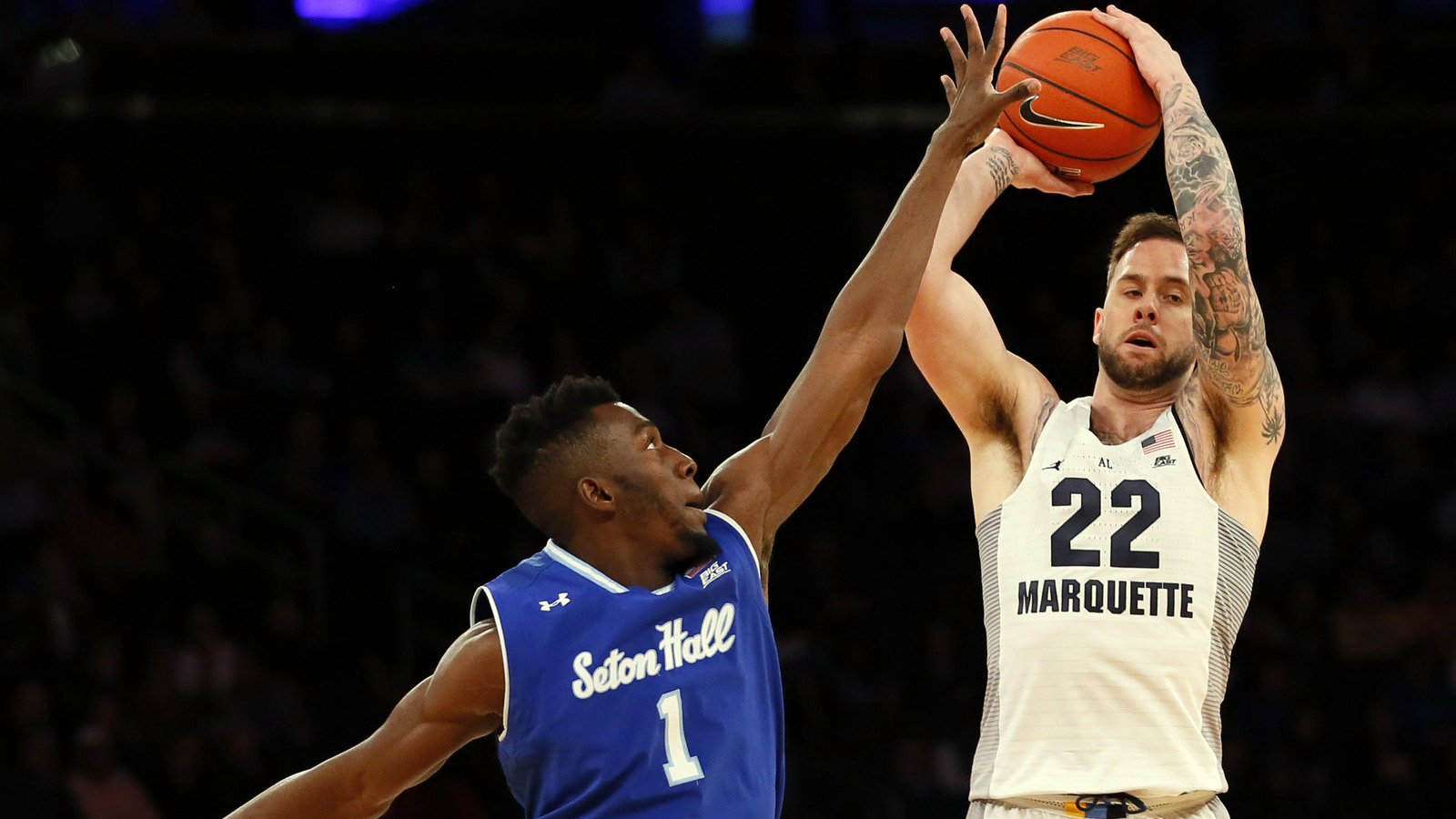 Seton Hall Pirates forward Michael Nzei (1) defends against Marquette Golden Eagles guard Katin Reinhardt (22) during first half of Big East Conference Tournament Quarterfinals on March 9, 2017.
Noah K. Murray-USA TODAY Sports
Since Al McGuire's storied run to a National Championship in 1977, the Golden Eagles have only six appearances outside the first weekend to their name. Tom Crean and Dwyane Wade took the team to a Final Four in 2003, but after that, disappointment and major upsets happened in 2006, 2007 and 2010.
Appearances in 2011-13 all yielded Sweet Sixteen appearances, but the Golden Eagles haven't seen NCAA Tournament action since then.
Marquette is back in 2017 as a 10 seed, but even if they win their opening round, they would likely face two seed Duke meaning that another early exit is in the cards for the Golden Eagles.
Minnesota*
Minnesota Golden Gophers forward Jordan Murphy (3) shoots the ball between Michigan Wolverines guard Derrick Walton Jr. (10) and Wolverines forward D.J. Wilson (5) as Wolverines guard Zak Irvin (21) looks on in the first half during the Big Ten Conference Tournament on March 11, 2017.
Amber Searls-USA TODAY Sports
In their last five appearances, Minnesota saw a second NCAA Tournament game only once, the highest amount of futility of all Big Ten teams to receive a postseason bid. 1997 represents the best year for the Golden Gophers, as they made it to their sole Final Four appearance, losing to eventual National Champion Kentucky.
Prior to that run, Minnesota's fortunes weren't all that great either, finding minor success only in 1989 and 1990. Outside of that, the Second Round became the usual stopping point for a Golden Gophers team that never found a groove in the tournament that would give bracket watchers enough confidence to select them to advance.
Minnesota finds themselves back in the Tournament after a three-year absence as a five seed, their highest since their 1977 Final Four run. That said, five seeds often fall victim to their 12 seed counterparts, and this year, they face a 30-win Middle Tennessee State team that could easily wind up giving them their sixth consecutive first weekend exit. Be smart and avoid them at all costs.
Missouri
Missouri Tigers guard Terrence Phillips (1) reacts after a foul during the second half against the Auburn Tigers during the SEC Conference Tournament on March 8, 2017.
Mandatory Credit: Christopher Hanewinckel-USA TODAY Sports
Since their first appearance in 1944, Mizzou is a picture of near-perfect futility despite high seeds in the NCAA Tournament. in 26 total appearances, the Tigers advanced past the first weekend only six times.
What makes things so bad for Mizzou is that right alongside their six second weekend appearances, they have the dubious distinction of being upset five times, the worst of which came in 2012 when as a two seed, they suffered a crushing 84-86 loss to 15 seed Norfolk State.
Missouri failed to earn an NCAA Tournament birth this year, making it three seasons in a row without a bid, but with the hire of a new head coach rumored to be Indiana's Tom Crean, chances are the Tigers will get a new lease on disappointing brackets in the relative near future.
Pittsburgh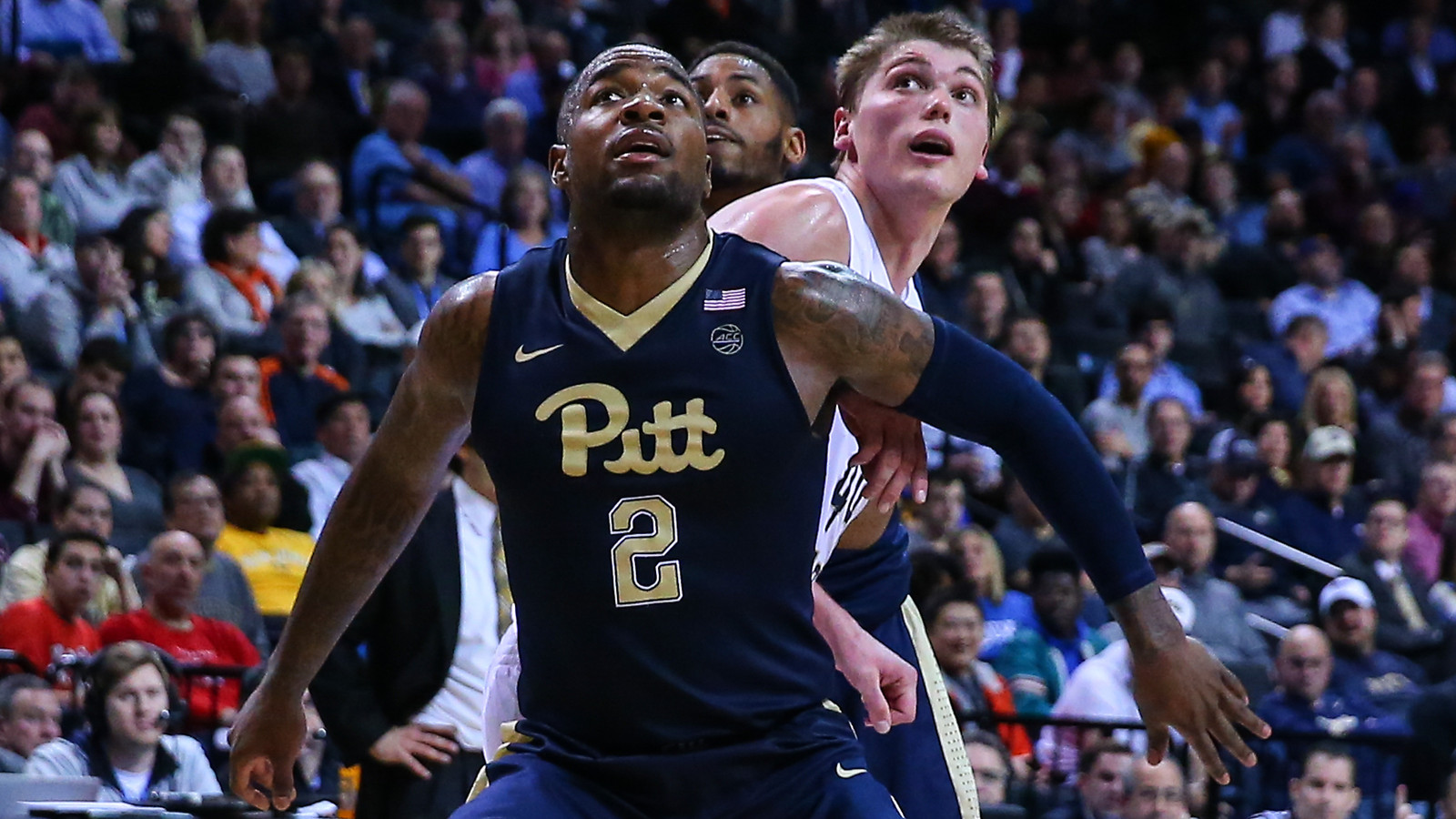 Pittsburgh Panthers forward Michael Young during the first half of the 2017 New York Life ACC Tournament first round game between the Georgia Tech Yellow Jackets and the Pittsburgh Panthers on March 7, 2017. 
Rich Graessle/Icon Sportswire via Getty Images
Few teams find upset disappointment in the NCAA Tournament quite like the Pittsburgh Panthers. With their last Final Four appearance in 1941, Pitt is the epitome of futility, advancing only six times past the first weekend, with only two Elite Eight appearances in 1974 and 2009.
The Panthers proved to be bracket poison with upsets in 1987, 1988, 1989, 2002, 2003, 2006, 2008, 2009, 2010, 2011 and 2013.
Mercifully, for Pitt, 2017 is a year off from the Tournament, but rest assured, once they return, chances are high that if they're a high seed, an early exit is not far behind.

Purdue*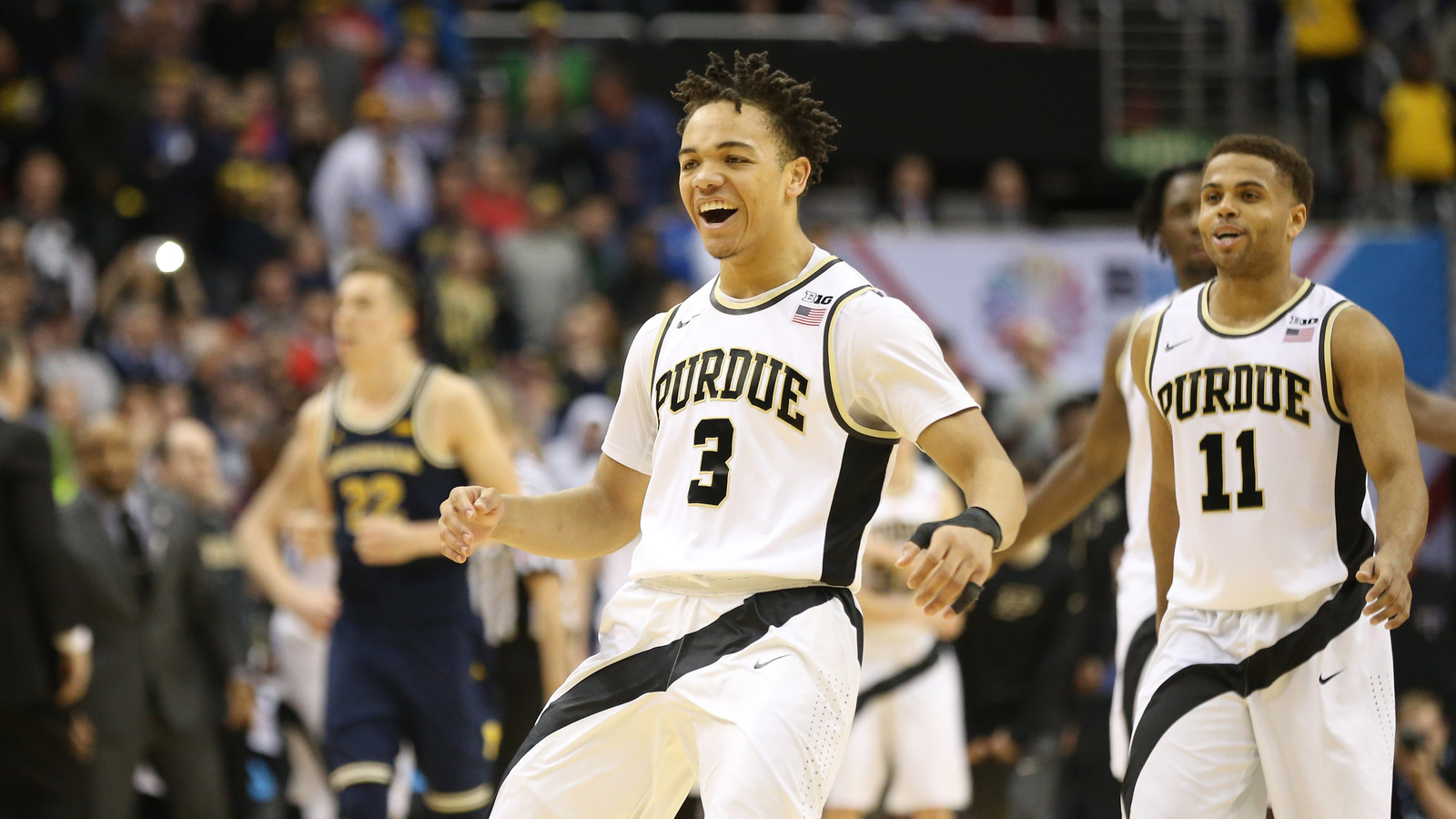 Purdue Boilermakers guard Carsen Edwards (3) reacts on the court in the second half against the Michigan Wolverines during the Big Ten Tournament on March 10, 2017.
Geoff Burke-USA TODAY Sports
Save for Elite Eight appearances in 1994 and 2000, it's been Boiler Down for the Boilermakers in the NCAA Tournament. In the last 20 seasons, Purdue only saw second weekend action five times, and during that same time the Boilers saw five major upsets, their most recent being a double overtime loss as a five seed to 12 seed Little Rock during last year's Tournament.
In 2017, Purdue is seeded highly again at four, as they face a 29-win Vermont squad in the first round of the tournament. While this year's Boiler team is rated highly, the chance for upset here is also high either in the first or second round, so anyone thinking that they could make a bracket run with the Boilermakers might want to take a second look and bet heavy against a second weekend appearance.
MORE FROM YARDBARKER:
QUIZ: Name every upset of the Opening Round of the men's NCAA Tournament since 2000
There have been 83 upsets in the Opening Round of the Men's NCAA Tournament since 2000. How many of them can you name?
Clue: Year-Winning Seed
Note: We are considering 11 seeds over 6 seeds and higher for the purposes of this quiz.
MORE FROM YARDBARKER
College Basketball News

Delivered to your inbox

You'll also receive Yardbarker's daily Top 10, featuring the best sports stories from around the web. Customize your newsletter to get articles on your favorite sports and teams. And the best part? It's free!