Found November 09, 2011 on Run the Floor:
PLAYERS:
Jordan Williams
,
Dino Gregory
,
Adrian Bowie
,
Sean Mosley
,
Cliff Tucker
,
Terrell Stoglin
,
James Padgett
,
Berend Weijs
,
Mychal Parker
,
Ersin Levent
,
Ashton Pankey
,
Nick Faust
TEAMS:
Maryland Terrapins
,
Wichita State Shockers
,
Alcorn State Braves
,
Southern Utah Thunderbirds
,
Notre Dame Fighting Irish
Gary Williams is out. Mark Turgeon is in. Turgeon is beginning his first season in College Park taking over a team that has only qualified for the NCAA Tournament in 3 of the past 7 years. He's hoping to get it back to the level where they made 11 Tourneys, two Finals Fours, and won a National Title. Although for this season just making the Tourney should be team's goal. The Terrapins need to learn a new system while the coaches sell everything Maryland has to offer (which is considerable) to potential recruits. Here's what Turgeon has to work with in season one:
If you are familiar with last season's roster, then you don't see very many familiar names. The Terrapins lose their top three players (in terms of minutes played) and four of their top-5. Here is that roster filtered by minutes-played, and the players in bold are the ones returning.
player minutes percent Jordan Williams 1073 81.3 Dino Gregory 970 73.5 Adrian Bowie 823 62.3 Sean Mosley 815 61.7 Cliff Tucker 785 59.5 Terrell Stoglin 710 53.8 Pe'Shon Howard 609 46.1 Haukur Palsson 324 24.5 James Padgett 271 20.5 Berend Weijs 120 9.1 Mychal Parker 80 6.1 Ersin Levent 17 1.3 Ashton Pankey 3 0.2
That's obviously a big drop off. Jordan Williams and Haukur Palsson went pro, and Gregory, Bowie and Tucker were seniors. In total Maryland only returns a paltry 39.5% of their minutes, which is the 2nd lowest in the ACC. Losing Jordan Williams - who averaged a double-double - was no surprise, but having Palsson jump ship for Europe very late in the game is a big blow. Coach Turgeon won't admit it publicly, but losing Palsson really changes the dynamic of this team. Whereas before they could have gone with a true big, a mobile SF/PF hybrid and three perimeter players, Turgeon now has to scape together a lineup built on Sean Mosley, Terrell Stoglin and several question marks. Pe'Shon Howard broke his left foot just two weeks before the season was set to begin and will be out for roughly three months.
Fear the (Tempo of the) Turtle: A lot was made of Gary Williams by the media, and much of it had to do with his temperament, and with his success. What will be notable now that there's a new coach roaming the sideline is his tempo. In the nine seasons for which tempo-free stats are available, Williams' teams were among the 20 fastest teams in the country 6 times. Twice they were in the top-5. How does that stack up with Mark Turgeon's system that he's refined at Wichita State and Texas A&M? Here are their national ranks in tempo over the past nine seasons:
Mark Turgeon began with a system which was paced about with the NCAA average, and has steadily gotten slower. With the exception of one year, Williams' team got up and down the floor. Win enough games and Maryland fans won't care. Lose enough games and boredom will set in. Turgeon could very well surpass UVA's Tony Bennett as the most grinding ACC coach of them all.
But what is he accomplishing with this tempo, and what have his teams done well? One thing that jumps out about his resume is that his offenses and defenses have both been very solid. This guy can coach, and his teams are balanced.
Outside of a couple shaky years at Wichita State, his defense has been in the top-100, and twice it's been in the top-15. His offense has been steadier, though without the elite spikes.
Why is There an Arc 20' From the Basket? One thing Maryland fans will notice is the level of reliance on the 3-ball between Coach Williams and Coach Turgeon.
Neither coach would be considered someone who teaches their kids to just bomb away, but Turgeon has at least had a few years where he was in the top half of the country. Williams varied between 'rarely' and 'never'. Last year only Alcorn State, Campbell and Southern Utah attempted fewer. Now the players won't immediately get yanked every time they take one outside of the offense, and somewhere Nick Faust just smiled.
Alexi Len: Very late in the recruiting process Maryland landed a little known 7'1 player from the Ukraine - Alexi Len. Then after a few weeks of assuming he wouldn't be eligible this season, Maryland hit the lottery when the NCAA ruled that he only has to sit out the first ten games. Not only do the Terps need bodies, but they really need big bodies.
Turgeon has been bending over backwards telling fans not to think of Len as the savior, that he needs to this, and he needs to do that. But everyone around the program is buzzing - here's a 7'1 kid who came out of nowhere, he can run, he can jump, he plays like a European. This is the kind of player who can change a season, and beginning on the 11th game of the season, Maryland's season will begin.
The Rest of the Bigs: Of course Jordan Williams is gone, and in the middle until Len is eligible is the Dutch center Berend Weijs. The JUCO transfer played sparingly last season, seemingly in Gary Williams' doghouse for the 2nd half of the season, but when he played he demonstrated an impressive athleticism for a man 6'10. Unfortunately he's just not very strong, and so most ACC teams have players who can push him around. If he spent the offseason focused on getting stronger, then look for Weijs to be a key to them finishing better than I have them pegged. Junior James Padgett is well-known, but he hasn't been impressive in his first two seasons at Maryland. If he starts he can probably handle about 7 points and 3 boards a game - he's that guy. Sophomore Mychal Parker was a very highly regarded recruit who had a quiet freshman season appearing in only 13 games. But don't sleep on this kid - he's a very athletic forward with tremendous skills, and he can jump out of the gym. If a coach can get him focused and dedicated, look out. We learned quite a bit about Forward Ashton Pankey last season - he suited up, played two minutes against Seattle, got hurt, and never played again. At least he's still a freshman. As a product of St. Anthony's we know he'll defend and rebound. But can he stay healthy enough to do these things?
Back Court: Senior Sean Mosley returns. I'll be kind and say his junior season was disappointing. After a breakout sophomore campaign Terp fans were excited to see Mosley establish himself as a legit 3rd Team All-Conference type player, but instead he reverted to his freshman self, missing loads of open 3-pointers and turning the ball over. Which Mosley shows up is a key to the season. But while Mosley was struggling, Terrell Stoglin was enjoying a solid freshman season. No, he doesn't play defense, and no, he doesn't make particularly good decisions, but his game is electrifying. He had a late ACC stretch where he averaged 21.5 PPG over six games. If he can improve his 3-pt shot (35.9%) a few % points it will make him nearly unguardable. He's simply too quick for most players to stay square on. Another sophomore is Pe'Shon Howard. Howard struggled as a freshman, but did manage 106 assists in limited minutes. He has good size and quickness for a point guard and is still shaking the AAU from his game. His 36% 3-pt shooting is encouraging, especially the fact that he shot over 42% from February on, when many freshmen are hitting a wall. But he's injured and may not play for quite some time. And the final player on the roster is the one everyone is so excited about - true freshman Nick Faust. Faust, who briefly de-committed once Gary Williams stepped down, is the classic matchup problem. He's got wing size in a 2-guard game. He can shoot over people, has a nice mid-range shot, and can use his size at the rim. Though now that Turgeon is coach Faust will be asked to do different things, like hitting threes (Maryland was 342nd in 3′s attempted last season) – and he's streaky as a shooter right now, though the mechanics are there to be elite. Otherwise, he just needs to gain strength, but since the Terps will have no depth next season he'll will play regardless. And he's got enough game to make the All-Freshman team.
Schedule: In a conference with unbalanced schedules, every once in a while you're going to draw one that significantly tougher than most of your competition. And this is that year for Maryland. They play Duke and UNC twice each (as well as Virginia and Miami). The only good news is that they only get FSU once.
Outside the conference they probably play too many cupcakes to help their resume come March - though this team isn't likely headed for the NCAA Tournament regardless. They start with a bad UNC-Wilmington team before heading to Puerto Rico for the 5-Hour Energy Challenge, where they are guaranteed to face decent teams, though teams that they can beat. After Illinois (in the ACC/Big Ten Challenge) and Notre Dame, they run through a string of patsies before finishing with Cornell. I would complain more about this schedule, but for a young team with a new coach and little Tourney hopes, it's probably fine.
Original Story:
http://runthefloor.com/articles/maryl...
THE BACKYARD
BEST OF MAXIM
RELATED ARTICLES
With the beginning of the regular season days away, it's time for Terps Insider's player-by-player breakdown of the 2011-2012 Maryland Terrapins. We begin the series with  Mychal Parker.  Mychal Parker came into the 2010-2011 season with lofty expectations. After all, he was the highest ranked of Maryland's incoming freshmen and had all the physical tools to become a star...
With the start of the season right around the corner, Terps Insider continues our player-by-player breakdown of the 2011-2012 Maryland Terrapins. Today: Ashton Pankey Injured. That is the only word that can be used to sum up Ashton Pankey's career thus far. After missing his senior season at St. Anthony's high school due to a stress fracture in his leg, he then missed all but...
Coach: Mark Turgeon. First season; 250-159 overall Key player: G Terrell Stoglin. The sophomore will run the point out of necessity for the season's first two months, and he'll also likely need to provide a significant scoring boost and stay out of foul trouble for the depleted Terrapins. No pressure. ...
Take a virtual look at the 2011-12 Maryland Terrapins in the 12 Days of ACC Women's Basketball. Heiss inducted into MSAHOF | Buy tickets to the Terps' opener!
Nov 12, 7:30 PM | Grass of FedExField Notre Dame Fighting Irish vs Maryland Terrapins Odds 6-3TEAM RECORD2-7 The Maryland Terrapins host Notre Dame on Saturday, looking to build on their 2-7 ATS mark against the 6-3 Fighting Irish in NCAAF action at FedExField. The Terrapins currently sports a record of 2-7, and have posted a corresponding betting slate of 2-7 ATS. The...
The men's soccer team opens up the ACC Tournament tonight with a game at Maryland. The Terps have owned BC in soccer since we joined the ACC. When Nick LaSpada won the Gatorade award for Massachusetts as a sophomore, it seemed like New England was going to have a legitimate five-star, top recruit prospect. Since then he's suffered a series of injuries and setbacks. The latest...
Terrapins News

Delivered to your inbox

You'll also receive Yardbarker's daily Top 10, featuring the best sports stories from around the web. Customize your newsletter to get articles on your favorite sports and teams. And the best part? It's free!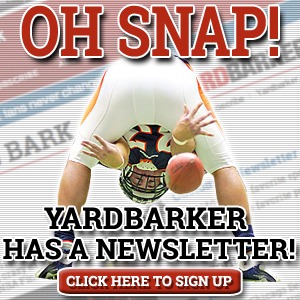 Latest Rumors
The Backyard

Today's Best Stuff

For Bloggers

Join the Yardbarker Network for more promotion, traffic, and money.

Company Info

Help

What is Yardbarker?

Yardbarker is the largest network of sports blogs and pro athlete blogs on the web. This site is the hub of the Yardbarker Network, where our editors and algorithms curate the best sports content from our network and beyond.