Found January 29, 2013 on NorthWest Sports Beat:
Cougs Stand at 11-9 After the Washington State Cougars stumbled into Pac-12 play, they find themselves at No. 10 in the conference. They have garnered a reputation for falling apart in the final minutes, giving up second-half leads on a regular basis. If the game were shortened to 35 minutes, the Cougs could very well be 19-1 — the Kansas blow out was over from the start. But it turns out they are 40 minute contests. Who knew? Apparently not the Cougars. The games have been intense, stressful, competitive, and all of the other anxiety-producing emotions under the sun. Yet the Cougars have not come out victoriously very often. The Cougars are coming off of a nail-biting win over Oregon State. Hopefully this will boost them into a possible in-conference winning streak. These are the individual performances that have stuck out so far: Pac-12 Performer While Brock Motum is still leading the team in points per game (18.9)  and rebounds (6.6) he has been outperformed in Pac-12 play by his teammate, Mike Ladd. Ken Bone has kept up with his tradition of making boneheaded decisions. Since the beginning of their conference schedule, Ladd has been a completely different player. Averaging 17 points and 6.9 rebounds per game, Ladd has given the Cougars that second scorer they have so desperately needed. In his last outing, Ladd posted a career high 23 points against the Beavers,  including the teams first 11 points. He did so with extraordinary efficiency, shooting 10-11 from the field. Motum has been consistent all season and Dexter Kernich-Drew has been a nice offensive spark off of the bench. However, if they are to be successful in the future, it appears Ladd will have to continue to be the second option for Washington State. Where is Lacy? After the gradual digression of Reggie Moore over his three year career, sophomore DaVonte Lacy is giving evidence of a similar story. Both had great rookie seasons which created optimism for two bright futures. Reggie never lived up to the hype, and was eventually kicked off the team earlier this year. Lacy has shown signs of the sophomore we hoped to see, but his Pac 12 play has made the Cougar nation nervous. After 7 games in conference play, Lacy has averaged just 5.4 points on 11-50 shooting (22%). The emergence of Ladd has pushed this dry spell somewhat under the rug, but his productivity his still nowhere near the hopeful margin. Bonehead Moves In his 4th season as the head coach of Washington State, Ken Bone has been scrutinized on several occasions for his team's underwhelming performances – and his 0 tournament appearances. With another poor start to conference play, Bone's future in Pullman is in jeopardy, and his decision late in the Oregon game did little to help matters. When a team continues to fall apart down the stretch, you tend to lay majority of the blame on the coaching. So after blowing a 10-point lead on the road against the #16 Oregon Ducks, Bone made a decision. Down 7 with roughly 1 minute to play, Bone inserts Keaton Hayenga and then runs a play to get him an open look from beyond the arc. Hayenga hadn't stepped foot on the court since December 29th, in which he played 4 minutes. So on a crucial possession, he gives the shot to the ice cold junior out of Sammamish. This move brings back haunting memories of the similar play call Bone made last season. With the game on the line down three, Ken Bone put in the ice cold Patrick Simon for the three-point attempt. Both calls bring up questions rather than results, and are simply turning up the heat under Ken Bone's seat. To Sum It All Up The Cougars have seem to have every game in their hands, yet cannot hold onto the victory. With the emergence of Ladd, they now have two capable scorers and a supporting cast with plenty of potential. However, teams cannot rely on two players or potential alone to win ball games. Coming off of a victory over Oregon State on the road, the Cougars have an upcoming home stand against Arizona State and Arizona. The Cougs are very good at Beasley Coliseum, but they will have their hands full with this tough duo reigning from The Grand Canyon State. Two wins over these teams would be huge in turning this program around. Prove yourself Ken Bone. Save your job. Go Cougs!!! CLICK HERE CHECK OUT THE COUGARS BLOG IN OUR CLUBHOUSE TODAY AT NWSB!
Original Story:
http://www.nwsportsbeat.com/washingto...
THE BACKYARD
BEST OF MAXIM
RELATED ARTICLES
THE GOOD NEWS surrounding Washington State's men's basketball team was short-lived. Following the Cougars' first Pac-12 road win Saturday against Oregon State, coach Ken Bone revealed during his Tuesday teleconference that the NCAA will not allowed highly touted wing Demarquise Johnson to practice this season.
NOW THAT Washington State has breathed a little life into its Pac-12 and overall college basketball season with a win at Oregon State, let's see if the Cougars can make something of it this week with a significant home series against the Arizona schools.
The Brigham Young Cougars don't have a long history of starting the football season by stringing together a lot of wins. Twenty years ago, that wasn't the case. BYU came out strong, and it was crucial to the overall outcome of the season.In 1993, BYU jumped out to a 4-0 start. That has only been done twice in the last 20 years (2001, 2008), and only three times in BYU history...
Winning 16 of your first 20 games is an impressive feat that catches the attention of the national media and now the Arizona State Sun Devils (16-4, 5-2) have to sustain that momentum as they travel to the Northwest to take on the Washington State Cougars (11-9, 2-5) on Thursday night at 9 P.M. MT.
LONG BEACH POLY running back Gerard Wicks, a Washington State verbal commit since June, was definitive Tuesday evening when asked his college plans. So was his mother Stacey, who called nonsense on a report earlier in the day that said her son was planning an official visit to Washington this weekend.
CARSON, Calif. — River Cracraft and Gerard Wicks were just happy to be there. The two Washington State recruits, who both committed verbally to the Cougars back in June, did a bit more than just show up, though, sparking their all-star team to a win in the inaugural South Bay BMW West Coast Bowl on Sunday.
SIX MONTHS remain before future Washington State forward Tanner Lancona arrives on the Palouse to begin his college career. However, the 6-10 sharpshooter from southern California is getting a jump start in Wazzu Hoops 101. Class is in session twice a week, and Lancona is a focused observer.
PAUL WULFF had just arrived in the Big Easy for the Big Game, and the former Washington State player and coach sounded as relaxed and confident as could be expected of any first-year NFL assistant coach during Super Bowl week.
Cougars News

Delivered to your inbox

You'll also receive Yardbarker's daily Top 10, featuring the best sports stories from around the web. Customize your newsletter to get articles on your favorite sports and teams. And the best part? It's free!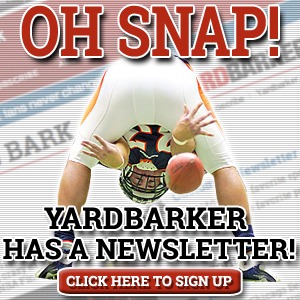 Latest Rumors
Best of Yardbarker

Today's Best Stuff

For Bloggers

Join the Yardbarker Network for more promotion, traffic, and money.

Company Info

Help

What is Yardbarker?

Yardbarker is the largest network of sports blogs and pro athlete blogs on the web. This site is the hub of the Yardbarker Network, where our editors and algorithms curate the best sports content from our network and beyond.