Trey Burke is as clutch as they come (photo ESPN) Trey Burke (#3) Sophomore guard – Michigan Wolverines Columbus, OH November 12, 1992 (20 years old) Ht/Wt/Ws: 6'0″ / 190 pounds / 6'5″ 2012-2013 Season Statistics 18.6 PPG –  3.2 RPG –  6.7 APG –  0.5 BPG –  1.6 SPG  35.3 MPG  .463 FG %   –   .801 FT %   This section of QCS will feature college basketball reporter Johnathan Snyder highlighting 20 NBA Draft prospects in 20 days, starting on May 31, and ending on June 19.   Strengths 1. Scoring: Burke can get the ball in the basket in a variety of ways but his jump shot is the most effective and used.  As he did in the Elite 8 against Kanas this year, Burke can hit the big shot when asked to do so.  He can also drive and penetrate the lane as well as any guard in the country and possesses a nice floater in the lane as well. 2. Ball Handling: Burke can go both ways with the ball in his hands which makes it tough to stop him.  He can finish inside with both hands and can pass with both as well.  He has the ability to use the pick and roll very well and can kick to open teammates or take it himself to the hole. 3. Clutch: Burke can do it all and not only hit big shots in crunch time but he requires a double team most of the time and can kick to his shooters.  He has unbelievable range as a jump shooter, somethingg that will only benefit him at the next level. 4. Pick and Roll Offense: Burke is a lethal threat in the pick and roll.  When defending the pick and roll, defenders must choose whether to go under or over the ball screen.  If you go under, Burke will make you play with a three.  If you go over, he'll go right around you and to the basket for a finish or dump off in the paint. 5. Length: At 6'0″ (some would argue he's not even that tall) Burke has tremendous length at 6'5″ which comes in handy on the defensive end as he can guard bigger guards.   Weaknesses 1. Defender: As quick as Burke is, he is a below average defender and lacks some of the man-to-man defensive skills you need at the next level.  He is quick enough to guard any guard in the NBA, but his footwork and ability to stay in front of his man without fouling needs work. 2. Decision making: If Burke shot 60 percent from 30-feet it would be ok but he doesn't.  He tends to get wild sometimes and takes arrant shots and makes bas decisions.  He reminds me of Lance Stephenson where he is lethal all the time but often turns it over on carless possessions or shots. 3. Size: The NBA player continues to get bigger with the average size being 6'8″ so Burke's 6'0″ frame may be a challenge.  He will be undersized in almost every matchup so he will have to learn how to play bigger and use his intangibles to make up for his lack of size.   Check out Johnathan's 2013 NBA Draft "Big Board" being released June 22nd, and his final mock draft, June 24th.   Feature photo courtesy of http://xklusiveaccess.com The post "20 in 20″ – NBA Draft Prospect: Trey Burke appeared first on Queen City Sports.
Original Story:
http://queencitysports.net/20-in-20-n...
MORE FROM YARDBARKER
Wolverines News

Delivered to your inbox

You'll also receive Yardbarker's daily Top 10, featuring the best sports stories from around the web. Customize your newsletter to get articles on your favorite sports and teams. And the best part? It's free!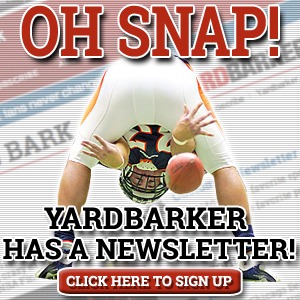 Latest Rumors
Best of Yardbarker

Today's Best Stuff

For Bloggers

Join the Yardbarker Network for more promotion, traffic, and money.

Company Info

Help

What is Yardbarker?

Yardbarker is the largest network of sports blogs and pro athlete blogs on the web. This site is the hub of the Yardbarker Network, where our editors and algorithms curate the best sports content from our network and beyond.