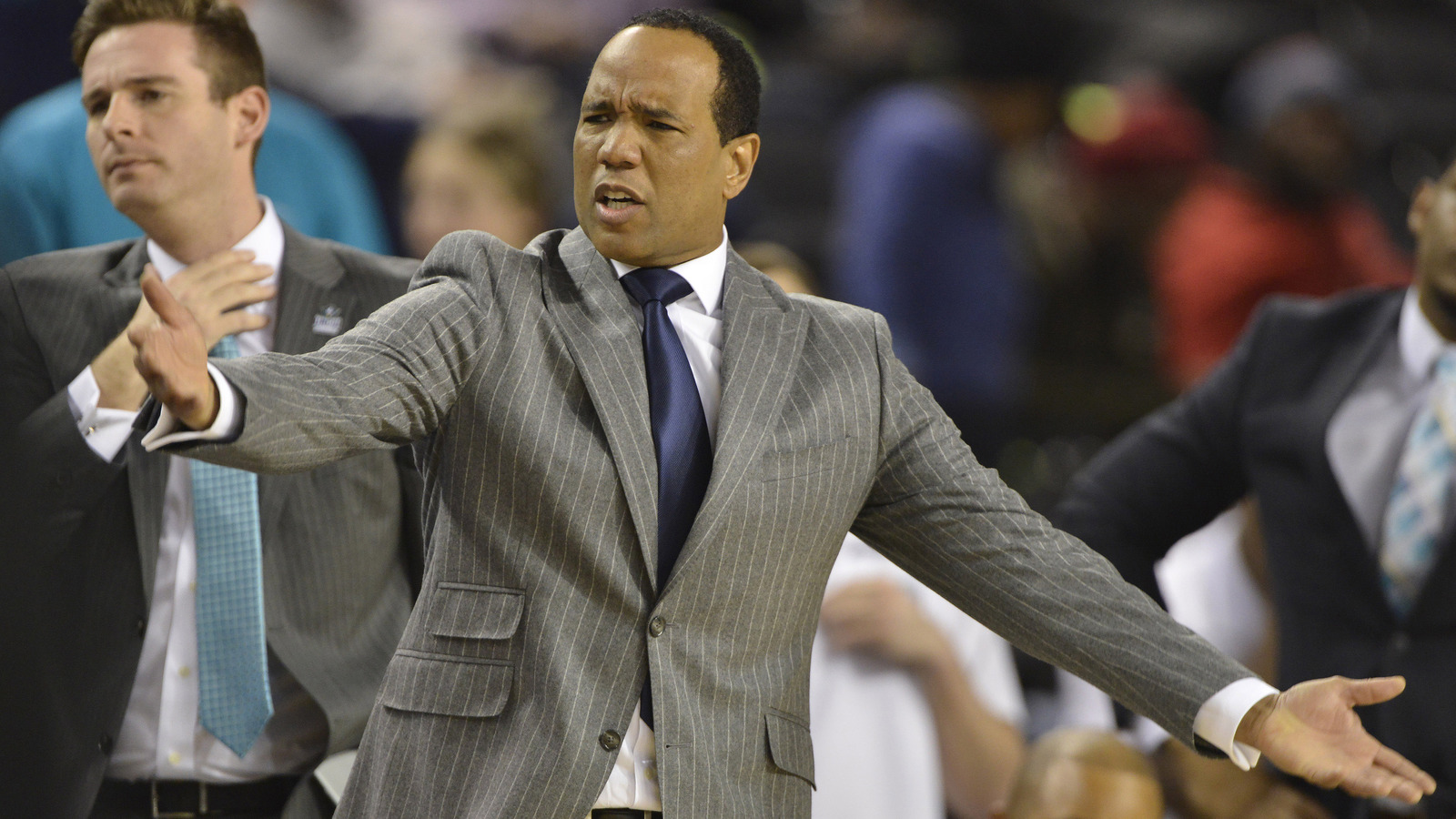 Mar 6, 2016; Baltimore, MD, USA; UNCW Seahawks head coach Kevin Keatts reacts to a call during the second half against the Northeastern Huskies in game two of the CAA conference tournament semi finals at Royal Farms Arena.
Tommy Gilligan-USA TODAY Sports
One of the best parts about March Madness is being able to call a big March Madness upset. There are few things more fun about March Madness than riding a little-known school to the Sweet Sixteen or beyond and bragging about it to your friends and coworkers who've never heard of them. Of course, they're upsets for a reason, and notoriously hard to predict.
Teams who have waited all season to face big-time opposition get just 40 minutes to test their mettle, and all it takes is one bad game from one of their key players — or one great game from an opponent — to turn those dreams into dust.
Still, it's a matter of where there will be upsets, not if.
Here are five first-round games that could see an 11-seed or lower topple a 6-seed or higher if certain things work out the right way. These teams are also good candidates to latch onto as your Cinderella story for 2017.
5. 13 Vermont over 4 Purdue
Vermont comes in as one of the hottest teams in college basketball, having gone 19-0 in America East play (including their three wins in the conference tournament). Purdue has Caleb Swanigan, and the Catamounts are a smaller team that will have to come up with a way to slow him down, but if they can, this game will be there for the taking.
The Catamounts boast a very balanced attack, slow and efficient, with five players averaging at least eight points per game, but no player averaging more than 12.6. They're tough and will be very confident, having not lost a game since Dec. 21.
There's precedent for an early Purdue exit, too; the Boilermakers were shocked in their first game last year by Arkansas-Little Rock. If Swanigan's shots aren't falling, Vermont could win this.
4. 13 East Tennessee State over 4 Florida
East Tennessee State hasn't been to the tournament since 2010, but don't let that fool you.
If you like underdogs with one star player who can seize control of a game and help pull the upset, look no further than T.J. Cromer, who scored 41 points with nine three-pointers made in his team's SoCon semifinal win over Samford. The senior guard is averaging 19.1 points per game and shoots over 40 percent from beyond the arc. If he gets hot, he could absolutely shoot the Buccaneers to a surprise victory or two.
East Tennessee State will be pitted against a Florida team that enters the tournament having lost three of their last four, including two to Vanderbilt. If they can't shake off that funk, East Tennessee State could absolutely victimize them.
3. 12 Middle Tennessee State over 5 Minnesota
Middle Tennessee's exploits are well-known. Last year, they ruined many a bracket by stunning Michigan State as a 15 seed. They're even better this year, returning most of their core and actually making an appearance in the top 25.
Some people thought this team would merit at-large consideration had they lost their conference tournament, so this is not your ordinary mid-major school.
This isn't a bad Minnesota team, and coach Richard Pitino was rightly named Big Ten Coach of the Year. MTSU actually has more tournament experience, though, and players like Giddy Potts can play with the big boys. They've proven it last year, and while they haven't played a lot of tournament opposition this season, they did wipe out Vanderbilt by 23 back in December.
Everyone knows about MTSU, so expect them to be a popular upset pick — for good reason.
2. 11 Rhode Island over 6 Creighton
Creighton is a good team, but Rhode Island is coming in scorching hot. They've won eight in a row, including two wins over the Atlantic 10's regular season champion VCU. They beat Cincinnati in November and stuck within ten of Duke a day later.
This was a team that entered the season with high expectations, and while it's taken them a while, they're healthy and peaking at the right time. They're very strong defensively and forward Hassan Martin has developed into an excellent two-way player.
Creighton, on the other hand, look ripe for an upset. They're 7-8 in their last 15 games, which coincides with point guard Maurice Watson's season-ending ACL injury.
This is a shorthanded Creighton team that has not been playing well facing a streaking Rhode Island team getting hot and healthy at the right time.
1. 12 UNC Wilmington over 5 Virginia
This will be a very, very popular pick, and not just because it's a traditional 12 over 5.
It'll be a fascinating matchup between Virginia's slow, suffocating style and UNC Wilmington's more up-tempo attack. This is a Wilmington team that pushed Duke to the limit in the second round of last year's tournament, and they return three starters from that group.
Virginia is a known commodity and UNCW probably hasn't seen anything like their suffocating defense, but they won't be intimidated. Virginia has fallen into traps in past tournaments where they simply aren't able to score enough to overcome lower-seeded teams. Think back to their loss to 10-seed Syracuse in 2016's Elite Eight — and this Virginia team doesn't have Malcolm Brogdon, either.
UNCW has three strong guards in C.J. Bryce, Chris Flemmings, and Denzel Ingram, plus a legitimate post presence in Devontae Cacok. They'll give Virginia all they can handle — maybe even too much.
MORE FROM YARDBARKER
College Basketball News

Delivered to your inbox

You'll also receive Yardbarker's daily Top 10, featuring the best sports stories from around the web. Customize your newsletter to get articles on your favorite sports and teams. And the best part? It's free!