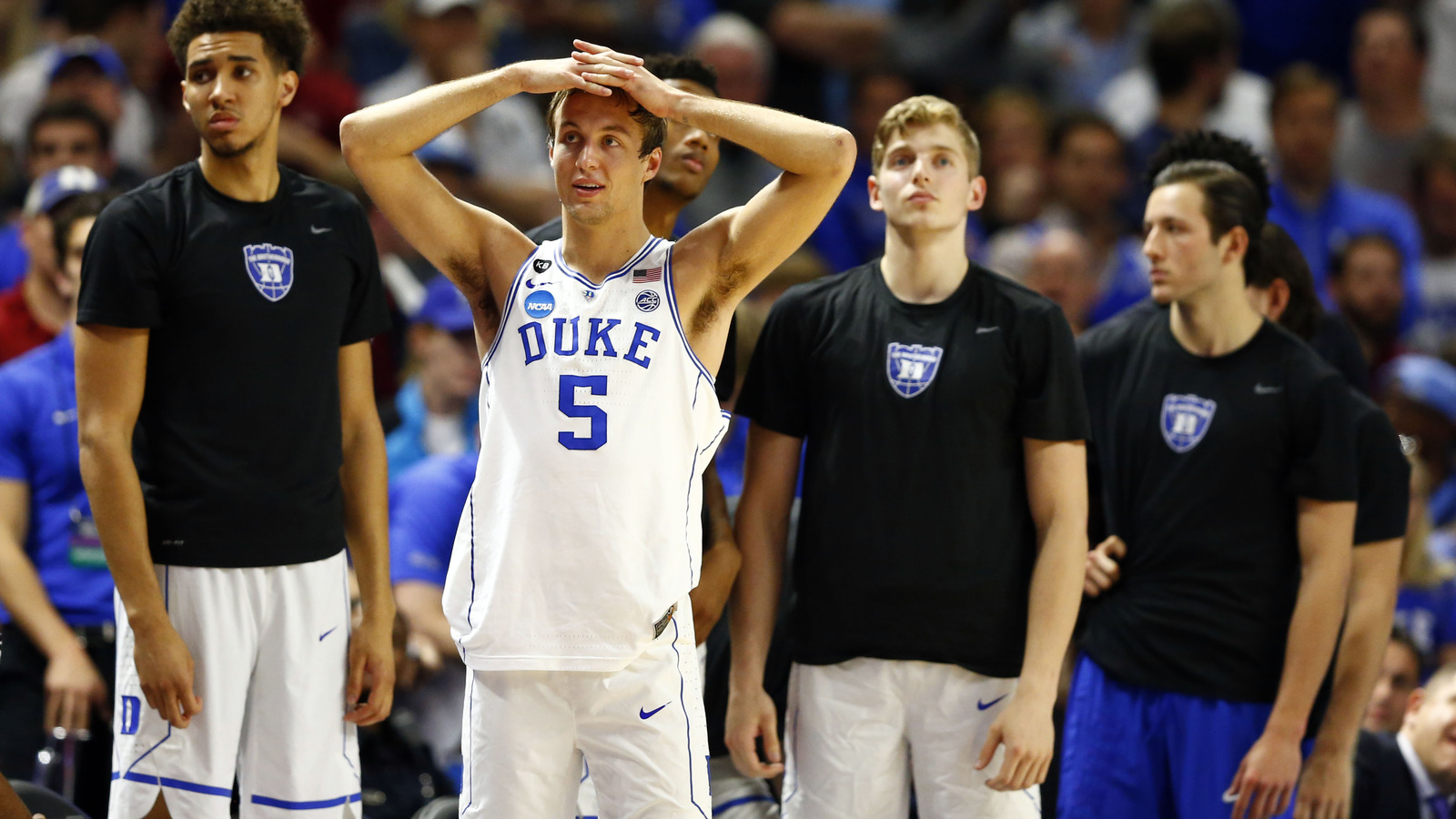 Mar 19, 2017; Greenville, SC, USA; Duke Blue Devils guard Luke Kennard (5) reacts on the bench during the second half against the South Carolina Gamecocks in the second round of the 2017 NCAA Tournament at Bon Secours Wellness Arena.
Jeremy Brevard-USA TODAY Sports
The first weekend of NCAA Tournament play has come to a close, and if you can piece together the pieces of your ripped up bracket, it's easy to see how much mayhem we witnessed in just four days.
In four days we lost a number one seed and two number two seeds. Teams perceived as possible champions are flying home this weekend empty-handed, while others have re-affirmed themselves as contenders to cut down the nets in Phoenix. We'll be able to catch our breath until the games resume on Thursday, but for now we can look back at the effects of a crazy Sunday will have on the tournament going forward.
Here are the six biggest takeaways from Sunday's NCAA Tournament action.
1) One seeds survive and advance
After Villanova lost and Gonzaga was tested on Saturday, all eyes turned to Kansas and North Carolina on Sunday. Both teams won, but not without drama.
Like a skilled heavyweight boxer, Kansas avoided and countered a series of haymakers from Tom Izzo and his Michigan State Spartans. As the game wore on, Kansas was just too much for Sparty and pulled away with a series of daggers in the closing minutes.
North Carolina, on the other hand, trailed for most of the second half against a feisty Arkansas squad. When the game slowed in the final moments, things got ugly. Carolina managed to find ways to score, but Arkansas' offense sank like it was in quicksand. The Razorbacks had no movement, no structure, and as a result, no scoring in the biggest moments of the game. North Carolina's defense tightened and secured a win, and a trip to the Sweet Sixteen.
Kansas will face Purdue on Thursday, while North Carolina will take on Butler on Friday.
2.) Duke and Michigan State bit by the one-and-done bug
Before the season began, Michigan State and Duke highlighted the list of team expected to compete for top seeds and the national title. Both teams featured a mix of veterans from past successful teams and freshmen ready to contribute. Both lost Sunday after rocky seasons where the teams failed to gel into a cohesive unit.
Duke's season was a wild one filled with drama, injuries, and inconsistent play. Even as the Blue Devils won the ACC Tournament, the squad felt more like a group of star players rather than a team with who fit together. Luke Kennard, Grayson Allen, and Jayson Tatum are all great scorers, but none complemented the strengths of the others. Now after the early loss, Tatum likely heads to the NBA, while Kennard and Allen could do the same. All three are built for success at that level, but never meshed correctly at Duke.
Since Coach K has begun to recruit players with an eye on the NBA Draft after just one season, he's found mixed success. Kyrie Irving battled injuries and was never a factor at Duke. Jabari Parker was on the Duke team bounced by Mercer in the round of 64. Tatum and Harry Giles will both likely leave Duke having never seen the Sweet Sixteen. Of course, Coach K's 2015 team won the National Championship, led by three one-and-done freshman. Duke hasn't had a problem bringing in talented recruits or putting them in a position to succeed in the NBA; it has struggled to assimilate those young players with upperclassmen in the span of a year.
Meanwhile, Tom Izzo brought in his first freshman likely to leave in Miles Bridges this season, along with three other very talented recruits. The Spartans' mix of freshman firepower and steady veterans always felt uneasy this season.
Michigan State's season ebbed and flowed ferociously all year, finally ending in a blowout loss to Kansas on Sunday. If Bridges is the only Spartan to head for the NBA, Izzo's freshmen will grow in his system and develop into a Big Ten contender. If Nick Ward also jumps to the pros, Michigan State could spin its tires trying to replace the talent it loses to the NBA this offseason.
3.) Baylor Bears may be back in business
Entering the tournament, not a lot of national attention was paid to Baylor. In fact, there was a lot more chatter about SMU topping the Bears or Duke coasting to a meeting with Villanova in the Elite Eight rather than talk of Baylor being a real threat to make a run.
Keep in mind though that this a team that was ranked No. 1 in the nation and, at one point, 20-1.
This Baylor team has beaten Oregon, VCU, Michigan State, Louisville, Xavier, Iowa State, Oklahoma State, Kansas State, and West Virginia this season. Baylor is healthy and hungry, ready to do damage in this tournament.
The Bears staved off a late charge from the USC Trojans on Sunday, winning in the final minute, behind a double-double by Johnathan Motley and clutch shooting by Manu Lacomte.
Scott Drew has this team humming, and they are capable of rebounding and muscling their way to the Final Four. They will face Duke killer South Carolina in the Sweet 16 on Friday.
4.) Kentucky's freshmen deliver
Wichita State was given a chance at revenge, after being upset as a number one seed by Kentucky in 2013. The Wildcats entered Sunday's game as the two seed in the south, facing the Shockers, a much maligned 10 seed.
Wichita State went toe-to-toe with Big Blue, led by freshman Landry Shamet who was sensational, scoring 20 points. In the end, it was Kentucky's freshman pulling through, with big baskets from Malik Monk and De'Aaron Fox down the stretch, plus a rejection of Shamet's potential game-tying three at the buzzer by Bam Edebayo.
The Shockers tested the resolve of this Kentucky team, and John Calipari has to be pleased with what he saw from his group of freshman moving forward in this tournament. 
Kentucky's next test will come on Friday against UCLA in the Sweet 16 in what may be the most anticipated game of the round. The Wildcats will be looking for revenge after falling at home to the Bruins in early December.
5.) Michigan's wild ride lives on
The Michigan Wolverines have been riding a wave of Karma and togetherness since their team plane skidded off the runway last week prior to the Big Ten Tournament. Since that frightening incident, the Wolverines have won six games in a row, including Sunday's meeting with Louisville.
Michigan's offense was surgical in its defeat of Rick Pitino's vaunted Louisville defense. Every possession down the floor, the Wolverines found a match-up that favored them and took advantage. After Derrick Walton had 26 points in the first round, he shifted his role Sunday, with only 10 points but 6 assists and 7 rebounds. It was German sophomore Mortiz Wagner leading the Michigan scoring attack, with 26 points and a bucket on the game's biggest possession.
The Wolverines now advance to Kansas City, with no sign of slowing down. They'll face Oregon, which has won two games in the tournament despite the loss of big man Chris Boucher, who tore his ACL in the Pac-12 tournament.
6.) Sunday's impact on the coaching carousel
Day four of tourney play offered a perfect stage for three coaches on the forefront of the rumor mill regarding open positions across the nation. With Indiana, Oklahoma State, and California (among others) still in search of a head coach, the NCAA Tournament is the perfect audition.
Gregg Marshall's Wichita State squad fell to Kentucky in a tightly contested game. Marshall has been vocal about his displeasure with his Shockers' seed in the tournament, and this is not the first year he's felt that way. Sick of being seeded as a Missouri Valley team, having difficulty scheduling power conference foes, Marshall could favor heading to a bigger name program. If you can't schedule them, join them? It will take quite a bit to pry Marshall from Wichita State, where he could become the Midwest Mark Few if he'd prefer that route.
Danny Hurley from Rhode Island could also see his team's tournament success as a way to launch his career forward. He has the name and pedigree to attract power school attention and now has proven himself capable as a coach on the court. Look for Hurley's name mentioned as the wheels of the coaching carousel continue to churn.
Lastly, we saw Mick Cronin's Cincinnati team lose to UCLA in the nightcap of Sunday's action. Cronin has built a strong program and culture at his alma mater, something bigger programs with deeper pockets could take notice of. Though Cronin is Cincinnati born and bred, and went to UC, it would be hard to imagine he'd not consider a new opportunity at Indiana or, more realistically, Oklahoma State. Two years ago, people thought Fred Hoiberg was comfortable at his alma mater and would never leave, until the money and prestige of the NBA came calling.
The coaching carousel is often not a perfect circle, but a winding roller coaster with twists and turns. When the dust settles, this tournament will have had a crucial effect on which head coach lands at each open spot.
PLAYERS:
Tom Izzo
,
Luke Kennard
,
Grayson Allen
,
Jayson Tatum
,
Kyrie Irving
,
Jabari Parker
,
Harry Giles
,
Miles Bridges
,
Johnathan Motley
,
Landry Shamet
,
Malik Monk
,
John Calipari
,
Rick Pitino
,
Chris Boucher
TEAMS:
Michigan State Spartans
,
Duke Blue Devils
,
Baylor Bears
,
Wichita State Shockers
,
Kentucky Wildcats
,
Louisville Cardinals
,
Oregon Ducks
MORE FROM YARDBARKER
College Basketball News

Delivered to your inbox

You'll also receive Yardbarker's daily Top 10, featuring the best sports stories from around the web. Customize your newsletter to get articles on your favorite sports and teams. And the best part? It's free!