Found January 31, 2014 on StraitPinkie.com:
After the 2013 campaign that saw former Kentucky point guard Ryan Harrow break down in tears after the SEC Tournament loss to Vanderbilt, the Big Blue Nation was more than ready to welcome Aaron & Andrew Harrison into Lexington. The Harrison twins became an immediate spark at the point guard and shooting guard positions. Their size and length are rarely matched in college basketball, and yet they have been viewed as a disappointment so far this season. The struggles of the Kentucky team should not be solely place on the twins, but their struggles have been very evident in conference play. A rumor that has hit the airwaves has been Kentucky head coach John Calipari telling NBA personnel that the twins are no longer 2014 NBA Draft prospects. Regardless if it's true or not, the Harrison's have said they will make the decision to stay in college or leave for the NBA as a family decision. I decided to crunch the numbers and see how Aaron and Andrew currently stack up against former Kentucky point guards under John Calipari. I have excluded Ryan Harrow due to him not being a freshman and not being selected in the NBA Draft the following year. I have also excluded the stat of "blocks" in comparison due to their playing positions. First, let's start with how the Harrison twins are doing so far at Kentucky. Here are their stats per ESPN.com: Aaron Harrison – SG SEASON TEAM MIN FGM-FGA FG% 3PM-3PA 3P% FTM-FTA FT% REB AST BLK STL PF TO PTS 2013-14 UK 29.1 4.5-9.8 .456 1.3-4.0 .313 3.6-4.7 .774 3.1 2.1 0.4 1.1 2.4 1.8 13.8 Andrew Harrison – PG SEASON TEAM MIN FGM-FGA FG% 3PM-3PA 3P% FTM-FTA FT% REB AST BLK STL PF TO PTS 2013-14 UK 30.7 2.9-7.8 .372 0.9-2.5 .367 4.3-5.7 .746 3.0 3.5 0.2 0.4 3.1 2.5 11.0 The first former Kentucky guard I want to compare with the twins is 2012 national champion Marquis Teague. Despite being the only point guard to lead the 'Cats to a national title, he is the only point guard not selected in the lottery of the NBA Draft. Teague was barely selected in the first round at pick No. 29. (Former player stats per StatSheet.com) Marquis Teague Season GP MPG PPG FG% 3FG% FT% APG RPG BPG SPG 2011-12 40 32.6 10.0 41.2 32.5 71.4 4.8 2.5 0.2 0.9 In comparison, both Aaron & Andrew are performing better in every statistical category than Marquis Teague except for two. Teague produced 4.8 assists per game compared to Andrew (3.5) and Aaron (2.1). Teague also played more minutes (32.6 mpg) than both Andrew (30.7) and Aaron (29.1). This would conclude that Aaron & Andrew can both be 1st round draft picks, but they may fall very far late into the first round and way out of the lottery. Next, I want to take a look at 2011 Final Four participant Brandon Knight. The 2011 squad suffered plenty of setbacks on their way to upsetting No. 1 overall seed Ohio State, knocking off No. 2 North Carolina and advancing to the Final Four. Knight's heroics vs. Princeton and Ohio State are now etched in history. Knight was selected in the lottery of the NBA Draft with the No. 8 pick. Here are his stats at UK: Brandon Knight Season GP MPG PPG FG% 3FG% FT% APG RPG BPG SPG 2010-11 38 35.9 17.3 42.3 37.7 79.5 4.2 4.0 0.2 0.7 In comparison with Knight, Aaron Harrison wins two categories. Aaron has a better field goal percentage (45.6%) than Knight (42.3%). And, Aaron also forces more steals (1.1 per game) than Knight (0.7). When it comes to Andrew Harrison, his stats are worse than Knight's and Aaron's in every category except for three. This is very interesting to me because Andrew is the point guard, so his numbers should be more similar to Knight. Instead, it's his brother who has the more comparable numbers. When it comes to the draft, both Harrison twins would not be selected above No. 8 in comparison with Knight. Lastly, I'm going to compare the twins to John Calipari's first point guard at Kentucky. John Wall was considered the crown jewel of a loaded 2010 class for Kentucky. If Wall was eligible for the draft before 2010, many felt he could have been picked as the No. 2 overall selection behind Blake Griffin. John Wall was selected No.1 overall in the 2010 NBA Draft. Here are his stats at UK: John Wall Season GP MPG PPG FG% 3FG% FT% APG RPG BPG SPG 2009-10 37 34.8 16.6 46.1 32.5 75.4 6.5 4.3 0.5 1.8 Compared against Wall, Andrew Harrison wins the 3-point % category. Andrew shoots the 3 at 36.7% compared to John Wall (32.5%) and Aaron (31.3%). Aaron Harrison wins one category as well, and that's at the free-throw line. He shoots 77.4%, which is better than Wall (75.4%) and Andrew (74.6%). Every other category is won by John Wall. Perhaps the most striking difference is the assist numbers. Wall produced 6.5 assists per game compared to only 3.5 assists for Andrew and 2.1 assists for Aaron. In comparison, the Harrison twins are far and away from being considered comparable to the No. 1 pick. I understand there are many factors that play into these stats. However, you can't help but notice the vast difference between the numbers. John Wall and Brandon Knight clearly outclass both Harrison twins thus far, and Marquis Teague's numbers may be a little skewed on the downward slope due to the weapons around him. At the end of the day, Teague has the ultimate 1-up on everyone, he got a championship. I highly doubt that we will really see Aaron or Andrew in a Kentucky jersey next season. I really can't see them passing up the allure of millions from the NBA to play under the microscope at Kentucky for another year. If they decide to jump, numbers would indicate they would probably be selected at the end of the lottery or towards the end of the 1st round. That's a far cry from Top-10 selections they were supposed to be when they signed with Kentucky.
Original Story:
http://www.straitpinkie.com/kentucky-...
THE BACKYARD
BEST OF MAXIM
RELATED ARTICLES
In this AllWildcats feature, Kentucky coach John Calipari talks about the Wildcats coming off their disappointing performance at LSU as well as preparation for Saturday's game at Missouri.
The Kentucky Wildcats have long been the big bully on the hardwood to their Southeastern Conference counterparts for a long time running, and the program takes a backseat to absolutely no other with its prestige and history. The dedicated fanbase in Lexington was recently rejuvenated upon the arrival of current UK fifty-year coach John Calipari from Memphis, who instantly ignited...
The Kentucky Wildcats have had a record 20 signees play in the McDonald's All-American game since John Calipari's arrival. That's why these days, the MCDAAG is pretty much next year's Kentucky Wildcats freshmen class, and then the year after next year's NBA Draft lottery. All four of Kentucky's 2014 signees were picked for the McDonald's All-America game it was announced...
Wildcats News

Delivered to your inbox

You'll also receive Yardbarker's daily Top 10, featuring the best sports stories from around the web. Customize your newsletter to get articles on your favorite sports and teams. And the best part? It's free!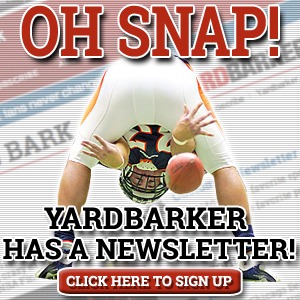 Latest Rumors
Best of Yardbarker

Today's Best Stuff

For Bloggers

Join the Yardbarker Network for more promotion, traffic, and money.

Company Info

Help

What is Yardbarker?

Yardbarker is the largest network of sports blogs and pro athlete blogs on the web. This site is the hub of the Yardbarker Network, where our editors and algorithms curate the best sports content from our network and beyond.