Found December 20, 2012 on Fox Sports Ohio:
COLUMBUS, Ohio It was the middle of a blowout game earlier this month, but the pesky Ohio State guard Aaron Craft was playing as if the very future of the game of basketball was at stake. Every time the overmatched Northern Kentucky ball-handlers brought the ball past half court, the 21-year-old Craft stuck to them like a horse fly on flypaper. His hands stayed in their mugs, his feet kept him between them and the basket, and his head darted here and there, keeping track of the court landscape. Late in the first half after Craft had already notched three steals, and after Craft had contested a three-point shot and then sprinted the other way, catching a fast-break pass then tossing in a layup Northern Kentucky scored its first field goal in more than six minutes. An exasperated Northern Kentucky team, who'd prepared for Craft's full-throttle defense by putting two defenders on the ball-handler in practice, simply didn't know what to do with the Buckeyes' six-foot-two pest. "He's like having two guys on you, really," the Northern Kentucky coach, Dave Bezold, said after his team had lost by 27 points. "He changed that game on defense... Whoever he was guarding, we thought about sticking him on the other end of the floor, or stick him in the corner, so (Craft) couldn't find a way to disrupt our offense too much. (But) he did." A look at box scores doesn't always show how Craft can impact the outcome of a game. On this night, a few weeks before the seventh-ranked Buckeyes' Saturday matchup against ninth-ranked Kansas, Craft's line didn't appear particularly dominating: 2-for-9 shooting, including 0-for-4 from beyond the arc, plus four assists. Yet he had four steals and an incalculable amount of defensive disruption. That's just the way basketball is played by the reigning Big Ten defensive player of the year: He's not after the SportsCenter moment, not after anything other than getting the win and doing the little things all the coaches love. In a college game that's increasingly dominated by one-and-dones and blue-chip offensive talent, Craft is a rare breed: A player who gets as much satisfaction from pressuring a turnover or forcing a five-second violation as from a highlight-reel play. When you ask Craft's coach how he can so fully disrupt another team's plans on defense how he was able to rank 5th in the nation last year in steals, how he changed the course of last year's Sweet Sixteen victory over Cincinnati with six steals, one short of his career high Thad Matta doesn't overemphasize Craft's lateral quickness. He doesn't crow about Craft's film sessions where he obsesses over his opponents' offensive tendencies. He doesn't mention that Craft is a pre-med student with a 3.889 grade point average that won him an award for best GPA among players in last year's Final Four. Matta breaks Craft's defensive tenacity down more simply: Craft just wants it more. "What makes him a tremendous defender is a desire to be a great defender," Matt said. "He wants to be a defensive stopper. He wants to be a pest to the opposing team. He wants to create chaos." When you look at his childhood in northwestern Ohio, it's not particularly surprising Craft has this defensive DNA few players have. His father was a high school basketball and football coach. Every week during the football season when Craft was growing up, the bigger, older linebackers would come over for a Thursday night dinner followed by a 1 -hour film session. Craft and his older brother, Brandon, would tag along. They'd tag along too at most of their dad's practices and games, staging ultra-competitive sibling contests on the football field as their father waited for the players to come out of the locker room. Craft's father only doubted this parenting decision once, when a three- or four-year-old Aaron stole his father's keys at a basketball practice and shoved them in an electrical outlet, shocking himself and scaring the daylights out of his dad. "His defensive mindset comes from living with a coach, and growing up with the idea that there are so many little things that need to be taken care of," Craft's father, John Craft, told FOXSports.com. "He wasn't going to go to a babysitter as long as I didn't have to change a diaper at practice. He's been going to two-a-days and varsity basketball practice since he was 3 or 4. When he got potty-trained there were no more babysitters." Craft laughs when he talks about the rivalry with his brother, who is three years older and recently returned from an Army deployment in Afghanistan. They'd wrestle each other on the football practice field with the older players cheering on. The winner of the regular neighborhood whiffle ball games had family bragging rights for that night. Aaron would play basketball with his older brother and his friends, and even though he couldn't measure up on offense, he could pester and frustrate and anger them on defense. "That's where it started," Craft told FOXSports.com. "Any time I could talk a little bit of trash to (my older brother), it would get him frustrated, then he would get me frustrated, and it would just make me want to go out and do some more." "It definitely all goes back to my family, my brother and my dad," Craft continued. "But throughout the years you learn that defense wins games, whether it's football or basketball. Oftentimes your best defense leads to your best offense. Easy buckets, easy baskets in transition, things like that. Little things like that win you basketball games. And little things win games a lot better than the highlight-reel type of plays." Despite Ohio State's 9-1 start, Craft has begun his season a bit slower. Mostly, it's his jump shot. He's shooting just below 38 percent, well below last year's 50 percent mark despite averaging about two more shots per game than last year. But that's the thing about being a top-notch defender. On the offensive end, sometimes the buckets drop for you, sometimes they don't. But on the defensive end you can always count on hustling, high-intellect defense being there for you. Of the 86 ballgames Craft has played in his Ohio State career, he's only played 10 games where he hasn't gotten at least one steal. You can always make up for a turnover at one end with a steal on the other. All of this has got to be at the top of mind this weekend for Kansas point guard Elijah Johnson and leading scorer Ben McLemore. "It all starts with wanting to do it and having that desire," Craft said. "A lot of it comes down to the trust you have in the guys behind you. It would be foolish to think I'm out there by myself. I get beat. It happens. But guys are behind me, willing to pick me up as well. You can't go at it as an individualistic thing. The more trust you have in them, the more trust you have in yourself." Which are words that are music to any coach's ears. Follow Reid Forgrave on Twitter
Original Story:
http://www.foxsportsohio.com/12/20/12...
THE BACKYARD
BEST OF MAXIM
RELATED ARTICLES
  This weekend begins to wrap up any big non-conference games for the Big Ten Conference. All teams look to win these games and enter the conference with momentum. The first game that should be mentioned is the Ohio State vs. Kansas game.  The 9th ranked Ohio State Buckeyes will play the 7th ranked Kansas Jayhawks at home this Saturday at 4 pm.  Both teams only have one loss this...
Ohio State's 2013 spring game will be played on the road. Paul Brown Stadium in Cincinnati will host the April 13 scrimmage because of renovations at Ohio Stadium. The Buckeyes went 12-0 under first-year coach Urban Meyer this past season and return 14 starters, including nine on offense. Ohio State will be resurfacing the seating areas at Ohio Stadium, prompting the change...
COLUMBUS, Ohio (AP) -- Ohio State's 2013 spring game will be played on the road. Paul Brown Stadium in Cincinnati will host the April 13 scrimmage because of renovations at Ohio Stadium. The Buckeyes went 12-0 under first-year coach Urban Meyer this past season and return 14 starters, including nine on offense. Ohio State will be resurfacing the seating areas at Ohio Stadium...
Ohio State announced earlier today that it will take it's annual Spring Game on the road this year and it's new home will be Cincinnati at Paul Brown Stadium, the home of the NFL Bengals. Why the move though? Well, OSU will be doing some major work on the stadium this spring and it won't be ready in time for the spring game, which will be held on April 13th. Last...
I got to hang out, drink some decaf and just moderate this badboy. TD is a Kansas grad, Kirk is an Ohio State grad, and they'll both be attending the matchup this Saturday between the Buckeyes and Jayhawks in Columbus. So, we got everyone on the line and talked about the matchup. Then I started poking the bear to figure out if the regular season in college basketball is worthless...
At the inevitable time you get sick of spending time with your family this holiday weekend, college basketball will have you covered. The premiere game of the weekend is a top ten match up between #9 Kansas and #7 Ohio State. Both teams are Final Four hopefuls and a win would cement them as a legitimate contender. If you're in Columbus keep an eye out for Greg Oden. The big fella...
Winthrop coach Pat Kelsey spoke of something much bigger than college basketball following his loss to the Ohio State Buckeyes. The Eagles rookie coach pleaded for government and parents to act soon to prevent further massacres like the Sandy Hook Elementary School shooting in Newtown, Connecticut that killed 20 children and six adults. "I know this microphone's powerful right...
The Ohio State basketball team has rattled off five-straight wins since falling at Duke on Nov. 28, but the No. 7 Buckeyes' home test on Saturday against No. 9 Kansas should go a long way in revealing whether or not the team made real progress during the last month.
Urban Meyer brought a lot of people with him from Florida to Ohio State, and one player helping the Buckeye program behind the scenes is Ryan Stamper. The former Florida linebacker is on staff in player development and is assisting the Buckeye players and coaches.
Following the Eagles' 65-55 loss to No. 7 Ohio State, Winthrop coach and agent of change Pat Kelsey talked about the need for change after the tragedy in Newtown, Conn. Perhaps because this... Full story at Bob's Blitz ~ http://www.bobsblitz.com
Massillon four-star cornerback Gareon Conley recently switched his commitment from Michigan to Ohio State. Although he has not spoken much about the move to date, Conley took the time Wednesday to discuss his situation. In PART-TWO of the video interview, Conley speaks about decision to commit to Urban Meyer and the Buckeyes.
Urban Meyer's second spring game will be played in Cincinnati. The Buckeyes will play at the home of the NFL's Bengals, Paul Brown Stadium, on April 13.
College Basketball News

Delivered to your inbox

You'll also receive Yardbarker's daily Top 10, featuring the best sports stories from around the web. Customize your newsletter to get articles on your favorite sports and teams. And the best part? It's free!
THE COLLEGE BASKETBALL HOT 10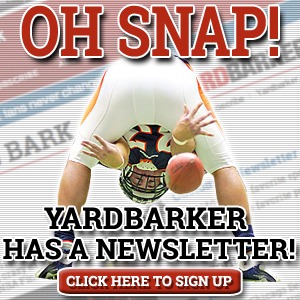 Latest Rumors
The Backyard

Today's Best Stuff

For Bloggers

Join the Yardbarker Network for more promotion, traffic, and money.

Company Info

Help

What is Yardbarker?

Yardbarker is the largest network of sports blogs and pro athlete blogs on the web. This site is the hub of the Yardbarker Network, where our editors and algorithms curate the best sports content from our network and beyond.