Found March 27, 2013 on BlackSportsOnline:
I understand the point Arizona Coach Sean Miller was trying to make when he compared Ohio State Aaron Craft to Tim Tebow, but I wonder if this was just some reverse psychology before tomorrow's game. Craft has become known for his stellar defense, however after his last second 3-pointer which won the game for the Buckeyes, people are starting to become fascinated with his offensive power too. Following a remarkable comeback his performance prompted Arizona Coach Miller to bring out the Tebow comparisons. "If he's not one of your favorite players, then you don't like college basketball," Arizona coach Sean Miller said Monday, according to the Tucson Citizen. "He has that Tim Tebow quality. "Tebow, at Florida, it wasn't just his performance on the field, but who he was as a person, the leadership that he provided, the competitive spirit he embodied. It seemed to spread through Florida's football team, and Aaron Craft does the same thing for Ohio State basketball." "He's a 4.0 student. He's an incredible leader, as a great of a competitor as you will find. … All the things that you can say to give him incredible respect, that's where I'm at." Looking on the surface you may not like the comparison. However if you look closely you can make a comparison with anything. People question both players' chances to play and succeed at the next level. Both players have a clutch gene during the last seconds of games and are able to simply win. Lastly both players popularity have skyrocketed thanks to social media. Those are the only similarities I could think of without stating the obvious, so may be Coach Miller makes sense. Are the two the same kind of player? No, however the two are hardworking individuals who go against the grain by not doing things the obvious, traditional way while still finding success.  Or maybe Coach Miller just went a little left with the Tebow and Craft comparisons, and instead of trying to classify why the two are so different and so relevant they should just be allowed to play and be great. At least one of them. Whatever the case, I'm sure Craft hopes Arizona continues their love/hate relationship with him after Thursday night game when the two face off at 7pm.
Original Story:
http://blacksportsonline.com/home/201...
THE BACKYARD
BEST OF MAXIM
RELATED ARTICLES
Ohio State's Aaron Craft and Arizona's Nick Johnson are among the rarest type of college basketball players. They're defensive stoppers - and they'll be on the same court together Thursday night. That's when Craft and the Buckeyes meet Johnson and the Wildcats in the NCAA tournament's West Region semifinals at Staples Center in Los Angeles. Craft's...
HOW ANNOYING
Aaron Craft has a lot of the characteristics that former Duke guards J.J. Redick, Jon Scheyer, Greg Paulus, Steve Wojciechowski and Chris Collins exhibited.  He's a scrappy white guard who isn't the biggest, strongest, fastest or most talented player, but he does what it takes to will his team to win.  Some appreciate them.  Others find them incredibly annoying. ESPN's Rick...
Last Sunday Aaron Craft hit a game winning three point shot to give the Buckeyes the win. This time it was LaQuinton Ross's turn. With Ohio State and Arizona tied at 70, Craft found Ross off a pick and roll and Ross buried the three pointer. The three gave the Buckeyes the 73-70 lead with 2.4 seconds left, and the Buckeyes held on. Follow me on twitter @ScottBasketball  http...
Ohio State has another postseason hero. After Aaron Craft made the game-winning three-pointer to defeat Iowa State in the round of 32, LaQuinton...
  I still can't belive what I saw at the end of Ohio States' game against Iowa State. You could have told me that Aaron Craft would step up at the end of the game to make a big shot. However if you told me that shot would be a 3 pointer after he had waived off the leading scorer in the Big Ten (Deshaun Thomas). I woukd have said, "My boy Aaron Craft must have been feeling...
You've seen the narrative develop during this year's tournament, haven't you?   Aaron Craft is annoying. Why is he annoying?  Why is he hated as this generation's Christian Laettner?  Is it because he's a defensively oriented player and the fact that he supposedly gets away with calls?  Because he's just so darn "scrappy" and loved by...
The demise of ESPN's Rick Reilly has been well documented. There is the infamous "I had it first on Twitter" incident, the inordinate amount of time defending Lance Armstrong, and the trite. Now Reilly is curious whether 22-year-old Ohio State gaurd Aaron Craft thinks other people see him as "annoying." During a recent press conference he asked Craft, "Can you see how...
LOS ANGELES Aaron Craft was joking about a tweet referencing him the other day from a former Ohio State teammate. It was a riff on the popular Chuck Norris tough-guy theme. I believe it said I would kick Chuck Norris butt, Craft said. Then he would shave his head to look more like me. Norris will not coverBuckeyes junior guard Craft in the NCAA West regional game Thursday. Nick...
So apparently Ohio State has a flair for the dramatic. In its third-round matchup against Iowa State, Aaron Craft hit a three-pointer at the buzzer to put away the Cyclones. Tonight in the Sweet 16, Craft was playing the role of distributor — on the Buckeyes' last possession, he dished the ball to LaQuinton Ross, who was way behind the three-point arc — but that didn't stop...
LOS ANGELES (AP) -- Ohio State needed another last-second shot, and Aaron Craft had the ball at the top of the key again. But last week's hero gave it up to the hottest hand on the floor, and LaQuinton Ross sent the Buckeyes to the brink of their second straight Final Four. Ross hit the tiebreaking 3-pointer with 2 seconds to play, and Ohio State advanced to the West Regional...
  HOLY HELL, that game last night was insane! LaQuinton Ross was a BOSS last night hitting that game winner, I jumped out of my chair and spilled Oberon on myself because of it and I wasn't mad about it at all. Although, that first half was one that I was not happy with the way the boys played or the officiating. But the second half the team that we know and love showed up, with...
Buckeyes News

Delivered to your inbox

You'll also receive Yardbarker's daily Top 10, featuring the best sports stories from around the web. Customize your newsletter to get articles on your favorite sports and teams. And the best part? It's free!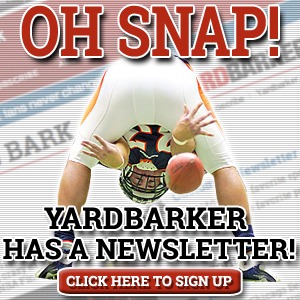 Latest Rumors
Best of Yardbarker

Today's Best Stuff

For Bloggers

Join the Yardbarker Network for more promotion, traffic, and money.

Company Info

Help

What is Yardbarker?

Yardbarker is the largest network of sports blogs and pro athlete blogs on the web. This site is the hub of the Yardbarker Network, where our editors and algorithms curate the best sports content from our network and beyond.