Found November 14, 2013 on Fox Sports Wisconsin:
MADISON, Wis. -- The aches and pains that come with playingextended minutes at the highest level of college basketball have not set injust yet. We are, after all, only two games into a 31-game regular season.So right now, we can't know whether Wisconsin can sustainusing a seven- or eight-man playing rotation for the long haul. No one knowswhether it's feasible given potential foul trouble, fatigue and other issues.Through one week, however, that's exactly what the Badgershave tried. And while relying on veteran players is not unique in collegebasketball, it is unusual to play with such a short bench so early in theseason.No. 20 Wisconsin (2-0) will continue its quest to find aplaying rotation when it travels to face Green Bay (1-0) at 7 p.m. Saturday inthe Resch Center. And judging by the first two games, the minutes may betougher to spread around than initially anticipated.Most coaches at this time of year would rather extend therotation to involve as many players as possible and allow them to gain valuableexperience. Badgers associate head coach Greg Gard noted that idea was easiersaid than done, particularly with Wisconsin having opened the season againstSt. John's and Florida."Those two games, it's been hard to experiment,"Gard said. "It's not going to get any easier on Saturday. We've just gotto continue to rotate guys in and out in practice, have guys keep gettingbetter and keep working at it. But we'd obviously like to be deeper, and wewill be in time."Obviously with these two games right out of the gate,you have a tendency to lean more on experience and guys that have been there. Ithink we'll have a lot of the same thing on Saturday night."Competition level, combined with a lack of experience offthe bench, has contributed to the high number of minutes for some players.While most teams load up on easier nonconference opponents to begin the year,the Badgers have not done so. Wisconsin, in fact, is one of just three teams inthe country to own a pair of victories against teams from the "Power 6"conferences, joining UMass (wins over Boston College and LSU) and Baylor (overSouth Carolina and Colorado) in that regard.Four Wisconsin players are averaging at least 32 minutes pergame thus far -- guard Ben Brust (36.0), forward Sam Dekker (35.0), guard JoshGasser (33.5) and guard Traevon Jackson (32.0).Consider that only one other Big Ten team -- Penn State --has a rotation with three players averaging at least 30 minutes per game. Fourconference teams have two players that average 30 minutes per game, four haveone player that averages 30 minutes per game and two don't have a single playerthat eclipses the 30-minute mark."I think it'll change a little bit," Gasser said."It's still really early in the year. Some of the freshmen, not that theywerent ready necessarily, but it's a big stage for this early on. Coaches wentwith some veteran guys early on in the year. As time goes on, some of theyounger players will get a little more experience, a little more confidence,understanding what we're looking for more."As the year goes on, you'll kind of see people rise upto the occasion and some who dont. We're always looking for guys who cancontribute. All 17 guys need to help, so it'll come."The biggest problem for Wisconsin is a shortage ofexperience beyond the team's starters -- although the only way to gainexperience is to play in games. The Badgers' five starters of Jackson, Brust,Gasser, Dekker and center Frank Kaminsky have combined to play 6,959 careerminutes. Backup point guard George Marshall has played 577 career minutes. Noother player on the active roster this season has played more than 80 minutesat Wisconsin.Even Marshall's role with the team is up in the air. DuringWisconsin's 59-53 victory against Florida, he played just three minutes and didnot appear in the second half. Instead, Badgers coach Bo Ryan kept Jackson inthe game despite him turning the ball over five times.Gard said Marshall needed to demonstrate more consistencyand play slower to allow him to see more court time."I think we'll be successful either way," saidJackson of the playing rotation. "We have depth. We can always go deep.We're not really in control of that. So we just have to be ready for whatever.I think we have to take care of our bodies either way and prepare foranything."Only one freshman -- forward Nigel Hayes -- has takenadvantage of an opportunity to play. Hayes is averaging 5.0 points per game in13.0 minutes of action. Freshman forward Vitto Brown has not yet made anappearance, and freshman point guard Bronson Koenig played one minute in theseason opener against St. John's.Gard said part of the challenge was getting the youngerplayers to understand concepts and play older than they really are. Wisconsinwill no doubt need that maturation as the grind of the college basketballseason continues."It's hard to play 38, 39 minutes at the level we expectguys to play," Gard said. "It's hard. I'm sure it can be done. But Ithink you also get to a point of diminishing returns. We definitely would liketo be able to go a little deeper and spread some things out a little bit." Follow Jesse Temple on Twitter
Original Story:
http://www.foxsportswisconsin.com/col...
THE BACKYARD
BEST OF MAXIM
RELATED ARTICLES
The Badgers entered Tuesday nights game riding a 86-75 win over St. Johns this past Friday at the Pentagon in Sioux Falls, South Dakota. Wisconsin welcomed back Josh Gasser to the starting line-up after missing all of last season with a knee injury. For the first time in 8 years the Badgers opened their season away from home and in a game in which they never trailed, Gasser provided...
The Wisconsin Badgers men's hockey team will have to try again Saturday for their first road win of the season after falling to the No. 8 Miami (Ohio) Redhawks, 2-0, on Friday night. This weekend's series is Wisconsin's first-ever trip to Oxford, Ohio. Goaltender Landon Peterson started for the Badgers and had 34 saves and one goal against. The Redhawks' second goal...
Photo by David Stluka It wasn't as fast-paced as Friday, but we'll definitely take a win against a Top 10 team. That makes two resume boosting wins already as we head into Green Bay on Saturday. You've read the recap, now let's dig into the box score a little. Ben Brust and Traevon Jackson led the game in rebounds. This got brought up last night, but is...
We've reached the home stretch of the college footballseason, and so we're coming down to the wire on Badgers football mailbagquestions. This week, we discuss possible future replacements for JacobPedersen and Jared Abbrederis, Tanner McEvoy as a long-term defensive optionand the prospects of running back Melvin Gordon returning for his juniorseason.If you have a question...
Four years ago, Green Bay defended its home court by stunning then-No. 20 Wisconsin. Once again ranked 20th, the Badgers look to avenge that defeat in their return to Green Bay on Saturday night. Wisconsin (2-0) is coming off an impressive 59-53 home victory over No. 11 Florida on Tuesday. The Badgers received a balanced offensive effort, with three players scoring in double figures...
MADISON, Wis. -- If Nate Hammon is being honest with himself, the fact that he finds himself on the field for critical moments of football games at Wisconsin still provides a pinch-me moment. The guy who thought he'd be a college quarterback and then spent a year at wide receiver instead certainly didn't envision any contributions would come at safety. "I never thought...
Wisconsin running back James White always seems to be in a good mood, grinning often when he's around teammates. Senior year is a whole lot of fun when you spend so much time scoring touchdowns. With eight touchdowns in the last three games, and a team-high 13 on the year for the 17th-ranked Badgers (7-2), White is making the most of his dwindling opportunities in Wisconsin...
A late addition to Wisconsin's 2013 walk-on class, freshman kicker Andrew Endicott has made an impact to the Badgers' special teams this season, handling the kickoffs for the past six games. Badger Nation gets to know the freshman kicker a little better in the return of our popular feature.
With a defense led by seniors Chris Borland and Dezmen Southward, No.17 Wisconsin looks to shutdown a high-powered Indiana offense and make it nine straight wins in the series over the Hoosiers. Badger Nation looks at the Hoosiers and the impact of Southward.
Badgers News

Delivered to your inbox

You'll also receive Yardbarker's daily Top 10, featuring the best sports stories from around the web. Customize your newsletter to get articles on your favorite sports and teams. And the best part? It's free!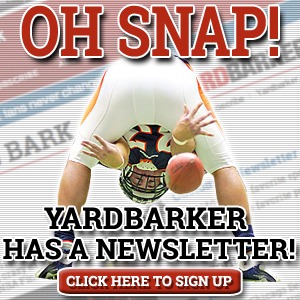 Latest Rumors
The Backyard

Today's Best Stuff

For Bloggers

Join the Yardbarker Network for more promotion, traffic, and money.

Company Info

Help

What is Yardbarker?

Yardbarker is the largest network of sports blogs and pro athlete blogs on the web. This site is the hub of the Yardbarker Network, where our editors and algorithms curate the best sports content from our network and beyond.