Found December 13, 2012 on Fox Sports Wisconsin:
MADISON, Wis. The final score won't reveal how much trouble Wisconsin encountered with Green Bay at the Kohl Center on Wednesday night. A double-digit margin certainly looks like the kind of advantage the Badgers should have had all game. It wasn't that easy. And given the supposed discrepancy in talent, size and athleticism, one has to wonder how Wisconsin should feel. Yes, Wisconsin squeezed past Green Bay for a 65-54 victory. Those are the most important numbers from the game. But it's also important to note that it took more than 17 minutes for the Badgers to grab their first lead. Wisconsin (7-4) doesn't play another game for 10 days, in part, because of end-of-semester finals. Maybe the break comes at a good time considering the team's rocky start to the season. The question Wisconsin players should ask in the meantime is: Does it say more that Wisconsin came back to win on Wednesday or that a team without a Kohl Center victory in 15 tries provided such a stern challenge? "We're still making some of the same mistakes over and over, which is a little bit concerning," Badgers center Jared Berggren said. "I think we've got to learn a little quicker here and start making some more forward progress. It was a little concerning the way we started tonight." Green Bay didn't play like a team that entered the game 3-5. The Phoenix led by as many as seven points on four separate occasions, the last coming at 21-14 with 6:38 remaining in the first half. Wisconsin didn't snatch a lead until 2:48 remained in the first half on a Berggren dunk. "We weren't putting up numbers," Badgers coach Bo Ryan said. "If the numbers aren't going up on one side of the scoreboard, and somebody gets to nine and you only have two, it's like, 'Whoa, that's really a big lead.' "But you've got to be smart enough as players when you're on the court. It's still one possession at a time. They did some good things. They hit some shots. They got the ball where they wanted, and we had to take that away from them." Wisconsin played Wednesday's game without forward Mike Bruesewitz, who missed his second straight contest after suffering a concussion in practice last week. His absence could have played a role in the team's sluggish start because he typically provides energy and hustle. But that's not a good enough excuse for the Badgers making just 1 of 10 shots to begin the game and allowing Green Bay's guards to find gaps under the basket for easy layups. "I think we were a little too stagnant to start," said Badgers forward Sam Dekker, who started for the second straight game in place of Bruesewitz. "We've got to get someone to light that spark under us and propel us into the game." Certainly, there were still positives to be found in victory. Freshman Zak Showalter demonstrated he could excel in a pinch, recording season highs in minutes (23) and points (eight). Dekker (10 points) continues to take on a bigger scoring role despite being a freshman. Berggren (10 points, four rebounds, four blocks) is playing like one of the best big men in the Big Ten. And even forward Ryan Evans made a few free throws (3 for 6) one game after an abysmal 1 for 9 performance against Marquette, although he still airballed an attempt Wednesday night. His season percentage increased from 31.8 percent to 34.0 percent (17 for 50), much to the delight of the Kohl Center crowd, which cheered loudly when he made his first two attempts. "I increased my average with a 50 percent performance tonight," Evans said. "The crowd and my teammates are gong to help pull me out of this slump that I'm in. I really feel that." Despite those positives, there were more than enough mistakes to keep players in the film room for the next week, provided they're not studying for finals. The Badgers shot 60 percent from the free throw line (12 for 20) and were outrebounded 35-32. And neither of Wisconsin's point guards, Traevon Jackson or George Marshall, recorded an assist in the first half. Wisconsin has two games remaining before it begins Big Ten play against Penn State on Jan. 3. Between now and then, there is plenty to fix. Just how much the Badgers are actually capable of fixing remains to be seen. "I don't think we really expected to be at 7-4," Berggren said. "As far as the way we're playing, there's room for improvement. We're doing some good things. But I don't think we're doing it on a consistent enough level." Follow Jesse Temple on Twitter.
Original Story:
http://www.foxsportswisconsin.com/12/...
THE BACKYARD
BEST OF MAXIM
RELATED ARTICLES
MADISON, Wis. For the past decade, Wisconsin's basketball program playing in the NCAA Tournament has been as much a certainty as death and taxes although the Badgers were significantly more fun. If you were a Wisconsin fan, you could count on your team winning eight or nine of its first 10 nonconference games on its way to another top-four finish in the Big Ten and a 20-win...
MADISON, Wis. The final score won't reveal how much trouble Wisconsin encountered with Green Bay at the Kohl Center on Wednesday night. A double-digit margin certainly looks like the kind of advantage the Badgers should have had all game. It wasn't that easy. And given the supposed discrepancy in talent, size and athleticism, one has to wonder how Wisconsin should feel...
Ryan Evans was in a massive funk entering the game against Green Bay and it was starting to affect the team, but on Wednesday night both the team and Evans broke out of that funk in a big way. His team high 13 points helped Wisconsin win by 11 points, 65-44. More importantly it was Evans getting out of the funk from the free throw line that helped spark this team as a whole. ...
Senior Ryan Evans scored a team-best 13 points while big men Jared Berggren and Sam Dekker added 10 a piece to help Wisconsin rebound from Saturday's Marquette loss with a 65-54 victory over Green Bay Wednesday at the Kohl Center.
MADISON, Wis. Expectations for Wisconsin's offensive capabilities formed well before the Badgers took the football field for their first game of the season. The majority of opinions seemed to suggest that, though Wisconsin had lost five players to the NFL, enough talent remained to avoid a considerable drop-off in scoring. Then, the season began in disarray, and those same...
MADISON, Wis. The Arkansas football fan base revved like a high-powered car engine last week, so Bret Bielema was going to satiate its desires by stuffing the program full of compliments at his introductory news conference. Surely, no one would argue he needed to provide the Razorbacks with fresh ammunition following a miserable 4-8 season in which the team underperformed. But...
MADISON, Wis. Travis Frederick grew up as an offensive lineman in Wisconsin, which is to say he knew he wanted to be a Badgers player from a young age. Young enough to have seen Barry Alvarez coach from afar. When Frederick, a New Sharon, Wis., native, committed to play for Wisconsin, he never thought that commitment would include the opportunity to play for Alvarez, too. Yet...
This was a beautiful goal by Wisconsin Badgers's Brianna Decker, unfortunately it was scored against UND.  Decker is one of the top women's players in the WCHA and I have to give credit where credit is due.
Slinking through another ugly first half, senior forward Ryan Evans sparked the Badgers in the oddest of ways: free throws. Scoring a team-high 13 points, Evans' first half helped Wisconsin find its rhythm in a 65-54 victory over Green Bay Wednesday.
Badgers News

Delivered to your inbox

You'll also receive Yardbarker's daily Top 10, featuring the best sports stories from around the web. Customize your newsletter to get articles on your favorite sports and teams. And the best part? It's free!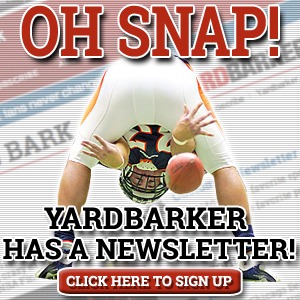 Latest Rumors
The Backyard

Today's Best Stuff

For Bloggers

Join the Yardbarker Network for more promotion, traffic, and money.

Company Info

Help

What is Yardbarker?

Yardbarker is the largest network of sports blogs and pro athlete blogs on the web. This site is the hub of the Yardbarker Network, where our editors and algorithms curate the best sports content from our network and beyond.