Found March 02, 2012 on BeyondUSports:
TEAMS:

Beyond Courtside Episode 7 TJ Rives is back  talking college hoops on episode 7 of "Beyond Courtside." This week's guest is Jon Gold, the UCLA beat writer for the LA Daily News. The main focus is the turmoil surrounding the Bruins program, Ben Howland's job security and their game against Washington on Saturday. Then Mark Wise returns to talk about the bubble teams and he gives his three wise men for the week. photo credit: ijonathangarza.com You can listen to the podcast wherever you go if you download the TuneIn app for your mobile device. For details on how to download the app click here.  Enjoy the podcast! BeyondU Sports BeyondU Sports - Best College Sports Blog Site
Original Story:
http://feedproxy.google.com/~r/Beyond...
THE BACKYARD
BEST OF MAXIM
RELATED ARTICLES
Dear Reeves Nelson, I read your response to Sports Illustrated's article which prominently featured you being a very large anus (even for Los Angeles) to a number of people and playing a big role in destroying the most storied program in college basketball (other than Indiana). I even wrote a piece for this very blog stating the incidents revealed in the article were very overblown...
Reeves Nelson already had a bad reputation for being kicked off the UCLA basketball team for poor behavior, but what remained of it was shredded by a damning article published in Sports Illustrated this week. Reeves reacted swiftly and hired a lawyer who sent a letter to SI demanding a retraction. He continued the damage control with an interview on NBC Los Angeles...
Sports Illustrated did in one article what Ben Howland could not accomplish in three years: hold Reeves Nelson accountable for being a jerk. SI exposed Nelson for being a bully who injured teammates during practice, fought them, and intimidated them, all without coach Ben Howland saying anything. Howland chose to play Nelson over other talented players, causing at least one player...
"Why you hating, SI? Thought you wanted to just make it seem like Ben Howland and the Athletic Director are evil, not me. Lawyer up and prepare for some seize and desist, even though you already put it in a magazine that has been sent out to thousands." - former UCLA Bruins player Reeves Nelson More Information
Society, we're in trouble. No, I'm not talking about the news that Snooki has a bun in the oven. (But that, too, is reason to believe that the world has gone mad.) No, I'm talking about drama other than the type that lives down at The Shore. There's a problem at the University of California Los Angeles, and mens' basketball coach Ben Howland is at the problem's epicenter...
Senior Lazeric Jones of the UCLA men's basketball team presents the latest episode of his weekly video blog, "The Dish with Lazeric Jones." UCLA hosts its final two home games this week at the Los Angeles Sports Arena.
by David Cassilo / @dcassilo The once proud basketball program of UCLA has become one riddled with drugs, fighting and no discipline, according to a story in Sports Illustrated. Under head coach Ben Howland, players have reportedly done things from taking Ecstasy to berating assistant coaches. Physical attacks on players during practice have occurred and many once-heralded recruits...
David Wear and Lazeric Jones talk about whether this was UCLA's best performance of the year, and if they were responding to the SI Article with their performance...
UCLA shows no-quit in beating Washington, 75-69, and the difference, as almost always, is defense, with a key defensive adjustment in the second half...and Tyler Lamb...
Bruins News

Delivered to your inbox

You'll also receive Yardbarker's daily Top 10, featuring the best sports stories from around the web. Customize your newsletter to get articles on your favorite sports and teams. And the best part? It's free!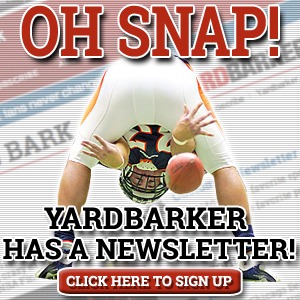 Latest Rumors
Best of Yardbarker

Today's Best Stuff

For Bloggers

Join the Yardbarker Network for more promotion, traffic, and money.

Company Info

Help

What is Yardbarker?

Yardbarker is the largest network of sports blogs and pro athlete blogs on the web. This site is the hub of the Yardbarker Network, where our editors and algorithms curate the best sports content from our network and beyond.