Found December 06, 2011 on Just Cover Blog:
In 2010, Penn State was the thinnest team in the Big Ten – their five starters all averaged over thirty minutes per game, and only a sixth player made an appearance in each game – this team was more reliant on it's starting five than any in the conference. The problem, of course, is that most of them were seniors. Between all-conference selections Talor Battle and Jeff Brooks, third scorer David Jackson, and offensive-rebounding force Andrew Jones, Penn State loses 49 points per game and 21 rebounds with virtually nobody with experience ready to fill in the blanks. In the off-season, Penn State also replaced Ed DeChellis – figuring that losing most of your roster is the best time to change schemes.
So what returns? Most importantly, the Nittany Lions return point-guard Tim Frazier. As a sophomore, Frazier was not much of a scorer (his eFG% a paltry 46%), but he was an effective game manager, with his assists nearly doubling his turnovers. He also was Penn State's most effective ball-hawk. They also return sophomore Billy Oliver – their all-purpose front-court substitute. Oliver was the one player who got consistent minutes off the bench, but failed to distinguish himself in any meaningful way – he was a poor shooter, a mediocre rebounder, and a forgettable defender. He is also, likely, the starting power forward.
The next most used players from last year's teams are a pair of guards – Cameron Woodyard and Jermaine Marshall, who were pressed into service during foul-trouble, disciplinary benchings, or injury. Woodyard, a rising senior, largely did nothing but miss a ton of shots when he was on the floor, he's likely not a starter. Jermaine Marshall, a rising sophomore, didn't really distinguish himself, but the bar here is low – he's your likely starting shooting guard.
This being Penn State, their recruiting class doesn't offer a bounty of riches. Small Forward Ross Travis was the only recruit ranked by all four major scouting bureaus, meriting a unanimous 3-star ranking. Center Pat Ackerman warranted a 3-star ranking from one service, but was un-noted by anybody else. There are two players who red-shirted last year with a bit more hype to them, however. Jonathan Graham is a red-shirt freshman power-forward who was a unanimous three-star recruit noted for his effort levels, while sophomore Sasa Borovnjak played sparingly as a true-freshman, then spent last year sidelined with a knee injury. These two will likely join Oliver in the front-court, with Travis and Ackerman being the primary replacements.
Unsurprisingly, the Lions have leaned on Tim Frazier heavily out of the gates. Formerly a guard tasked with protecting the ball and defense, Frazier is the leading scorer (19.5 points per game), passer (7.1 assists), rebounder (5.7 rebounds), and stopper (2.3 steals). It's really something of a heroic effort – he's turned the ball over a fair amount, but his assist rate still nearly doubles that value, and he's really doing it by himself. His shooting has improved by two points from the floor and seven from three-point in significantly higher usage – at this rate, his statistical profile is that of a better Talor Battle. Yes, you read that correctly. Moreover, he's not just doing it against lightweights, scoring 22 against Mississippi and 19 at Boston College. The problem is that, as predicted, there's nothing else here – Frazier and sophomore Sasa Borovjnak are the only players shooting over 40% from the floor, and Borovjnak only takes three shots a game. It's a mystery who is scoring enough for Frazier to get seven assists a game.
There's no way to sugar-court the prospects of the Nittany Lions – this is the worst roster in the conference by a fairly wide margin. There is no proven scorer on the team, inside or out, or a proven rebounder, or interior defender. The one thing this team does have is a point guard – but there's nobody to whom he can pass the ball. This team is going to have to cross their fingers and hope they can knock Iowa off when they come to Happy Valley, because, while I'm sure they'll win a game or two, I can't see them being a favorite once during the conference slate.
Original Story:
http://www.justcoverblog.com/2011/12/...
THE BACKYARD
BEST OF MAXIM
RELATED ARTICLES
Dominating defensive tackle Devon Still (Wilmington, Del.) has been selected Penn State's 96th first-team All-American, earning a spot on the CBSsports.com All-America Team.
STATE COLLEGE, Pa. (AP) -- The president of the TicketCity Bowl says the scandal that emerged from the shocking child sex-abuse charges against former Penn State assistant coach Jerry Sandusky didn't factor into organizers' deliberations to select the Nittany Lions for the Jan. 2 game.
Former Penn State assistant was arrested again Wednesday for alleged abuse of two more minors. Bail was set at $250,000 this time.
Ex-Penn State coach Jerry Sandusky has been arrested on new sex abuse charges brought by two new accusers.
Ex-Penn State coach Jerry Sandusky was arrested and arraigned Wednesday on new sex abuse charges brought by two new accusers, the state attorney general's office said.
The Lady Raiders showed no letdown from the big win against Penn State as they rolled the Mavericks.
A person close to Joe Paterno's family tells The Associated Press the former Penn State football coach is undergoing treatments and progressing after being diagnosed last month with lung cancer.
STATE COLLEGE, Pa. (AP) -- Ex-Penn State coach Jerry Sandusky has been arrested on new sex abuse charges brought by two new accusers
The top-seeded Longhorns join host Kentucky, No. 8 UCLA and No. 9 Penn State in the Lexington Regional, Friday-Saturday, Dec. 9-10.
No. 5 Penn State (1-1, 0-1 B1G) will take part in two tough eastern duals this weekend. Penn State visits No. 10 Lehigh (5-2) in its first road action of the year on Friday, Dec. 9, at 7 p.m. The Nittany Lions then return to Rec Hall on Sunday, Dec. 11, for a 2 p.m. dual with West Virginia (2-0).
A central Pennsylvania college says former Penn State coach Jerry Sandusky was denied a volunteer coaching position last year because a background check revealed a high school was investigating him on sex abuse allegations later detailed by a grand jury.
A lottery has been established for public seating for former Penn State assistant coach Jerry Sandusky's next court hearing on child sex-abuse charges.
Nittany Lions News

Delivered to your inbox

You'll also receive Yardbarker's daily Top 10, featuring the best sports stories from around the web. Customize your newsletter to get articles on your favorite sports and teams. And the best part? It's free!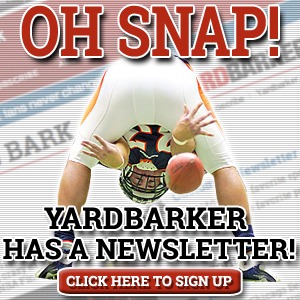 Latest Rumors
Best of Yardbarker

Today's Best Stuff

For Bloggers

Join the Yardbarker Network for more promotion, traffic, and money.

Company Info

Help

What is Yardbarker?

Yardbarker is the largest network of sports blogs and pro athlete blogs on the web. This site is the hub of the Yardbarker Network, where our editors and algorithms curate the best sports content from our network and beyond.