Found April 13, 2012 on Awful Announcing:
Bobby Knight has certainly been in the news for doing Bobby Knight things in recent weeks.  First there was the serious matter of his not-so-hidden agenda against John Calipari and eventual national champions Kentucky.  Then, there was the whole falling asleep on-air episode during ESPN's coverage of the Final Four.  But now, The General is causing a stir for an entirely different reason.  At the age of 71, Knight is looking to expand his resume.  In addition to Hall of Fame coach and barely passable analyst, Knight is looking to become... a motivational author?! Apparently inspired by the likes of Tony Dungy, Knight has claimed to be working on a motivational/folksy humor book entitled "The Power of Negative Thinking."  Honestly, I thought this was a joke when I first heard of the proposed book and its title, but apparently, it's not.  From the South Bend Tribune: "I've always thought the things that we look upon negatively are extremely important," Knight explained. "Like the word 'no.' I think the word 'no' is the most important word in the English language. I think people learning to say no keep themselves out of a lot more trouble than those that don't." Knight assured that this would come across humorously in the book. The opportunity to challenge that overtly wasn't taken. "Let me give you some examples," he said, addressing the skeptic-laced silence on the other end of the phone, "like the worn-out positive clichés people use instead of working out something: "'Well, we'll be a lot fresher after a night's sleep.' Well, you might be dumber after a night's sleep too. "And then there's, 'Susie, come here and let Mommy kiss that scratch.' Well, she better have iodine on her tongue if it's going to do any good." That is just outstanding.  And here I thought Knight would be writing about overlooked issues affecting the elderly like chronic falling down or GPD (Geriatric Profanity Disorder). Good Lord, that's two Brad Goodman references in one day, I think Albert Brooks owes me a royalty. And to think the secret to living a miserable life has been right in front of us all this whole time!  I think Tony Dungy isn't an apt comparison after reading these home-spun Knightisms.  We just might have a modern-day Mark Twain on our hands ladies and gentlemen.  How could I have been misled by the likes of Norman Vincent Peale to think optimism was key to a happier existence.  Nope, a little bit of Bobby Knight piss and vinegar is all I'll need from here on out, thank you very much. [USA Today]
Original Story:
http://www.awfulannouncing.com/2012-a...
THE BACKYARD
BEST OF MAXIM
RELATED ARTICLES
Kentucky's basketball team has gone on a tour throughout the state to celebrate the national championship they won last week. At their stop in Pikeville, coach John Calipari was awarded a key to the city. The only problem is the plaque commemorating the honor was filled with mistakes. In the second line, there is an "e" missing from "the," and in the last line, there...
The Big Blue Nation is back and bigger than ever after taking home the national championship earlier this month. Under head coach John Calipari, Kentucky has advanced to two Final Fours and became the first program to have five first round draft picks in the NBA Draft, doing so in 2010. In this years draft, Calipari says he hopes to churn out six first rounders. The Kentucky...
John Calipari and the Kentucky fans will ask Nerlens Noel to replace Anthony Davis, and while it won't be easy, he seems up for the challenge.
"When life gives you lemons, make lemonade".  This is the kind of quote that we as Americans like to use in tough times. We tell our kids the same thing, so that they can build character. Yet when someone does just that, we ridicule them for it? If a stock broker who learned to invest stocks at the same level John Calipari recruited top high school athletes, he would be considered...
With the addition of Shabazz Muhammad to UCLA's class, the Bruins now have a top three recruiting class, while John Calipari and Kentucky sit atop the rankings again.
Nerlens Noel is the number one recruit in the country and no surprise he will play his college basketball at the University of Kentucky. Once again John Calipari just reloads. Noel is just the latest one and done player to play for Calipari. Syracuse and Georgetown were also in Noel's top three. Noel is a 6-foot-10 power forward from The Tilton School in New Hampshire...
Top prospect Nerlens Noel announced he's joining Kentucky, bolstering the Wildcats' hopes of defending their recent national championship and finishing with a fourth consecutive No. 1 recruiting class. The 6-foot-10 center from the Tilton School in New Hampshire selected the Wildcats over Syracuse and Georgetown on Wednesday night. ''I'll be taking my talents...
It's been 10 days since Kentucky was crowned the 2012 college basketball National Champions, and it's time to put a bow on the season. And on Thursday, Rob Dauster of CollegeBasketballTalk.com joined me, to do just that. To listen to the podcast on this website, click the green box belowTo download the podcast straight from iTunes, please click hereTo subscribe to the Aaron...
Wildcats News

Delivered to your inbox

You'll also receive Yardbarker's daily Top 10, featuring the best sports stories from around the web. Customize your newsletter to get articles on your favorite sports and teams. And the best part? It's free!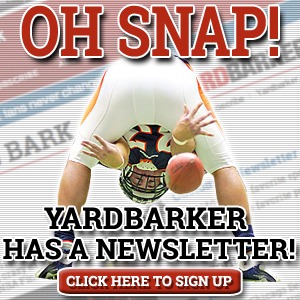 Latest Rumors
Best of Yardbarker

Today's Best Stuff

For Bloggers

Join the Yardbarker Network for more promotion, traffic, and money.

Company Info

Help

What is Yardbarker?

Yardbarker is the largest network of sports blogs and pro athlete blogs on the web. This site is the hub of the Yardbarker Network, where our editors and algorithms curate the best sports content from our network and beyond.