Found March 20, 2013 on Fox Sports Ohio:
He was the Big Man on Campus at Milton High, the steady force behind three straight Georgia state-title game appearances. The son of former NBA player Charlie Scott was a McDonald's All-American, the higest honor among today's highly-touted recruits. Shannon Scott worked hard to maximize those God-given gifts and basketball genes. But a funny thing -- or not so funny to Scott -- happened when he showed up at Ohio State in the fall of 2011 and started going against incumbent point guard Aaron Craft in nearly every competitive drill in practice. He knew he wasn't in Alpharetta, Georgia, any more. "It was definitely a different experience," Scott said. "Back in practice in high school I was usually guarded by the point guard from the JV team. That was a little easier for me." Scott laughed. The payoff is coming now. Those days of being pushed by Craft, who's generally regarded as college basketball's most relentless on-ball defender, continue, but Scott is handling them much better than he used to. He's handling everything better, and he's matured into a key role for an Ohio State team that enters the NCAA tournament riding an eight-game win streak. In all eight of those games, a two-point guard lineup of Craft and Scott has forced opponents into mistakes and has helped the Buckeyes offense get better shots. Ohio State is playing both faster and smarter, and opposing guards who already had to adjust to Craft's skill set are finding that Scott can play more than a little bit, too. "They deflate people," Ohio State forward Sam Thompson said of the Craft-Scott combo. "Our whole team sees it. The other team sees it, and it feeds our energy." To fully apprecitae the way Craft and Scott work together is to watch them and watch the eyes of the guards they're disrupting, not to peruse box scores. Scott is undoubtedly playing the best basketball of his two years at Ohio State, yet didn't score a point in the Buckeyes' last two wins at the Big Ten tournament last weekend. He did deliver a total of 7 rebounds, 8 assists and 5 steals. He's had just four double-digit scoring games all season but, especially of late, has consistently given Ohio State quality minutes and made game-changing plays with steals, chasedown blocks and the ability to handle the ball confidently while still deferring to Craft in the biggest moments. Scott is usually the first player off the Buckeyes bench but says he doesn't need to start. He likes seeing the start of the game, "getting a read on things," he said, and preparing to come in and try to force the opponent to play faster than it wants to. "I think I have my more confidence in myself, and I think my teammates trust me," Scott said. "Aaron has always helped me keep my head up, always stay positive. I go against him every day in practice, and I get in the game and I don't see many defenses play the way he does every single day." Those early practices, Scott admits now, against Craft were a bit overwhelming. "It was different," he said. "Humbling. Definitely humbling. "I always knew I could do it. I had to get my mind right with it. I had to show up to play every day." Going back to his first head-coaching job at Butler, Ohio State coach Thad Matta has had an affinity for playing multiple point guards at the same time. In guiding Xavier to the Elite Eight back in 2004, he played Romain Sato and Lionel Chalmers together -- including all 40 minutes in multiple NCAA tournament games. At least part of this Craft-Scott experiment was borne out of necessity. Ohio State hit rock bottom in a 71-49 loss at Wisconsin on Feb. 17 but hasn't lost since, partly, Matta said, because the players have taken ownership and responsibility, and partly because they've found another gear. The Buckeyes two point guards have been much better than anyone else's one. "I just think both Aaron and Shannon have a sense of awareness on the floor and a sense for what the other can do," Matta said. "They play very well together at both the offensive and defensive end. That's the biggest thing. They aren't getting in each other's way." Scott's minutes over the last month have increased steadily, as have his other numbers. The Buckeyes are getting the best from him and from several other players, and they're getting easier baskets off the opportunities Craft and Scott create. "Going small the last few weeks has been really beneficial for us," Ohio State assistant coach Jeff Boals said. "Thad likes playing those guards together. He likes versatility. "The biggest thing with Shannon is how far he's come with his confidence level. He's a huge reason why we've won all these games in a row, and he's starting to see and believe that for himself. He changes the dimensions of the game at both ends with his athleticism." Somewhere in Alpharetta, Georgia, is a former JV point guard who's better for having had to battle Scott every day in practice. As Ohio State heads to Dayton to start its quest for back-to-back Final Fours, a player who played a bit part last year looms as key contributor now. 'I don't know if Aaron hounding him in practice was ever deflating for Shannon, but Shannon knew it was making him better," Boals said. "Shannon has made the best of it. He's taken pride in working extra." Said Thompson: "Aaron and Shannon are both great at creating. They're both unselfish. They get us easy points with their defense, but whenever they're on the court together our offense seems to be smooth."
Original Story:
http://www.foxsportsohio.com/collegef...
THE BACKYARD
BEST OF MAXIM
RELATED ARTICLES
Jim Foster, who won 783 games at Saint Joseph's, Vanderbilt and the last 11 years at Ohio State, will not return as women's basketball head coach next season, Ohio State announced on Tuesday. Miechelle Willis, the Ohio State executive associate athletic director who oversees the program, said it was a mutual decision. ''There has been some discussion with the postseason...
Thad Matta loves the University of Dayton Arena. Even though Ohio State hasn't fared all that well there since he's been head coach - never made it out intact in the NCAA tournament - it's still the place for his fondest college memory. It's where he hit a game-winning shot for Butler. The second-seeded Buckeyes (26-7) open on Friday against Iona (20-13). It'...
The Ohio State basketball team appears to be peaking at the right time, and LaQuinton Ross could be the piece that makes the Buckeyes – the No. 2 seed in the West Regional of the NCAA Tournament – a legit Final Four contender.
As Ohio State prepares to begin the NCAA Tournament, some have debated just how good this late-charging Buckeye squad is compared to some of Thad Matta's previous teams. BuckeyeSports.com ran some numbers and came up with some conclusions on which Matta squads might be best.
Ohio State returned to the practice field after an extended time off for spring break, and the head coach of the Buckeyes was not thrilled with the results. He also talked about a recent NCAA announcement regarding potential deregulation of recruiting.
Ohio State administrators are searching for a new women's basketball coach after deciding Jim Foster is no longer the man for the job. Foster led Ohio State to six Big Ten titles in 11 years, but his tenure was haunted by frequent shortcomings in the NCAA tournament.
The Ohio State basketball team – the No. 2 seed in the NCAA Tournament's West Region – will face a tough road if it wants to make its second Final Four appearance in as many years. However, this road won't have as many traditional college basketball powers standing in the way.
Former star Ohio State running back Maurice Clarett has set his sights on the 2016 Olympics in Rio, joining the Tiger Rugby Olympic Development Program.
Maurice Clarett was a college football hero 11 years ago when he led the Ohio State Buckeyes to a shocking upset of the heavily favored Miami Hurricanes in the 2002 BCS National Title game. Clarett was the catalyst of the offense for the entire season, and he was only a freshman. But that was the height of his athletic career, as he was dismissed from the program following several...
5'9" Evan Yabs, guard for the Warren Warriors, scored just 2 points Saturday in Warren High School's regional championship game against New Philadelphia. But it was the final 2. Tied at 47 all,... Full story at Bob's Blitz ~ http://www.bobsblitz.com
Ohio State received a stunning commitment earlier this year from Detroit Cass Tech four-star cornerback Damon Webb. What are the Buckeyes getting with this multi-talented athlete?
Photos from BSB's Kevin Dye of Ohio State's March 19 practice.
Buckeyes News

Delivered to your inbox

You'll also receive Yardbarker's daily Top 10, featuring the best sports stories from around the web. Customize your newsletter to get articles on your favorite sports and teams. And the best part? It's free!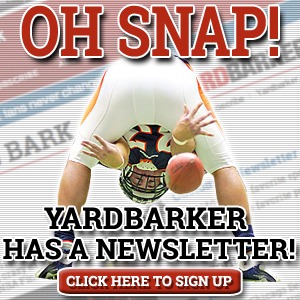 Latest Rumors
The Backyard

Today's Best Stuff

For Bloggers

Join the Yardbarker Network for more promotion, traffic, and money.

Company Info

Help

What is Yardbarker?

Yardbarker is the largest network of sports blogs and pro athlete blogs on the web. This site is the hub of the Yardbarker Network, where our editors and algorithms curate the best sports content from our network and beyond.