Found April 08, 2012 on SCACC Hoops:
If you've been keeping up with Duke Basketball at all since the season ended you've been keeping two eyes squarely fixed on the recruiting news. And lately that recruiting news has involved the possibility of transfers coming to Durham.
On Saturday, that hope of landing at least one of two transfers considering Duke died when former Central Michigan guard Trey Zeigler announced he would play for Pitt.

The news came to some Duke fans as a bit of a shock, as many felt Zeigler would be a good fit in Durham and that he may have been leaning toward Duke since he was interested during his original recruitment a few years ago.

Alas it wasn't meant to be and the Blue Devils are still recruiting hard hoping to add more talent to its roster for the 2012-2013 season. However, the odds of landing any of their remaining prospects appear to be dwindling and that leaves one pressing question.

Does Duke still have the same appeal to recruits that it once had?

It isn't as easy as yes or no. The recruiting game has gotten increasingly more complicated as the years and rules of the game have changed.

Duke is still one of the winningest programs in college basketball and one of the most lucrative ones as well. They've won a national title as recently as 2010, have the all-time winningest coach in Division I men's basketball history and have pretty much every game televised.

That in and of itself is enough to bring recruits knocking on your door as much as you'd knock on theirs.

But the landscape of college basketball has shifted. The ultra talented players who have become the one-and-done generation aren't looking at that as much these days.

As I've written before Duke's academic expectations as a university and the demands of its coach are a turn off to some of the kids who see college as a one year, and in some cases one semester academic requirement before they turn pro.

The idea of a 65 year old man pushing you to your limits and holding you to a higher standard doesn't appeal to everyone. The kids of the "got to have it now" generation don't want to be forced to play team basketball. They don't want to be made to go to class and work as hard academically as they do on the basketball court.

And in some cases they don't want to even work hard on the basketball court and simply rely on their natural talent to bring them fame and glory.

So the idea of coming to Duke and earning what you get isn't something that some of the better players these days care all that much for. 

In the Duke Back to Back 1991-1992 documentary, Christian Laettner talked about how that was a big draw for him and a reason why he came to Duke. He didn't want anything handed to him. He wanted to earn what he got and he respected Krzyzewski for that.

Many recruits do not share that feeling now. And while many a recruit will talk about the respect they have for Duke and Krzyzewski, it is the younger, flashier coach that starts freshman and turns the program over to them that is beginning to win the recruiting wars.

Duke is still a top tier program and many top level recruits still have interest in playing for the Blue Devils and especially Krzyzewski, but public perception about Duke has changed drastically over the last 20-plus years.

Back in the late 1980s and early 1990s when Duke was becoming a national power, the Blue Devils were seen as far more favorable a program than they are today. Duke was revered then while now they are more despised.

Winning does that though. When you win all the time you draw a fair amount of detractors and Duke has won an awful lot the last 30 years. And in that time they have gone from sympathetic underdog to hated favorites.

That fact isn't lost on some recruits who might not want the scrutiny of being a member of one of the more hated programs in college basketball.

But there are other reasons. Recruit Tony Parker is said to have been critical of how Duke has utilized its big men over recent years and a former target, Mitch McGary, now a Michigan commit, stated all Duke's big men did was rebound and set screens.

So there is some positional bias that has formed around Duke. The Blue Devils coaching staff is comprised of former guards and opposing coaches use that as ammunition when it comes to recruiting big men.

And the facts aren't deniable. Duke hasn't had a dominant low post player since Shelden Williams, and prior to him it was Carlos Boozer and then Elton Brand. So their is a history of good to great big men, but there really hasn't been one since the mid-part of this last decade.

Guards still are attracted to Duke and the Blue Devils seemingly have little trouble attracting them, but they have had trouble getting dominant wing players too.

Whether real or just perceived there is some truth that Duke has lost its appeal on some of the more top level recruits.

Is it just a temporary set back or a more long-term slide? That remains to be seen and Duke is still winning 25 or more games a season and are just two years removed from a national title so we aren't in crisis mode or anything.

So while this recruiting class isn't likely to make or break the future of the program, it may be more symptomatic of the change in recruits thinking and the fact that the competition for top talent is that much greater and Duke's appeal just may not be strong enough to win them over like it use to.

Only time will tell though if this is a temporary set back or a more long-term problem but like the recruits who are still deciding we will all have to wait and see.

Be sure to follow us on Twitter @DukeSportsMKline and visit our Facebook page- Duke Sports Blog. Questions e-mail us at dukesportsblogmkline@gmail.com
This article was originally published at
http://DukeSportsBlog.com
. If you are interested in sharing your website's content with
SCACCHoops.com
,
Contact Us
.
Original Story:
http://www.scacchoops.com/tt_NewsBrea...
THE BACKYARD
BEST OF MAXIM
RELATED ARTICLES
Trey Zeigler has decided to transfer from Central Michigan to Pitt for the 2013-14 season.
Trey Zeigler averaged over 31 minutes a game last season for Central Michigan, to go with 15.8 points a game. He also averaged over 34 minutes in the 2010-11 season with over 16 points a game.
I don't know what this does for the recruitment of Savon Goodman. Whether it helps because land Goodman because of the talent coming and on the roster along with the potential for big minutes early — if not starting at power forward — or if it means Pitt backs off on Goodman because it would mean either pulling the offer to Chris Jones or forcing another player off the team...
College Basketball News

Delivered to your inbox

You'll also receive Yardbarker's daily Top 10, featuring the best sports stories from around the web. Customize your newsletter to get articles on your favorite sports and teams. And the best part? It's free!
THE COLLEGE BASKETBALL HOT 10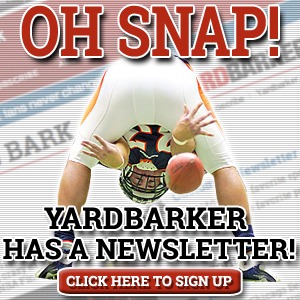 Latest Rumors
The Backyard

Today's Best Stuff

For Bloggers

Join the Yardbarker Network for more promotion, traffic, and money.

Company Info

Help

What is Yardbarker?

Yardbarker is the largest network of sports blogs and pro athlete blogs on the web. This site is the hub of the Yardbarker Network, where our editors and algorithms curate the best sports content from our network and beyond.