Found October 08, 2013 on SCACC Hoops:
PLAYERS:
Michael Snaer
,
Devon Bookert
,
Ian Miller
,
Aaron Thomas
,
Okaro White
,
Kiel Turpin
,
Boris Bojanovsky
,
Robert Gilchrist
,
Michael Ojo
,
Montay Brandon
,
Terrance Shannon
,
Joey Moreau
,
Rafael Portuondo
,
Terry Whisnant II
TEAMS:
Florida State Seminoles
,
Boston College Eagles
,
Kansas State Wildcats
Our ACC basketball previews continue with the Florida State Seminoles. ACC Season Previews Boston College |  Clemson |  Duke |  FSU FSU Season Preview Record Last Season 18 - 16, 9 - 9 ACC Players Lost Michael Snaer  New Players Jarquez Smith, Xavier Rathan-Mayes, Brandon Allen Projected Lineup Devon Bookert, Ian Miller, Aaron Thomas, Okaro White, Kiel Turpin  Schedule Highlights 11/21 vs VCU, 11/29 @ Florida, 12/3 @ Minnesota, 12/21 @ UMass FSU Schedule FSU Scouting Report Projected Statistics (Returning Players Only) Explanation of Statistic Projections   Name Pts Asts Rbds Stls Blks TOs % Correct  Okaro White 13.2 1.6 6.5 1.0 1.0 2.2 73  Ian Miller 13.0 2.8 3.1 0.9 0.2 2.2 86  Aaron Thomas 9.1 1.4 3.3 0.8 0.4 1.6 91  Devon Bookert 8.4 2.6 2.6 0.9 0.1 1.8 89  Boris Bojanovsky 6.8 0.7 4.4 0.4 0.8 1.2 93  MontayBrandon 6.0 1.8 2.4 0.9 0.2 1.4 90  Terry Whisnant II 6.0 1.0 1.9 0.5 0.1 1.1 89  Kiel Turpin 5.1 0.5 3.1 0.3 0.8 1.1 89  Robert Gilchrist 3.4 0.4 1.9 0.3 0.3 0.6 94  Michael Ojo 3.0 0.4 2.1 0.3 0.6 0.7 96 Things to Watch The calling card of Leonard Hamilton's teams is strong defense. But last season's Florida State team was anything but that. One of the top defenses in the country two years ago, the defense ranked near the bottom of the ACC in many defensive categories, including scoring defense, rebounding margin, and field goal defense. which helped the Seminoles finished 18-16 overall and 9-9 in the ACC. Backcourt The departure of Michael Snaer is a huge loss for the Seminoles. It is not just because of his all around ability on offense and defense, but his knack for hitting the game winning shot will be missed. Left over is a veteran and a couple of up and comers. The veteran,  senior Ian Miller, had a rough year shooting the ball, averaging only 5.3 points, but shooting just 32% from the field, and 27% from three point range. He was also playing with a foot injury, so the numbers should go up this season. The up and comers are all sophomores. Devin Bookert started the final 11 games of the season, and proved to be a pretty solid scorer and passer, finishing fourth on the team in scoring, and second in assists. Aaron Thomas and Montay Brandon also saw a lot more playing time towards the end of the season, and both played well at times. They both need to improve on three point shooting. Thomas shot 22%, while Brandon shot 29%. Frontcourt Despite a lot of size in the frontcourt, there was not a lot of production, especially in the rebounding department. The Seminoles were last in the ACC in rebounding margin, despite playing three players who are 7-0 or taller. The top rebounder is 6-8 senior Okaro White. He was easily the best player in the FSU backcourt, finishing second on the team in scoring, as well as finishing second in blocked shots. With Snaer gone, he will be asked to assume a lot of the on court leadership Snaer had.  Look for freshman Jarquez Smith to back him up. He may fill in some of what Terrence Shannon did last season. The 6-9 freshman is a good shooter, and his range will be tough to defend for somer forwards. Kiel Turpin led the team in blocked shots, and shot 51% from the field. He could see a rise in producition this year as well, as well as Boris Bojanovsky. He only played 11 minutes per game, but averaged just under one block per game.  Michael Ojo is still a work in progress. He only played five minutes per game, but shot just 29% form the field, and 36% at the free throw line. Schedule The toughest portion of the non conference schedule will be in late November in to early December. The Seminoles will take part in the Puerto Rico Tip-Off classic, facing VCU, and potentially Michigan, Georgetown, and Kansas State. After that, there are two straight road games with Florida and Minnesota that will be tough games. In ACC play, the Seminoles will be on the road for five of the first eight, facing Virginia twice in two weeks. They will follow that with four of the next six at home, before finishing with two home and away games, with Pitt and Syracuse included in that final stretch. Prediction For things to break right for Florida State this year, there will have to be a drastic improvement on defense. The Seminoles will likely lead the league in block shots again, but they can't finish near the bottom of the league in the key statistical categories again. Offensively, I do think they will score better this year, even without Michael Snaer. I think Devin Bookert could cross the 10 points per game mark, and Aaron Thomas could do it as well. As much as I think the defense will improve this year, I don't think it will be enough to get them back up the ACC ladder much this year. by Will Ojanen @WillsWorldMN Fantasy Player toWatch Okaro White is the team's leading returning scorer and rebounder, and figures to lead in both again this year. His shooting percentage has increased every year, up to 51% last year. If he can improve on that, he could be a 14-15 point per game scorer. Last Year's Player Statistics FSU Name GP Mins Pts Asts Rbds Stls Blks TOs FG% 3P% FT%  Michael Snaer  33  32.7  14.8  2.5  4.5  1.0  0.5  2.8  42.5  38.4  81.7  Okaro White  34  28.9  12.4  0.8  5.9  1.0  1.1  1.6  51.1  31.3  81.5  Devon Bookert  34  21.5  6.5  2.4  1.8  0.6  0.1  1.7  48.9  52.5  81.8  Aaron Thomas  34  18.6  6.0  1.1  2.4  0.6  0.3  1.4  40.8  22.0  70.0  Kiel Turpin  34  15.8  5.4  0.3  3.0  0.4  1.3  0.9  51.1  0.0  69.8  Terry Whisnant II  30  17.2  5.2  0.6  1.0  0.5  0.1  0.4  40.6  35.6  95.2  Ian Miller  28  18.8  5.3  1.9  1.6  0.8  0.0  1.4  32.7  27.7  63.4  Terrance Shannon  20  21.0  7.9  0.8  5.6  1.2  0.6  2.3  46.2  0.0  64.9  Montay Brandon  33  19.8  3.9  1.4  1.8  0.3  0.2  1.9  42.2  29.0  48.9  Boris Bojanovsky  33  11.1  2.9  0.3  1.9  0.2  0.8  0.6  54.7  0.0  75.8  Robert Gilchrist  25  8.4  1.9  0.1  1.2  0.2  0.2  0.7  42.9  12.5  30.8  Michael Ojo  27  5.0  0.7  0.1  1.0  0.1  0.3  0.3  29.2  0.0  36.4  Joey Moreau  6  1.2  1.3  0.0  0.0  0.0  0.0  0.0  40.0  66.7  100.0  Rafael Portuondo  6  1.2  0.3  0.2  0.0  0.2  0.0  0.5  100.0  0.0  0.0 Team Stats Widgets Add these Widgets to YOUR Site
Original Story:
http://www.scacchoops.com/tt_NewsBrea...
THE BACKYARD
BEST OF MAXIM
RELATED ARTICLES
TALLAHASSEE, Fla. -- Florida State junior safety Tyler Hunter had surgery to repair a bulging disc in his neck Tuesday and will miss the rest of the season. "(He) expects to make a full recovery and be back next year," Florida State coach Jimbo Fisher said. Hunter started the first three games for Florida State and he is eligible to take a medical redshirt. He would then...
If you aren't already pumped, check out this goosebump-giving Clemson vs. Florida State football hype video for the 2013 showdown in Death Valley.
Through five games as a college quarterback Florida State's Jameis Winston has completed 73% of his passes, thrown for 1,441 yards, and tossed 17 TDs against only 2 picks. He had a career day in Tallahassee on Saturday, shredding a Maryland defense that was allowing 10 points per game for 393 yards and 5 TDs enroute to a 63-0 win. THIS play: MY GOD. It&...
Baylor and Florida State lay the hammers down, Texas benefits from a blown call (AGAIN), and Georgia becomes the walking wounded. This is week 6. The Bests and Worsts of Week 6: Best: The Turtles Get Tomahawk Chopped Florida State 63, Maryland 0. JAMEIS, who threw five touchdowns, led the 'Noles over the Terps in historic [&hellip(Visited 1 times, 1 visits today)The post The...
Florida State is winning in style in 2013, both on and off the field, apparently. You already know about the Seminoles' perfect 5-0 record, but did you know they have serious fashion skills, too? This photo was snapped of defensive tackle Jacobbi McDaniel in class on Tuesday, when he rocked a serious combination of gym shorts cowboy boots: Yes, @Jacobbi55Apollo wears cowboy boots...
This preview and more on Florida State and the ACC are available in the Athlon Sports 2013-14 College Basketball Preseason Annual. The magazine is...
Clemson-Florida State on Oct. 19. That's the game everyone in the nation has been pointing to as the ACC's game of the year since before the season began. And with good reason.
Fort Campbell (KY.) RB Triston Luke took a trip south to Tallahassee to see Florida State take on Maryland. Luke talked with FOX Sports Next about his trip.
Seminoles News

Delivered to your inbox

You'll also receive Yardbarker's daily Top 10, featuring the best sports stories from around the web. Customize your newsletter to get articles on your favorite sports and teams. And the best part? It's free!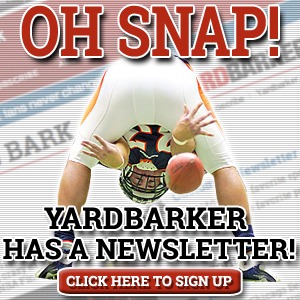 Latest Rumors
Best of Yardbarker

Today's Best Stuff

For Bloggers

Join the Yardbarker Network for more promotion, traffic, and money.

Company Info

Help

What is Yardbarker?

Yardbarker is the largest network of sports blogs and pro athlete blogs on the web. This site is the hub of the Yardbarker Network, where our editors and algorithms curate the best sports content from our network and beyond.