Found December 03, 2012 on Fox Sports Wisconsin:
MADISON, Wis. A point guard change had been brewing at Wisconsin for a few games as the minutes between starter and backup significantly shifted. So when Badgers coach Bo Ryan read off the list of starting defensive assignments before Wisconsin's Nov. 28 game against Virginia, maybe it wasn't all that surprising that Traevon Jackson surpassed George Marshall in the rotation. "We were doing things well while we had certain rotations on the floor," Jackson said. "So I had an idea, but I didn't know for sure." Not surprising. But noteworthy nonetheless. Last season, Wisconsin used the same starting five in all 36 games, led by the team's senior point guard Jordan Taylor. He played a team-best 36.0 minutes per game and averaged 14.8 points, 4.1 assists and 3.8 rebounds. There was never a question Taylor would lead the team in times of crisis. With his graduation and a season-ending ACL tear to Josh Gasser, the expected starter, that left Jackson and Marshall as inexperienced point guards tasked with leading a preseason top-25 team. It hasn't always been easy, as Wisconsin lost three of its first seven games and fell out of the national rankings. "We knew that when you lose Jordan Taylor, obviously there's going to be an adjustment," Badgers assistant coach Lamont Paris said. "I think you can tell that you rely on Jordan Taylor in all different aspects -- leading the team, what we're in, guys looking at him, scoring, handling the ball. No discredit to these guys, but they just haven't been in those situations enough to be as good as that guy was at them." Marshall started the first six games, but by that sixth game against Arkansas, Jackson was playing more minutes. During Wisconsin's 77-70 victory against the Razorbacks, Jackson scored 11 points with two assists and three turnovers in 28 minutes. Marshall scored three points with one assist and three turnovers in 16 minutes. The next game, Wisconsin's coaching staff made the switch. Although others may have seen the move coming, Marshall said he was surprised. "It was definitely a tough thing to deal with," he said. "But at the same time, it's just some stuff I need to do better. And it's just a constant learning process. As soon as I get better at those things, just keep playing well and things will get better. I'm not really worried about it at all. "Just keep playing more aggressive. Keep communicating more. I would say those are the main two things I want to keep getting better at." Marshall, a redshirt freshman, has played well in spurts and is a better outside shooter than Jackson, a sophomore. Marshall has made 16 of 40 shots from the field (40 percent), including 13 of 32 3-point tries (40.6 percent). Jackson, whose mid-range jumper is his calling card, has made 12 of 36 shots (33.3 percent) and 4 of 16 3-pointers (25 percent). This season, both players' overall stats are relatively close: Marshall is averaging 5.9 points, 1.6 assists and 1.5 rebounds per game in 21.5 minutes. Jackson is averaging 4.6 points, 2.6 assists and 1.6 rebounds in 21.9 minutes. Neither player scored a point during Wisconsin's 81-56 victory against California on Sunday. Jackson tallied three assists and two turnovers in 23 minutes, while Marshall had three assists and no turnovers in 11 minutes. Wisconsin (5-3) plays host to Omaha (2-7) at 7 p.m. CT Tuesday, and Jackson is expected to earn his third start of the season. "I haven't really been scoring," Jackson said. "I need to be more aggressive and assertive in that way when it comes time for that. In terms of just making plays for others, I think that's the biggest thing. Making the extra pass that leads to the pass that scores, controlling the tempo -- that's stuff I've got to continue to get better at. And being more assertive in my decision making." Paris said the decision to switch starting point guards was based more on what Jackson was doing rather than what Marshall wasn't doing, although he didn't get into particulars. Jackson, at 6-foot-2 and 213 pounds, does present a stronger defensive presence than the 5-11, 185-pound Marshall. "They're both sort of getting a feel for the position and continuing to develop as point guards," Paris said. "There were just some things that Trae was doing that we felt were a better fit right now at the time. Nothing specific. Not like you're not playing D." Jackson and Marshall live together with teammates Frank Kaminsky and Jordan Smith, but both say the on-court battle hasn't affected their relationship off the court. If anything, Jackson hopes it makes their bond stronger. "That's like my brother," Jackson said. "It's tough for his situation. I'm going to be there for him. You've just got to keep encouraging him. A lot of that is things that are out of our control. What's in our control is that we can be good roommates and good teammates." Marshall indicated he wouldn't let the move affect his confidence. This is his first full season as a contributor at the collegiate level, and there are still 23 games remaining in the regular season. "I was always really confident," Marshall said. "So even though I was kind of surprised by this, it still didn't waver my confidence or anything like that. It's just up to me to play more aggressive and communicate more and things will be fine. My confidence is still high." Follow Jesse Temple on Twitter.
Original Story:
http://www.foxsportswisconsin.com/12/...
THE BACKYARD
BEST OF MAXIM
RELATED ARTICLES
Wisconsin guard Ben Brust scored 15 points and grabbed 10 rebounds to lead Wisconsin over Nebraska-Omaha 86-40 on Tuesday night. Brust was one of five Badgers (6-3) in double figures. Ryan Evans had a double-double with 10 points and 11 rebounds, while Jared Berggren scored 13, Frank Kaminsky had 11 and Sam Dekker chipped in with 10. Justin Simmons led Nebraska-Omaha (2-8) with...
The Badgers (6-3) came out strong Tuesday night and defeated Nebraska Omaha (2-8) 86-40 at the Kohl Center on Friday. It was a great offensive showing for Wisconsin, who shot 48.6% from the field and really had the ball moving fluently throughout the game. The Badgers were fueled by a pair of double doubles from Ben Brust and Ryan Evans. Brust had 15 points and 10 rebounds, also...
INDIANAPOLIS –Wisconsin got it done on the ground as they crucified No. 13 Nebraska 70-31 in the Big Ten championship game. James White and Montee Ball combined for seven rushing touchdowns on Saturday as the Badgers qualified for their third straight Rose Bowl.  Please Click Here To Read This Story & Watch Video Highlights
Wisconsin junior guard Ben Brust and senior forward Ryan Evans each post a double-double and Wisconsin forced 19 turnovers, as the Badgers roll over Nebraska-Omaha, 86-40, Tuesday night to close out the go 2-1 on the three game home stand.
INDIANAPOLIS Sometimes, you show up to a stadium or turn on the television with absolutely no idea how a game will play out. Pundits say it should be close, but who really knows until they take the field? That's the beauty of sports. Wisconsin entered Saturday's Big Ten championship against Nebraska as a slight underdog and unloaded on the Cornhuskers with an offensive...
If it wasn't weird enough to see a five loss Wisconsin Badgers team go to the Rose Bowl, Bret Bielema has shocked the college football community in taking the Arkansas Razorbacks' vacant head coaching job. Was it all about the money? Probably so, but let's not discount Bielema's urge to win a National Championship and we all know the SEC is ten times better equipped to do...
(photo courtesy AP) I don't know about you, but for myself the past two Rose Bowl seasons have been amazing journeys full of ups and downs, what could've beens and all that comes with it. But, this one, this 3rd one in a row, well it just smells and tastes that much sweeter. No doubt the Badgers had to overcome certain things in 2010 and 2011 to get to the championship...
Badgers News

Delivered to your inbox

You'll also receive Yardbarker's daily Top 10, featuring the best sports stories from around the web. Customize your newsletter to get articles on your favorite sports and teams. And the best part? It's free!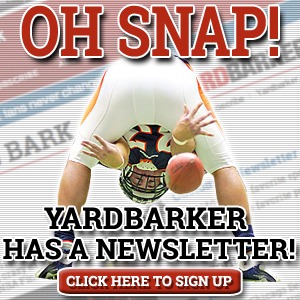 Latest Rumors
The Backyard

Today's Best Stuff

For Bloggers

Join the Yardbarker Network for more promotion, traffic, and money.

Company Info

Help

What is Yardbarker?

Yardbarker is the largest network of sports blogs and pro athlete blogs on the web. This site is the hub of the Yardbarker Network, where our editors and algorithms curate the best sports content from our network and beyond.