Found February 01, 2013 on Fox Sports Florida:
PLAYERS:
Michael Snaer
,
Austin Rivers
,
Luke Loucks
,
Jeff Peterson
,
Ian Miller
,
Kiel Turpin
,
Devon Bookert
,
Alex Len
TEAMS:
Florida State Seminoles
,
Virginia Tech Hokies
,
Duke Blue Devils
,
Maryland Terrapins
TALLAHASSEE, Fla. Michael Snaer said the shot was easy. He expected to make it. And he did. I knew it was going in once it left my hand, Snaer said minutes after knocking down a 3-pointer Wednesday night to lift Florida State past Maryland 73-71. So did Maryland coach Mark Turgeon, who couldnt believe that his defenders had left Snaer that open. But as soon as he took the shot a Terrapins defender said, Not again. Yes, again. Michael Snaer is making this business of knocking down last-second, buzzer-beating 3-pointers look like its no big deal. It doesnt seem to matter if there are hands in his face, and often there have been two defenders on him as he takes aim. Snaer just keeps sinking 3's, a pair of them inside seven days as the Seminoles escaped with home wins over Maryland and previously Clemson on Jan. 24. Last year, Snaer did it at Duke knocking down a 3-pointer both at the halftime buzzer and then again at the end of the second half to sink the Blue Devils. And then a month later, he found the basket again to defeat Virginia Tech. Thats four shots either at the buzzer or in the final few seconds of regulation. Its rare that a college player gets a chance to make more than one game-winning shot at the buzzer. Snaer has gone 4 for 4 in less than 400 days. Going back in the ACC, I cant think of a guy that has stepped up in this extraordinary fashion, said Mike Gminski, who calls ACC games on the Fox Sports networks. Ive seen one or two but not somebody that has made four. Snaer is a good 3-point shooter he has connected on 39.4 percent of his shots. He has made 172 career 3-pointers, a number that puts him comfortably in the top 10 on the schools all-time list. There are, however, plenty of guys across the nation shooting far better than 40 percent from beyond the arc, consistently knocking down shots over the course of a game. But when the clock begins to run out, nobody is doing it better than Snaer. Nobody in college basketball has ice water running through his veins like the senior guard. And nobody wants the ball more than Snaer. You first have to have the willingness to take the shot, Gminski said. There are a lot of people that arent willing to take that shot. With each shot, the legend has grown. The shot against Clemson a week ago was defended as well as it could have been. The other three shots have followed a trend: guard has the ball and creates attention, diverting eyes from Snaer and giving him a good look. From this time forward, Im going to put three guys on Snaer, Gminski said. Im not letting him sniff the ball. Jan. 21, 2012:Florida State 76, Duke 73 Duke had won 45 straight games in Durham, N.C., when Florida State made its visit. Florida State trailed 32-23 in the closing moments of the first half, but Snaer drained a 3-pointer at the buzzer to pull the Seminoles within six points. And then Florida State used a 50-point second half to edge the Blue Devils. After Austin Rivers tied the game with a layup with 4.9 seconds left, Florida State point guard Luke Loucks raced up the court, weaving around Duke defenders until he saw a wide-open Snaer who hit the shot as time expired. Just him being able to make that play it was a tremendous play, Snaer said of Loucks effort to get him the ball. All I had to do was shoot it. He pretty much set everything up perfectly. Feb. 16, 2012:Florida State 48, Virginia Tech 47 Less than a month after the shot at Duke, Florida State played host to Virginia Tech and was trailing 45-37 with 1:29 left. But the Hokies went 1 of 6 from the free-throw line down the stretch, and the door was open for a Florida State rally. The Seminoles did just that, using a Jeff Peterson 3-pointer, White dunk and Ian Miller 3-pointer to cut the lead to just 47-45 going into the final seconds. This time Peterson dribbled into the lane and drew attention before pushing the ball out to Snaer (who was left wide open and raised his hand to alert Peterson). He was again on the wing, in a similar spot as he had been when he made the shot against Duke just 25 days earlier. Snaer made the shot with 2.6 seconds left on the clock, and the Hokies missed a halfcourt shot at the buzzer. I was wide open, Snaer said. Anybody could have hit that shot I wanted it, of course. I know Im capable of making that shot and fortunately enough it went down. Jan. 24, 2013:Florida State 60, Clemson 57 The Seminoles trailed at home 29-21 at the half and nothing went well early. But Florida State again chipped away at the Clemson lead, as junior center Kiel Turpin had all of his 16 points after halftime. Snaer also drove the lane for a basket with 1:27 left and Devon Bookert made a 3-pointer off a Snaer assist to tie the game at 57 with 44 seconds left. Snaer had just eight points going into the final five seconds of the game, he seemed to take too long to dribble but then put up a 25-footer with two defenders in his face. The shot hit the backboard and went through the net. Of the four shots at the end of a game, this one was contested the best. And the distance from the basket well beyond the arc made it more challenging. I didnt know how it was going in, but I was like, This is probably going in, Snaer said. It felt good. I had that lucky touch before. You have a guy that has that lucky touch, you have to just give it to him. Jan. 30, 2013:Florida State 73, Maryland 71 The Seminoles trailed 62-54 with 6:56 left in the second half. And Maryland even shot 53 percent in the second half. But, yet again, Florida State found a way to put itself in position to win. The Seminoles tied the game on Ian Millers jumper with 2:32 to go. And after Marylands Alex Len couldnt dunk off an alley-oop with 13 seconds to go, Florida State trailed 71-70 but had time. Miller dribbled into the lane, seemed to momentarily lose possession, and drew the defenders before finding Snaer all alone on the left wing. Snaer was 6 of 12 on the night already, and he calmly launched one more shot. The 3-pointer was good with 1.1 seconds left, and Maryland missed on a halfcourt shot at the buzzer. To Snaer, this one felt like the easiest. Theres no way I can miss this one. Its never been this clean. If I miss that one, it would have been like, Seriously? It wasnt that much of a tough shot.
Original Story:
http://www.foxsportsflorida.com/02/01...
THE BACKYARD
BEST OF MAXIM
RELATED ARTICLES
There is no more clutch player in college basketball than Florida State's Michael Snaer. Including last night's heroics Snaer has made 4 game winning buzzer beaters in the last two seasons. Mostly notably he hit a three pointer at Duke last season to give the Seminoles the win. Now, back to last night Snaer hit a jumper with 46 seconds left to cut the Maryland lead to one point...
Michael Snaer made a 3-pointer with 1.1 seconds left to lift Florida State to a 73-71 win over Maryland on Wednesday. It was the second last-gasp 3-pointer in seven days for Snaer, who also lifted the Seminoles to a 60-57 win when he banked in a 25-footer at the buzzer to beat Clemson. Snaer also had two buzzer-beating 3-pointers last season to give Florida State wins over Duke...
Game time: Saturday at 2 p.m. TV: ESPN Michael Snaer continues to knock down game-winning shots, and Duke is well-versed in what Florida State's top scorer can do down the stretch. The fifth-ranked Blue Devils hope to avoid any heroics from Snaer when they visit the Seminoles on Saturday. The last two home games for Florida State (12-8, 4-3 ACC) have been victories courtesy...
Florida State's Michael Snaer hits game winning 3-pointer with 1.1 seconds remaining
Michael Snaer continues to knock down game-winning shots, and Duke is well-versed in what Florida State's top scorer can do down the stretch. The fifth-ranked Blue Devils hope to avoid any heroics from Snaer when they visit the Seminoles on Saturday. The last two home games for Florida State (12-8, 4-3 ACC) have been victories courtesy of Snaer, who banked in a 25-footer at...
TALLAHASSEE, Fla. Florida State pitcher Mike Compton will undergo Tommy John surgery to repair a damaged ligament in his right elbow and miss the 2013 season. News of Comptons surgery comes two weeks before the Seminoles open the 2013 campaign on February 15 with a three-game series against the University of Rhode Island. The Missouri native posted a 12-2 record with a 2.87 ERA...
TALLAHASSEE, Fla. The Duke Blue Devils have moments where they look fallible. Losses to NC State and Miami diminish their resume. But then Duke shows just how good they are, how dominating they can really be for 40 minutes. And it shows just how tough a matchup the Blue Devils will be for anyone in the NCAA tournament. No. 5 Duke put on a basketball clinic Saturday afternoon,...
Next up for Duke is Florida State, and while Leonard Hamilton's bunch appears to have taken a step or two back this season, they're still dangerous: as long as they have a shot in the end, they have Michael Snaer to take it, and he's probably the best ACC clutch shooter since Christian Laettner. No. 5 Duke pays visit to FSU FSU, Miami take aim at key college basketball games...
Signing day is less than a week away and Florida State fans will eagerly wait Gus Edwards decision on whether he will attend FSU or Miami. Regardless of whether Edwards chooses FSU running back will be an area where the 'Noles will be looking to land at least two prospects. Currently they have Miami Central superstar Joseph Yearby committed in the 2014 class.
College Basketball News

Delivered to your inbox

You'll also receive Yardbarker's daily Top 10, featuring the best sports stories from around the web. Customize your newsletter to get articles on your favorite sports and teams. And the best part? It's free!
THE COLLEGE BASKETBALL HOT 10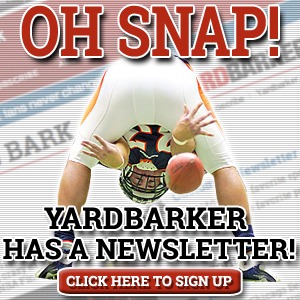 Latest Rumors
The Backyard

Today's Best Stuff

For Bloggers

Join the Yardbarker Network for more promotion, traffic, and money.

Company Info

Help

What is Yardbarker?

Yardbarker is the largest network of sports blogs and pro athlete blogs on the web. This site is the hub of the Yardbarker Network, where our editors and algorithms curate the best sports content from our network and beyond.