Found February 25, 2013 on Fox Sports Florida:
GAINESVILLE, Fla. (AP) --No. 8 Florida has been through this before -- all year really. The Gators will be without two key backups at Tennessee on Tuesday night, the latest injuries woes for coach Billy Donovan's team. Guard Michael Frazier II (concussion) and forward Will Yeguete (knee) will miss the game, but could be back Saturday against Alabama. Frazier sustained a concussion last Saturday against Arkansas when he went head-first into Scottie Wilbekin's knee while chasing a loose ball. Yeguete had arthroscopic surgery on his right knee Feb. 8 to remove loose bodies. Their absences will leave the Gators (22-4, 12-2 Southeastern Conference) short-handed against the Volunteers (16-10, 8-6). That's nothing new for Donovan, who's become accustomed to juggling his roster this season. Florida already has played without point guard Wilbekin (suspension), guard Mike Rosario (ankle), forward Casey Prather (concussion, ankle) and forward Erik Murphy (broken rib). The result: Donovan has had his entire rotation available for just seven games this season. "It's been kind of some strange stuff that's happened," Donovan said Monday. "The one thing that's been good is that our guys have responded. That's been the one positive. ... We've just gotten, obviously this year, a large rash of it. It's been a blessing that it hasn't been a situation where guys, their season has been over. They can't come back. "It's been these things that have happened that have kept guys out for a few games here or there, or guys have had to play through certain situations. But I think to a certain extent, maybe not to the extent that we've had to deal with, but guys are always dealing with different issues or challenges or problems." Frazier, a freshman averaging 6.4 points a game, has yet to fully pass his baseline concussion test, so Donovan ruled him out against Tennessee, which has won six of the last seven meetings at home. Yeguete, a junior averaging 6.0 points and 6.3 rebounds, ran sprints on consecutive days last week and had no swelling issues afterward -- positive signs for his return. He also went through shoot-around before Florida's win over the Razorbacks. But Yeguete won't be cleared to play until he starts practicing, which could happen later this week. "It's hard because we definitely miss those guys," said Prather, a 6-foot-6 small forward who might have to play some center Tuesday. Donovan initially said Yeguete would be out at least until the postseason, but the 6-foot-7 Frenchman is ahead of schedule in his rehabilitation. "He'll get to the point where maybe he'll be in practice where there's no contact, where he's just running, cutting, moving, down in his stance, shooting, those kind of things," Donovan said. "We'll wait again to see how he responds. There's a process he has to go through before the doctors feel comfortable. The thing that would set him back would be the swelling part of it. "They are not going to thrust him so fast into doing something just to have him set back. So they are going pretty slow with him right now just to see how he responds, but they are starting to do more and more." The biggest issue for Yeguete right now, Donovan said, is that he doesn't like the brace trainer have him wearing. "It's kind of restrictive," Donovan said. "It's something he needs to get used to, and most players don't like playing with something on them like that." Until Frazier and Yeguete return, Florida will be down to six of its usual, eight-man rotation. That means at least one of Donovan's other three freshmen -- Braxton Ogbueze, DeVon Walker or Dillon Graham -- will be thrust into an expanded role against the Volunteers. "They've got to get in early," said Donovan, whose team needs one win to clinch a first-round bye in the SEC tournament. "We're not going to be able to get through this game with just six guys. It'll be totally impossible, especially if you get some foul trouble. ... We've got to change, there's no question. We have to change. We have to do a lot of different things."
Original Story:
http://www.foxsportsflorida.com/02/25...
THE BACKYARD
BEST OF MAXIM
RELATED ARTICLES
Florida coach Billy Donovan is cautiously optimistic about his team's health. Forward Will Yeguete and guard Michael Frazier II were cleared to practice and play Thursday, giving Donovan a full complement of players heading into Saturday's game against Alabama. It's the first time in three weeks the eighth-ranked Gators (22-5, 12-3 Southeastern Conference) have been...
The hope for Florida was to get the entire team healthy by the time the SEC Tournament started. For a team that has been banged up with multiple injuries throughout the season, it looks like the Gators could get back to their trusted eight-man rotation as early as Saturday. Michael Frazier and Will Yeguete could return when the Gators host Alabama this weekend.
Florida's trip to Knoxville on Tuesday was a rather painful one.Billy Donovan's Gators fell to the Volunteers by a score of 64-58 and dropped to 1-7 in their last eight road games at Thompson-Boling Arena.However, no Florida player felt the sting of this loss more than Casey Prather, who was forced to leave the game with just under three minutes to go after suffering a head...
Florida fell to No. 8 in the Associated Press Poll and No. 6 in the Coaches' Poll following a loss at Missouri on Tuesday. The Gators now start a tough week at Tennessee on Tuesday and then hosting Alabama on Saturday.
I was strolling through the internet this evening and came across a video that made my night. Here's a video that has gone viral of British Teenagers talking about the NFL and it's quite hilarious! Perhaps my favorite part is when they're asking about football terminology and the lad in the Florida Gators (the Alma Mater of one Tim Tebow) sweater is asked about Tebow, and he...
The Gators made the trip to Knoxville undermanned. With a six-man rotation and a couple other inexperienced freshmen off the bench, Tuesday was already set as a challenge for No. 8 Florida. The two freshmen totaled 10 minutes while the Gators elected to go mostly with a six-man rotation. Three players were on the court for over 35 minutes as the Gators lost 64-58 to Tennessee.
The Gators travel to Knoxville to face a Tennessee team that boasts a 16-10 record and is 8-6 in Southeastern Conference play. Those numbers don't tell the entire story. The Volunteers have won five straight games and seven of their last nine. The Gators have won just one of their last seven trips to Knoxville, and they'll be challenged with a short bench on Tuesday night.
GAINESVILLE, Fla. When the Gators are at full strength, which has not been often this season, Billy Donovan has a solid eight-man rotation upon which he can rely. He used only seven players in the Gators' 71-54 victory over Arkansas on Saturday night in front of a sellout crowd at the O'Connell Center, still adjusting to life without junior forward Will Yeguete, who missed...
The Gators learned a lesson on Tuesday. At least that's what Florida head coach Billy Donovan hopes that Saturday's outcome showed. The Gators launched three-point attempts without hesitation at Missouri, and in the end, the reliance on the perimeter was the team's undoing. Saturday's conference win over Arkansas showed the Gators can still go inside when they need points in the paint.
He isn't your normal superstar basketball prospect in many ways. He's humble, sincere, spiritual, but he's also versatile on the court. His style of play is something that fits Billy Donovan and the Florida Gator style to a tee. Payton Dastrup is a 6-10, 230 pound nationally fifth ranked center and he got to see Florida basketball first-hand this past weekend.
Gators News

Delivered to your inbox

You'll also receive Yardbarker's daily Top 10, featuring the best sports stories from around the web. Customize your newsletter to get articles on your favorite sports and teams. And the best part? It's free!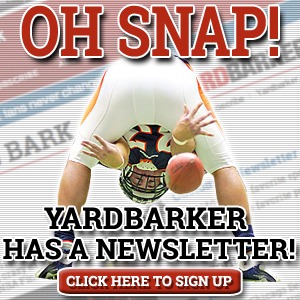 Latest Rumors
The Backyard

Today's Best Stuff

For Bloggers

Join the Yardbarker Network for more promotion, traffic, and money.

Company Info

Help

What is Yardbarker?

Yardbarker is the largest network of sports blogs and pro athlete blogs on the web. This site is the hub of the Yardbarker Network, where our editors and algorithms curate the best sports content from our network and beyond.