Posted March 05, 2013 on AP on Fox
Derek Elston, Jordan Hulls and Christian Watford came to Indiana to hang banners. They will always be viewed as something far greater in Bloomington: The Cornerstones. Instead of fleeing from a program coming off a six-win season, which was reeling from NCAA-imposed sanctions and had become a laughingstock around the Big Ten and the country, this trio embraced the challenge and over the next four years fought the long, arduous journey to get back on top of the college basketball world. So it seems fitting on a night the seniors will thank the fans for their support that the Hoosiers fans respond in kind as they celebrate their first Big Ten championship team in more than a decade. ''I love the fact that it was so hard for us in the beginning, not really getting anything, not only here, but with the league,'' Elston said. ''I felt like the league just didn't like us. They liked the fact that we were down. You look at videos of the past, and you see how bad it was and how everybody was kind of making fun of us.'' Those days are over, maybe permanently, thanks to a group that has a resume worthy of anything ever accomplished in Hoosiers lore. They restored the luster to one of America's most storied basketball schools, leading Indiana from rock bottom to two stints at No. 1 this season. Indiana (25-4, 13-3) slipped to No. 2 in Monday's poll. They overcame three season-ending injuries to redshirt junior Maurice Creek, their classmate who was supposed to lead Indiana's revival, and the continually nagging injuries to Elston, the muscular forward who was the last real recruit with any ties to the Kelvin Sampson phone-call scandal that led to Indiana's downfall. Elston's mother, Christina, said she's still in touch with Sampson and thanked him last week for helping Elston get to Bloomington. They also endured the mocking taunts of crowds on the road and the embarrassing losses to teams such as Boston University, Loyola (Md.) and Northern Iowa. But instead of losing hope, they bonded like brothers. As Creek continued to rehab year after year, his buddies kept pleading for his return. When Elston was diagnosed with yet another injury in October, Creek pointed to his own battles and urged Elston to keep working. And when Elston couldn't play in November's season opener, Watford wore Elston's jersey number instead of his own as a tribute to his fallen comrade. And it's that sort of camaraderie and leadership that has Indiana on the cusp of claiming its first outright Big Ten crown in two decades. They need one more win. ''That's why this class came here. We wanted to be a part of something special, being able to turn the IU basketball program around,'' said Hulls, Indiana's Mr. Basketball in 2009. ''Those hard years were definitely difficult, but we had our faith, and we stuck with it.'' Many believe the arrival of Cody Zeller, a sophomore, and the development of Victor Oladipo, a junior, are the reasons Indiana has re-emerged as a national contender, and they certainly helped. Look deeper, though, and there's more to this epic turnaround. Hulls, a Bloomington native, dreamed of playing for the crimson-and-cream team he followed but wasn't even recruited by the Hoosiers until the program went into a major free fall. He was the gym rat who pulled teammates one-by-one into his workouts, a club his father, J.C., an AAU basketball coach dubbed the 365 club. ''That first year, he lost more basketball games in one year than he did in his whole life. We had a lot of conversations, let's just put it that way,'' J.C. Hulls said, referring to that season's 10-21 record. ''We talked about leadership and banding together and I said get two or three guys and just get them together because it was just so decimated, it was unbelievable. He'd come in and say `I'm the only one shooting in the gym.''' His teammates finally got the message. Elston and Watford, once recruited by Kentucky, couldn't turn down the invites when they saw Hulls working out around the clock. Creek, too, became a member and eventually things started to turn. Hulls will finish his career as the highest-scoring Bloomington player in school history and, like his grandfather, John, who was an assistant coach on Bob Knight's first two Indiana teams, will leave school with a Big Ten crown in his final season. His sister, Kaila, also plays at Indiana, and Hulls' father is doing well after having a cancerous tonsil removed last spring. Watford made his mark another way. Last season's buzzer-beating 3-pointer against Kentucky was the shot heard round the country and his 27-point game in the NCAA tournament kept Indiana close to Kentucky in last year's NCAA tourney shootout. But instead of heeding the advice to skip his senior season and leave for the NBA, Watford opted instead to return to school, earn his degree and have his parents spend one more traversing the country to watch him play. The Watfords have been everywhere from North Carolina State, where a November 2011 victory foreshadowed the next big thing in Indiana basketball, to Portland, Ore., where the Hoosiers advanced to the NCAA regional semifinals for the first time in a decade last spring, to Assembly Hall where they saw their son make the shot and the jubilation that ensued. Even now, after packing more than 100,000 miles onto their vehicles, the Watfords can't believe how it all turned out. ''It's surreal, watching it go down in the aftermath of what happened,'' Ernest Watford said. ''It's a big-time resurgence. We needed to get this program moving again.'' Moving? Try thriving. The list of milestones achieved over the past two seasons include: Beating two No. 1 ranked teams (Kentucky and Michigan); Beating three top-five teams for the first time in school history; Winning 25 regular-season games for only the sixth time in school history; And, of course, clinching at least a share of the Big Ten title last weekend. They're hoping it doesn't stop there. The Hoosiers will head to Chicago as this year's Big Ten tournament championship favorite, one of the few tourneys Indiana has never won. Zeller and Oladipo are both vying for national honors and some believe Oladipo could pull off a rare grand slam by becoming the Big Ten's player of the year and defensive player of the year and winning the national awards in the same two categories. Both are projected to be top 10 picks in June's NBA draft, too, so Tuesday night could wind up being their home finales, too. And, of course, the biggest prize of all - a sixth national title - is still out there, too. But even at a place where success is measured in banners, the local know that this group of seniors will be remembered for so much more. ''We thought we were going to come in and, boom, there it was, we'd be in the tournament and all that. But it was just a constant grind, and we figured out it was going to take a little time,'' Watford said. ''We had to get some more pieces in here, weeded some guys out here and there. He added: ''I'm definitely proud to get my education and stuff like that, to be walking away with a degree at this university. And on the court, just what we've done. I hope to be proud of a national championship soon. That'll make my year.''
Original Story:
http://msn.foxsports.com/cbk/story/In...
THE BACKYARD
BEST OF MAXIM
RELATED ARTICLES
Faced with a career full of obstacles, Elston still found ways to contribute By Justin Albers Derek Elston and the rest of his class stepped onto campus in 2009, not knowing what to expect. Elston had honored his commitment to the Hoosiers despite a coaching change, but this wasn't what he signed up for. Elston, a Tipton, Ind. native, committed to the Hoosiers in Sept. 2007 as...
Derek Elston, Jordan Hulls and Christian Watford met with the media following Indiana's 67-58 loss to Ohio State on Tuesday at Assembly Hall. Watch and listen to their comments in the embedded media player below:
Derek Elston, Jordan Hulls and Christian Watford came to Indiana to turn a tattered program around. On Tuesday night, the three seniors and perhaps a few of their younger teammates will leave Assembly Hall for the final time with a Big Ten title. The only question is whether it will be the school's first outright championship in two decades. This is not just another rivalry...
Through endless hard work, Jordan Hulls changed IU's basketball culture By Justin Albers On paper, Jordan Hulls' story seems pretty simple. Bloomington kid grows up dreaming of playing at Indiana University. Works hard, becomes Mr. Basketball, goes to Indiana, succeeds. And while there's some truth in that abbreviated version, Hulls' path to the Hoosiers wasn't nearly...
Tuesday Night is senior night for the Indiana Hoosiers, and three players in particular — Jordan Hulls, Christian Watford, and Derek Elston will be taking the court one last time in Bloomington as they take on the 14th-ranked Ohio State Buckeyes. I was going to say it's been a bumpy ride for these three seniors, but I don't think that quite does them justice. Joining an Indiana...
It was a night of mixed emotions in Assembly Hall. The first emotions were not good ones, as the Hoosiers were out-toughed and out-hustled by a visiting Ohio State team clearly intent on exacting revenge for the Columbus beatdown IU delivered last month. Vengeance attained. But the disappointment of the loss was soon replaced by immense pride for all IU fans, as Derek Elston, Jordan...
The Indiana Hoosiers hosted the Ohio State Buckeyes at Assembly Hall on Tuesday night. It marked the final regular season game of the year at the historic venue, as well as Senior Night for a trio of Hoosiers: Jordan Hulls, Christian Watford, and Derek Elston.The Buckeyes effectively came in and dampened the spirits of the night by pulling off a 67-58 victory over second-ranked Indiana...
The old tradition of cutting down the nets following championship performances is as much a part of basketball as the opening tip off. On Tuesday night, immediately after losing to Ohio State, the Indiana Hoosiers celebrated their 21st Big Ten championship in school history by taking the shears to the Assembly Hall nylons after the team's final home game of the year. Cody Zeller...
Alabama native says Bloomington is his home By Justin Albers Christian Watford's path to Indiana wasn't at all similar to that of the two guys who will be honored with him at Tuesday's Senior Night at Assembly Hall. Unlike Jordan Hulls and Derek Elston, Watford didn't grow up in the state. He joined the Hoosiers from Birmingham, Ala. and wasn't a household name when he...
Hoosiers News

Delivered to your inbox

You'll also receive Yardbarker's daily Top 10, featuring the best sports stories from around the web. Customize your newsletter to get articles on your favorite sports and teams. And the best part? It's free!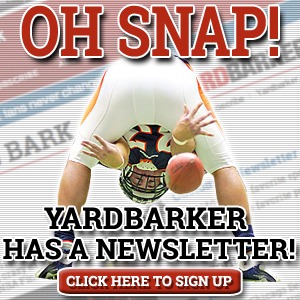 Latest Rumors
The Backyard

Today's Best Stuff

For Bloggers

Join the Yardbarker Network for more promotion, traffic, and money.

Company Info

Help

What is Yardbarker?

Yardbarker is the largest network of sports blogs and pro athlete blogs on the web. This site is the hub of the Yardbarker Network, where our editors and algorithms curate the best sports content from our network and beyond.