Found March 03, 2013 on College Chalktalk:
Duke coach Mike Krzyzewski rubbed his magic lamp before Saturday night's Top 5 encounter with Miami and when the genie appeared, it was easy to see that Krzyzewski's first wish would be the return to action of 6-11 outside threat Ryan Kelly who had missed the Blue Devils' previous 13 games with a foot injury.  When Krzyzewski's wish was granted, Kelly stepped up in unbelievable fashion in scoring 36 points as he went 10-of-14 from the field, including seven threes, in a heart-stopping 79-76 win over the ACC leading Hurricanes. Ryan Kelly was a major hit in his return to the Duke line up Saturday night. the Blue Devils needed every one of his 36 points to survive ACC-leading Miami, 79-76. Credit: Duke Photography "In the first half, he was so unbelievable it had an impact on our guys,"said Krzyzewski, "We started watching him because we haven't had him for two months." Kelly missed his first shot which was Duke's first of the game, but proliferated himself when he hit three consecutive triples in a span of 1:45 on four possessions that helped erase a 25-19 Miami lead and pull Duke into a 31-31 tie.  He finished the first half with 20 points in 15 minutes as five of those were from behind the arc. "It's something I have worked really hard on and they fell in today," Kelly said of his long-range shooting, "Somedays it doesn't work like that." After Miami forged ahead by three in the first five minutes of the second half, it was kelly who did the damage.  His triple gave Duke a 50-49 advantage with right around 13 minutes to play and then he had a pair of free throws and a three-pointer off the right wing to give the Blue Devils a lead the wouldn't relinquish at 60-56 with 9:08 to play. "He did everything," noted freshman Rasheed Sulaimon, "He was the extra lift we needed the extra energy that we need. Every time we had a lull or a dead period, he was the one to pick us up.  We were missing a great player in Ryan but we were also missing a great leader, so we were just glad he was back." Sulaimon is a savvy freshman out of Houston, Texas, who has been a staple in the Duke attack all season.  Some things he says in conversation sound like a coach. He didn't see a point Saturday night that made him think Kelly would have a big game.  That happened Friday in Practice. "Yesterday in practice  - his first time having contact when we scrimmaged a little bit," said Sulaimon of when he had an idea Kelly might be in for a huge game, "When he took his shots, he took them with confidence and his shot was looking very good yesterday.  I knew he was going to have a very good night today, especially with the talents of Quinn, Mason and Seth who are very good players in their own right." Sulaimon expected Miami to lay off him a bit and test Kelly to see if he was really up to speed.  The Canes' defense didn't seem to give him much separation, but whether they did or didn't wasn't an issue.  Kelly was back and in a big way. "I knew they were gonna disrespect him a little bit, you know just coming off the injury, and he had some shots and that's all he needed and after that it was hard to stop him," noted Sulaimon. As for the injury, all that anyone associated with Duke would say throughout Kelly's absence was "foot injury."  Kelly wasn't in any mood to espouse information after Saturday night's heroics. "Nobody's told anybody," he said coyly, " I have some stuff in my shoe to limit motion inside my shoe.  The better we can do that and less pain I can feel, the more able I am to play." Miami played dauntlessly as the mentally tough Hurricanes fought back to cut a 10-point Duke lead to 78-76 with 31 seconds remaining and even with a turnover, Rion Brown's three-pointer at the buzzer lipped out of the rim and Duke survived.  The story was Kelly's amazing return, but involved in that was the fact that the Blue Devils needed everyone of his 36 points to survive the team that had pummeled them 90-63 in Miami on January 23 without Kelly. "The difference was he was able to stretch the floor and I was sure he would come out and play well," said Miami guard Durand Scott, "He's been gone for so long so we expected it.  It's hard to guard him.  Hes a four-man who can put the ball on the floor.  He can dribble, make good passes, and things like that.  I think he did a great job and his coach did a great job of using him and that's why they won the game." - Ken Cross         Related Posts:Duke guards take center stage in win over DavidsonPreparation pays off for PlumleePreseason ACC favorite N.C. State eager to prove doubters…Emerging Cook adds element to dangerous Duke attackSneak peek: Sumner's ACC predictions and…
Original Story:
http://collegechalktalk.com/?p=6189&u...
THE BACKYARD
BEST OF MAXIM
RELATED ARTICLES
Duke head coach Mike Krzyzewski is no stranger to fans storming the court. His No. 3 Blue Devils have lost four games this season. All have been on the road, and the opposing fans have rushed the court each time. Virgnia fans did the same following their 73-68 upset over Duke on Thursday night, and Coach K expressed concern over it after the game. "When we've lost in the last...
Duke forward Ryan Kelly was in the starting lineup on Saturday night as the third-ranked Blue Devils faced No. 5 Miami. The 6-foot-11 senior missed the past 13 games with a foot injury. He is averaging 13 points and five rebounds. Duke spokesman Jon Jackson said before the game that Kelly was set to play against the Hurricanes though it was not known whether he would start. Kelly...
Ryan Kelly might only have been back for one game, and Duke might only have earned one win on the night, but their recent victory against the Miami Hurricanes proved that the Blue Devils still have what it takes to be a legitimate NCAA title contender. [Continue Reading] So Duke looks poised to make a run in the ACC Tournament and lock down an NCAA number one seed…. or do they...
Ryan Kelly, meet Kenny Kadji. The Canes forward put the Blue Devils forward on a poster during Saturday night's heavy-weight, ACC showdown.
Duke's Ryan Kelly sure didn't look like a guy who hadn't played in two months. The senior scored a career-high 36 points in his return from a foot injury that had sidelined him since January, helping third-ranked Duke beat fifth-ranked Miami 79-76 on Saturday night. Kelly knocked down 10 of 14 shots -- including 7 of 9 3-pointers -- for the Blue Devils (25-4, 12-4 Atlantic...
Duke coach Mike Krzyzewski, angry over what he perceived as a lack of crowd control while his Blue Devils tried to leave the court following Thursday's loss at Virginia, traded F-bombs with at least one fan and had to be restrained by security before being ushered into his locker room… The 66-year-old Krzyzewski stopped and hollered an F-bomb at a fan before security...
The Duke Blue Devils suffered an upset 73-68 road loss to an unranked Virginia team Thursday and — after the No. 3-ranked team bit the dust on the Charlottesville court— fans swarmed the hardwood and made it difficult for Coach Mike Krzyzewski's  players to hit the locker room. After the pandemonium on the ACC rival's court subsided and the Blue Devils team was safely...
Duke was upset by Virginia 73-68 in Charlottesville last night. Predictably, Virginia fans stormed the court and predictably Mike Krzyzewski was pissed about it. And of course after the game, Krzyzewski took the time to inform us that he was bothered by what he called, "the lack of protection for his players and coaches." "Whatever you're doing, you need to get the team...
If there is one thing that the ACC has been consistent about, its extreme unpredictability (or is it predictability?).  A game after Virginia completely dominates Duke in Charlottesville, they go to Boston College and give away the game late.  Sounds familiar, right?  NC State did it after a big win over Duke.  Maryland did it after a big win over Duke.  Wake Forest did it...
DURHAM, NC -- Miami didn't beat Duke in Saturday's epic rematch, but the Hurricanes proved they are the best team in the ACC and are a legit threat to win the national championship. Miami is better not because of the margin differential in the team's two games against each other -- which is plus-24 for the Hurricanes -- nor are they better because they have a two-game...
College Basketball News

Delivered to your inbox

You'll also receive Yardbarker's daily Top 10, featuring the best sports stories from around the web. Customize your newsletter to get articles on your favorite sports and teams. And the best part? It's free!
THE COLLEGE BASKETBALL HOT 10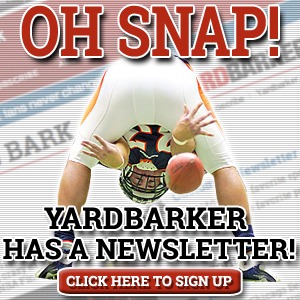 Latest Rumors
The Backyard

Today's Best Stuff

For Bloggers

Join the Yardbarker Network for more promotion, traffic, and money.

Company Info

Help

What is Yardbarker?

Yardbarker is the largest network of sports blogs and pro athlete blogs on the web. This site is the hub of the Yardbarker Network, where our editors and algorithms curate the best sports content from our network and beyond.